MARYVILLE, Mo. — Northwest Missouri State University celebrated the opening of its new Agricultural Learning Center on Friday morning, the culmination of a landmark effort to provide a new, state-of-the-art facility intended to be a draw across the region.
State, local and university officials joined community members and alumni at the new facility at 22893 U.S. Highway 71 in Maryville for a ribbon cutting to open the massive new space.
"This is about academic quality, academic excellence and momentum forward for Northwest Missouri State University," said Northwest President John Jasinski.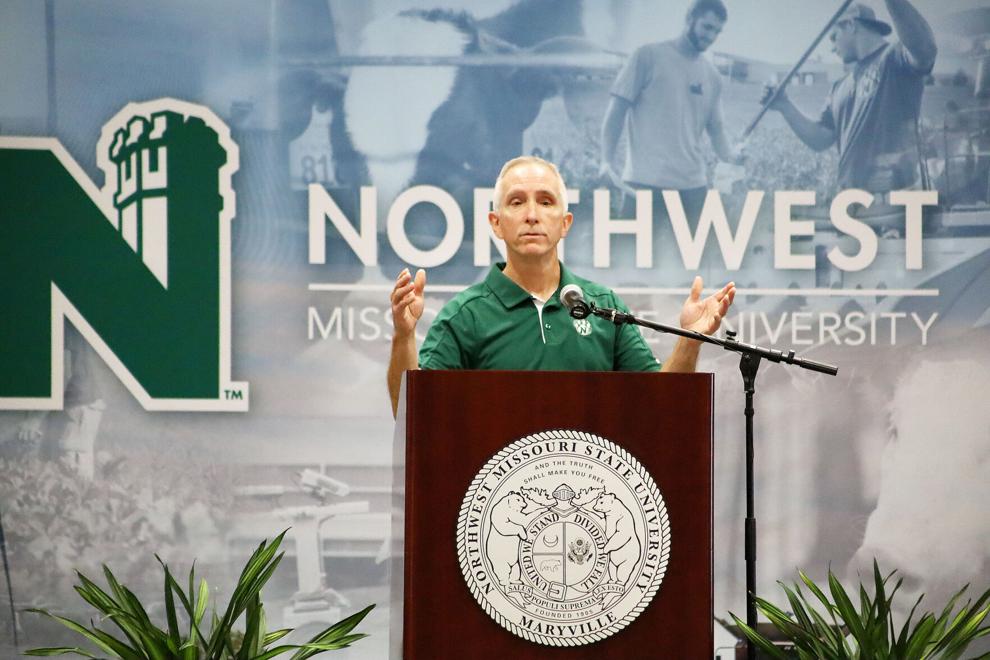 The 29,500-square-foot, $11.4 million building includes classroom, laboratory, kitchen, exposition and offices spaces at the university's existing R.T. Wright Farm. The student spaces will allow for research and scholarly activities centered on crop, soil and livestock resources, as well as space for processing agricultural products. The multipurpose areas can be used to hold public and private functions like producer and agricultural industry meetings, workshops, shows and career development events, and for the promotion of agricultural literacy.
On hand to help christen the new building were state Rep. Allen Andrews and Missouri Director of Agriculture Chris Chinn.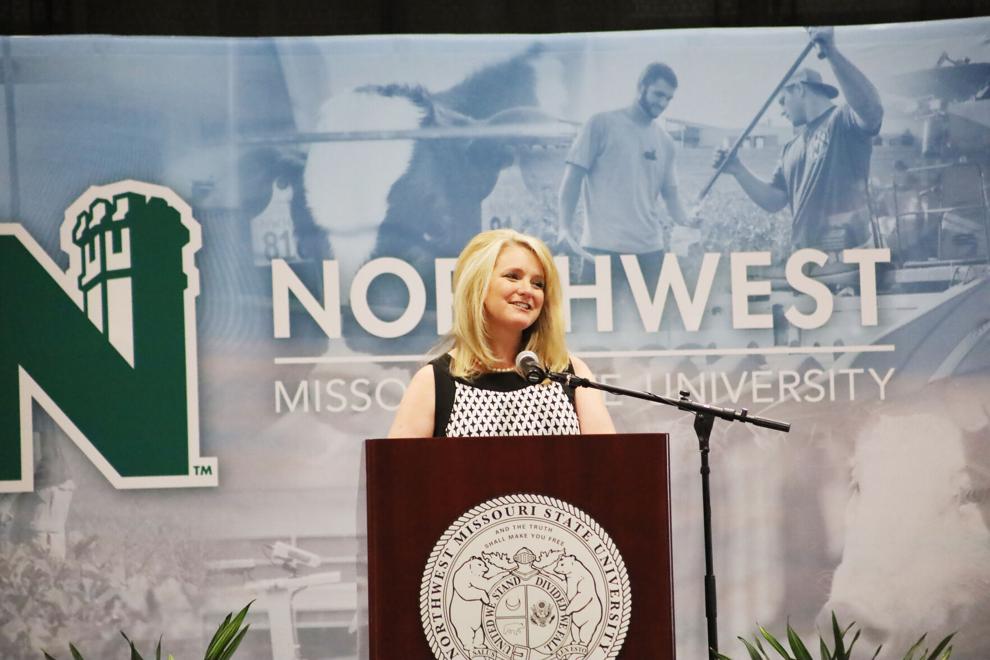 "This is something that not only will Northwest remember, but the state of Missouri will remember as well," Chinn said. "The ag learning center has set a wonderful tone for agriculture in 2021, and I'm really excited to see the contributions that you're going to bring to Missouri agriculture, and the great start that your future leaders for agriculture are going to gain from this agricultural learning center. I couldn't be more proud of the work that happens here at Northwest Missouri."
The university expects the facility will help the School of Agricultural Sciences address enrollment and program growth, which has skyrocketed over the last decade: about 12 percent of all students at Northwest last year held a major in the school, and the university's agricultural business program is the largest in the state.
"It's more than a building, but it's a heck of a building," said Rod Barr, director of the School of Agricultural Sciences at Northwest.
Additionally, the center will help address infrastructure needs at R.T. Wright Farm related to academic facilities, parking and farm production, and its learning opportunities will enable innovation and partnerships to address best practices for the campus and the School of Agricultural Sciences.
Andrews said the center is just one of several steps the university has taken in recent years that have set it apart from other public higher education institutions in the state, making it one of the only schools to continue to see increased enrollment year over year. Although he said much of the university's success is due to tangible factors like job outcomes for graduates, affordability and the atmosphere on campus and in town, he said the one overarching, "driving theme" is a vision from leadership.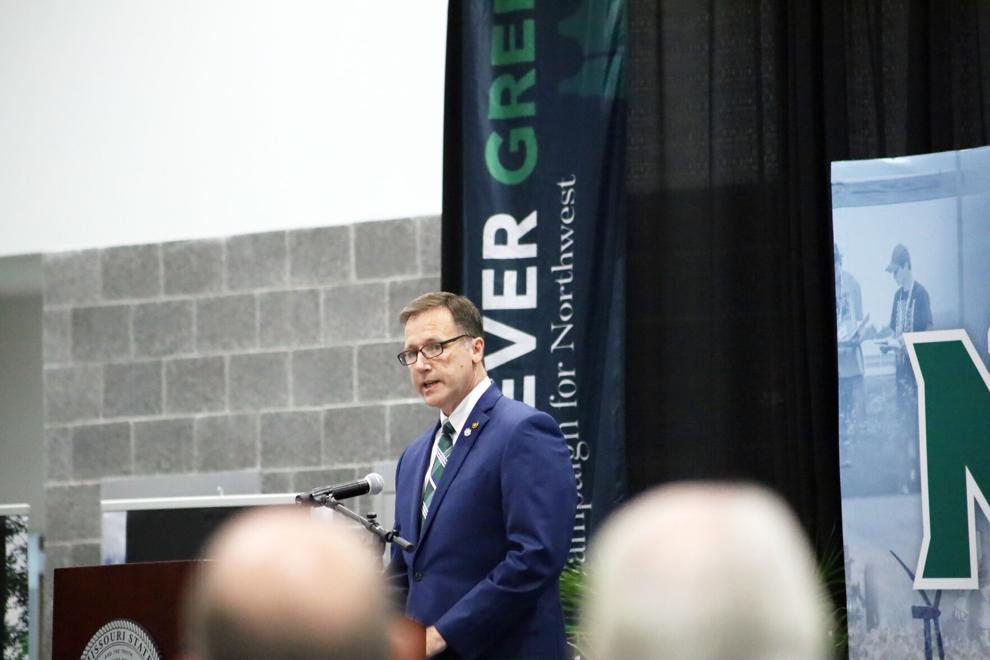 "Vision does not just happen, it is developed — sometimes it's painstakingly developed," Andrews said. "When it is developed, it begins with a leader, a leader who has vision. In our case, it begins with a leader and a leadership team willing to dream it, and to create it, and to cast it out for others to grab hold. But a vision is futile — it's pointless — if there is no one who believes in it or benefits from it."
The cost of the facility itself is estimated at about $9.8 million, but the addition of a new turn lane off of U.S. Highway 71, paving a drive to the new center and other roadwork pushed the total cost up to its final tally of $11.4 million.
Gradually since its conception in 2014, the university raised money and built support among alumni, state officials and regional partners for the new facility. More than $6.5 million has been raised for the center, with leading support by nearly 50 public and private donors who have given gifts of $25,000 or more. Northwest, which committed more than $2 million to the project, also received $2.5 million from the state as well as an equipment grant award of $343,000.
Friday's ribbon cutting also marked the end of the Northwest Foundation's Forever Green fundraising campaign, an initiative begun in 2014 that sought to raise $45 million for projects centered on academic excellence, scholarships, student life and other donor-directed areas. At the campaign's end this summer, donors provided more than $54 million, including leading the funding for the Carl & Cheryl Hughes Fieldhouse that opened in 2018.
The day's celebration, Andrews said, was about more than just "a very monumental day" for the university, or an addition to an "already stellar ag program."
"What we are celebrating today is opportunity," he said. "Opportunity for individuals both young and old — from the most urban and the most rural parts of our state — to engage in the multifaceted influences of agriculture. This is the Northwest Ag Learning Center: a place that will prove to be an instrument for learning, for growing, for creating, for adapting and for dreaming what can be."