MARYVILLE, Mo. — The first vaccine for COVID-19 in Nodaway County was administered Tuesday at Mosaic Medical Center – Maryville.
A day after the hospital received its initial shipment of Pfizer-BioNTech's vaccine, Dr. Sally Bomar, a family practice physician at MMC-M, became the first in the county to receive it during an event held for local media Tuesday afternoon. Four others also received the first doses of the vaccine: Dr. J. Michael Feuerbacher and nurses Patricia LaFoy, Misty Millions and Andrea Sandusky-Ury.
Over the next week, the hospital expects to administer more than 100 doses, and additional doses will be given based on demand by health care workers. The first ones will be given to frontline workers who have direct contact with patients, and have not had COVID-19 within the last 90 days. MMC-M President Nate Blackford said that employees will sign up to receive the vaccine and will be encouraged to do so, but will not be required. He said about 75 percent have signed up so far, with more expected as the eligibility pool expands.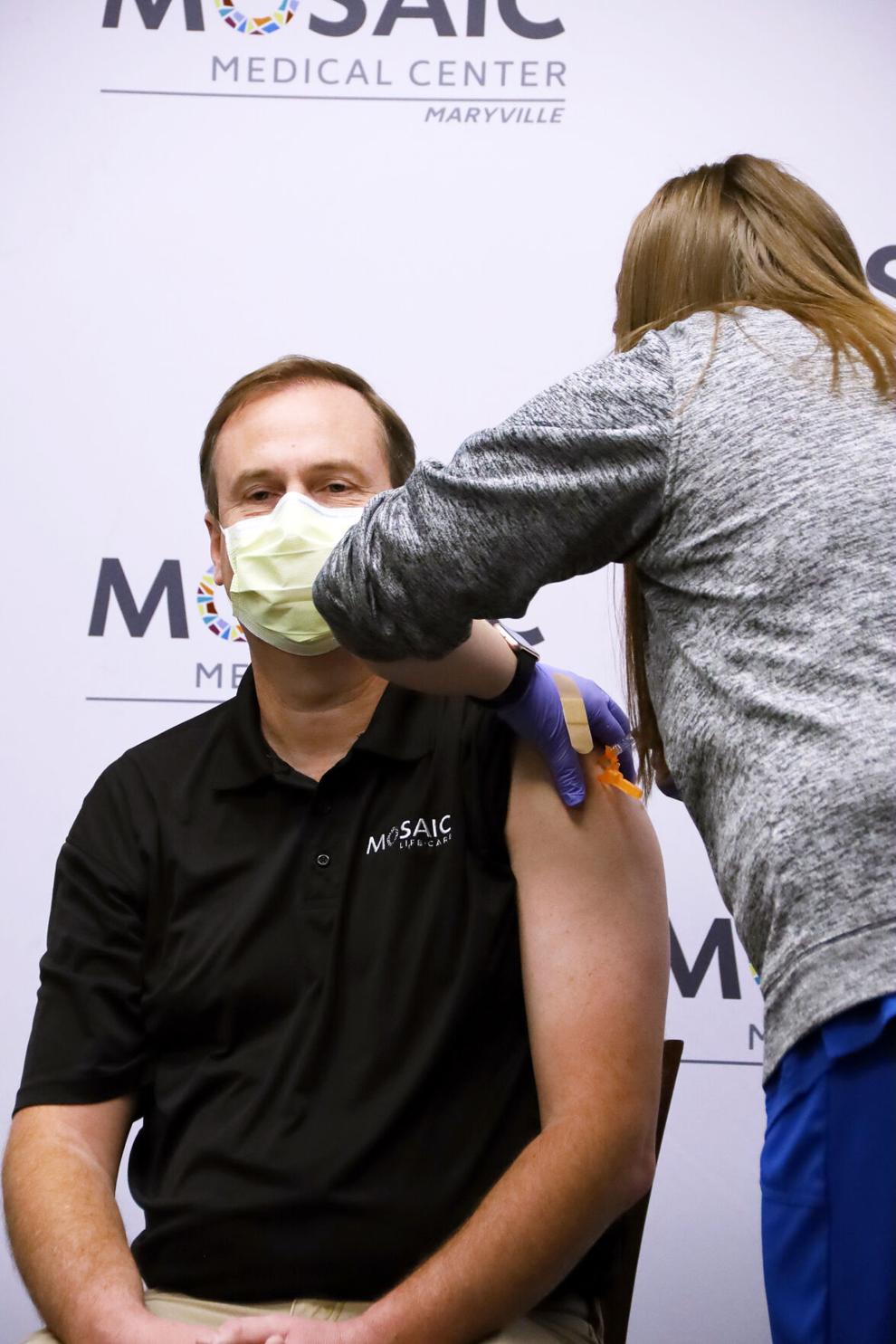 The volunteers Tuesday, who will return in 21 days for their second dose, said they wanted to be the first in order to show confidence in the vaccine.
"I think people want to know if you individually are willing to do it — and obviously I am," Bomar said. "I've had that question asked of me a lot the last couple of weeks."
Blackford said that health care workers are frequently fighting an uphill battle against misinformation, whether it's unfounded rumors about the effects of the vaccine — which he said so far have been mild — or the far-reaching effects of the virus itself.
"It's kind of frustrating sometimes to see those who maybe don't appreciate what's really happening," Blackford said. "It's a big deal. A lot of lives have been impacted."
Nowhere has that impact been more evident than at hospitals like MMC-M. The doctors and nurses present Tuesday were in a jubilant mood over the vaccine's arrival, and the turning of a corner that it signaled — mostly because it means they can remain at work. At one point in November, up to 10 percent of MMC-M staff were quarantined because of COVID-19 — making the availability of doctors and nurses just as important as the availability of beds and equipment, Blackford said.
"The ultimate goal is to get our caregivers vaccinated so that they can work," said Debbie Hoffman, vice president of patient services at MMC-M. "We need our caregivers here to take care of our patients. It puts a strain on our staff if they get sick, so that is the ultimate goal, is to keep our caregivers here, keep them healthy so that we can keep taking care of our community."
In addition to being inundated with more patients and more stress, nurses have found themselves with even more responsibility for patients since they can't receive visitors.
"They're meeting all their needs, you know?" said Sandusky-Ury, nurse manager, infusion house supervisor at MMC-M. "They're drawing their blood, they're providing the medications and assessments that they normally do, but they're also the only social interaction that our patients are receiving when they're here."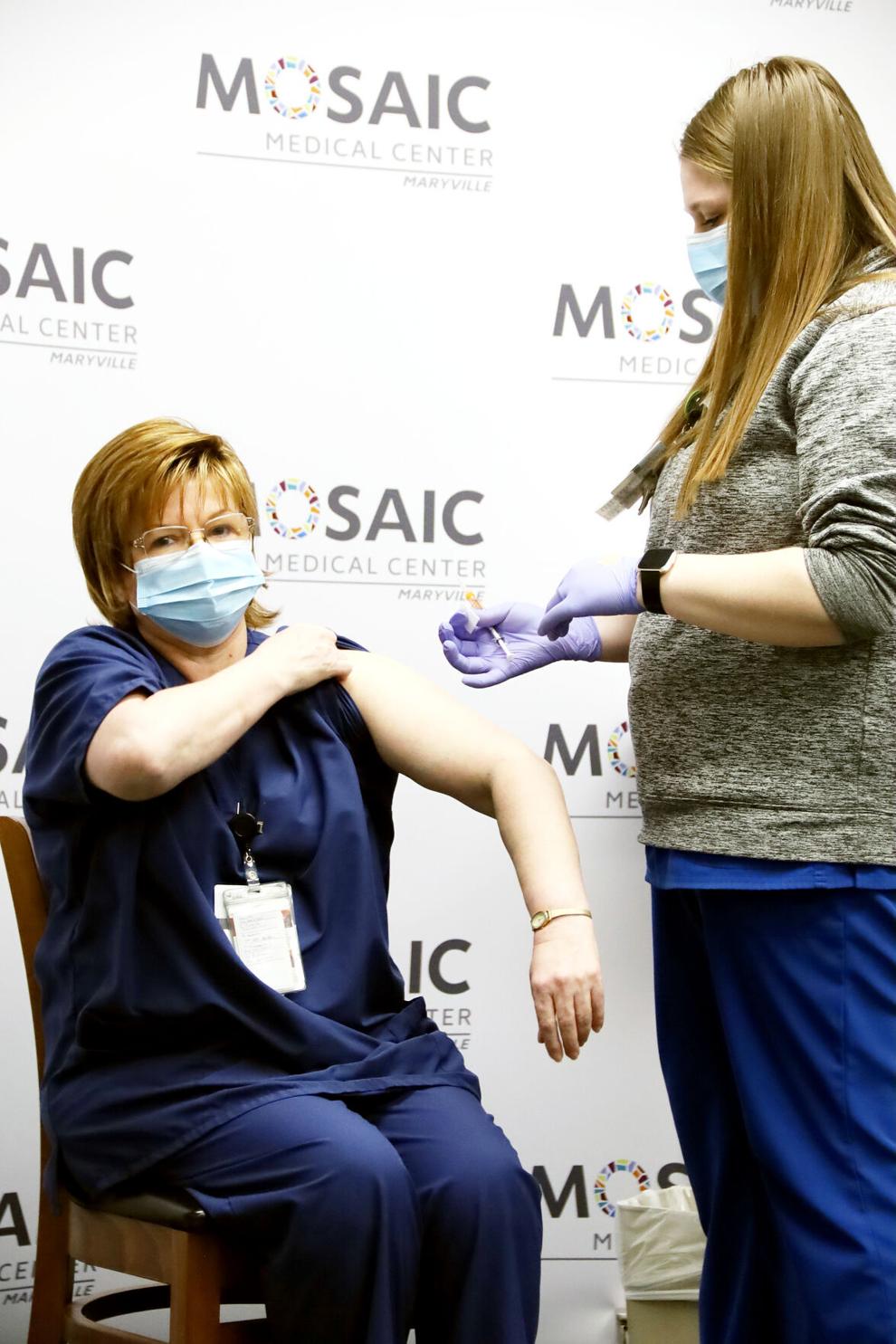 "Ten months of dealing with this is exhausting," Blackford said. "It's difficult for our patients, it's difficult for our caregivers. Our caregivers have shown just an amazing amount of resiliency and willingness to deal with the unknown and the uncertainty that's come with this, and I can't be more proud of the group that each of these individuals represent. At the same time, it doesn't take away the human side of this, which is, we're tired, we're worn out, we've seen sad stories, we've seen tough circumstances.
"... At the risk of being too dramatic, we have some real heroes running around here who have done some amazing things without complaining, without a lot of … media attention on the difficulty that's going on here."
That difficulty, the health care leaders assembled Tuesday agreed, has become a way of life for doctors and nurses at the hospital.
"When someone that's not (in) health care is under quarantine, they have to stay home for 14 days," Feuerbacher said. "Well, we still go to work, we're still constantly being exposed. So we have that fear of, what are we doing to our families when we go home? And we've been having to do that for months now."
LaFoy said that the vaccine gives her hope that she'll be able to see her own mother soon.
"My mother just had a liver transplant and I can't go see her," LaFoy added. "I don't know when I'll be able to go see her. She called me the other day crying because she wants to see her family. Well, I've got a sister who's a nurse too — we can't come see her. But soon."
Blackford cautioned that although the first vaccine being administered in Nodaway County is a big step, there are several months of steps left until the threat posed by COVID-19 can truly be mitigated through a vaccine administered widely to the general public.
"As much as this is an exciting day and we're starting to turn the corner, this is not the end of our battle with COVID," Blackford said. "So, masks, social distancing, hand hygiene — all the tools we have available to us are going to continue to be very important over the next several months as we continue to battle this."