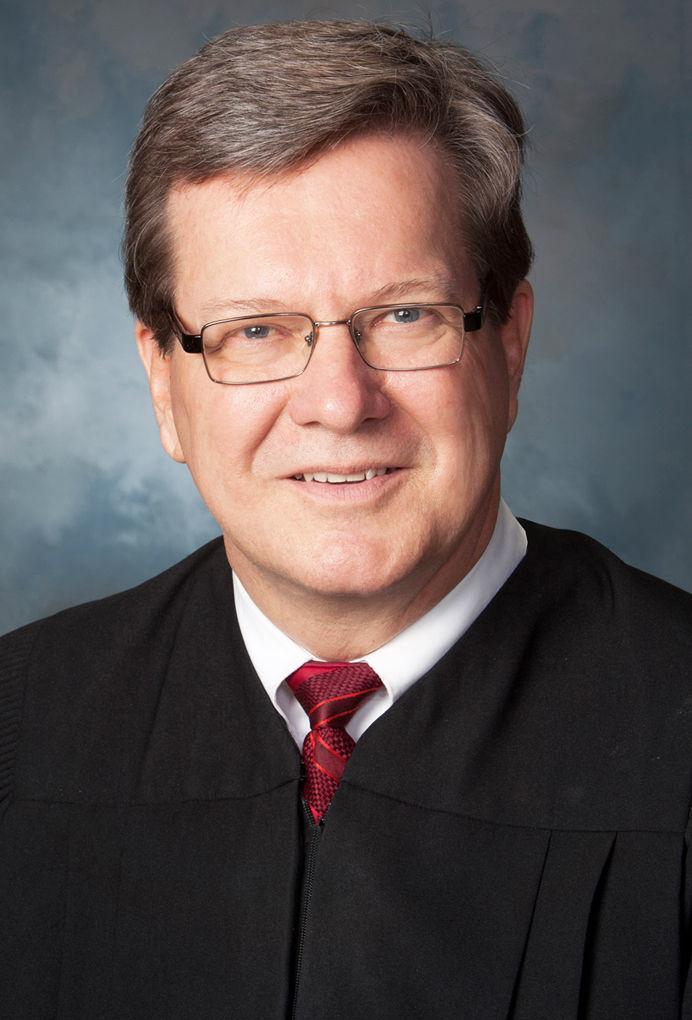 MARYVILLE, Mo. — Due to the COVID-19 pandemic, the Nodaway County court system has seen some shifts in both process and location in order to best provide due process of law, but now has settled into what 4th Circuit Court Presiding Judge Roger Prokes believes to be a safe location to hold jury trials.
Jury trials will be held in the Nodaway County Courthouse, while jury selection will be held on the third floor of the Nodaway County Administration Center.
"Really that's going to be better for everybody," Prokes said.
Before Christmas, the plan in Nodaway County was to use the large open room on the third floor of the Nodaway County Administration Center to hold jury selection and trials.
Prokes noted that at that time a nearby office that could have been used as a jury room that would allow for Nodaway County sheriff deputies to provide security.
However since the November election, that office was designated for newly elected Nodaway County Public Administrator Dee O'Riley and it forced the court to search for a new solution.
The space required for jury selection must fit at least 60 people and with the pandemic, finding a securable location that allows for social distancing is not exactly easy.
It was suggested the jury could use the basement meeting room, two stories below where trials would have to be held.
"That would be possible, but it would be pretty inconvenient and tough for the sheriff to have security," he said.
The new split will help keep fewer people from walking the halls of the administration center while also allowing for easier security during trials at the courthouse.
"We're set up over here in some ways to make it better for jury trial," Prokes said.
He said the jury will be seated spaced out into the courtroom gallery at least 6-feet apart from each other. In order to make that happen, counselor's tables have been shifted. This allows the jurors to be as close to the witness stand as possible.
"We're fortunate in the way its laid out up here," Prokes said.
He said the jury room has doors that can be removed to allow for enough space to social distance.
"We have not, at this time, had a jury trial yet," Prokes said. "I think the first one we have set is with Judge (Robert) Rice and that's toward the end of January."
In November, Prokes sent The Forum a copy of a summons letter that is sent to potential jury members randomly selected to serve.
That letter provides an explanation of the precautions the court has taken to ensure the safety of potential jury members.
He noted in the letter that a UV light will be used in an attempt to control any existing virus. Prokes told The Forum that a UV filter has been added to the courthouse air handler. The county also owns a portable UV light that will be set up to kill any COVID-19 virus that might be in the courtroom or the jury room each night.
During a trial all persons will be required to wear a face covering/mask when inside the building. Masks and gloves will be made available for jurors who need or want them.
Before jurors report, and twice daily, throughout any trial, the courtroom and jury room will be sanitized. Hand sanitizer will be located at the entrance to the courtroom and jury room.
Prokes noted that when jurors enter and exit the courtroom, they will do so as a group to avoid inadvertent exposure to others in the courtroom.
"We'll try to keep them from being exposed to germs they may not want to be exposed to," he said.
Prokes said that the restrooms and coffee pot still will be available during a trial and that tables will be set up to allow deliberation in a socially distanced manner.
With regard to spectators during a trial, Prokes said only 12 to 15 people will be in the courtroom. Which likely will be enough for a typical trial, but should one of great interest a rotation may be necessary.
"Everything involves compromise," he said. "We're well aware that the courts are supposed to be open to the public. … We had to compromise in those areas."
Prokes said some consideration has been given to setting up another room in the courthouse to view a live feed of the trial, but that the courthouse is not currently wired to accommodate that. He also noted that there's not yet a large trial scheduled in Nodaway County to make that necessary.
"If I saw something like that then we would get serious about doing that," he said. "We're trying to do the best job we can on it."
Online jury summons process
While the pandemic has provided more ways to get out of jury duty, Prokes said it's still very important for community members to serve and the 4th Circuit is trying to make the process a bit easier.
Fourth Circuit staff members are in the process of creating to an online system for potential jurors who are summoned.
The original summons still will be mailed to potential jurors, but it may look slightly different. Potential jurors still will be able to call or respond by mail, but also included will be a link and a code to respond online.
"We haven't had a trial with that yet," he said. "It's been a learning curve for all of us."
Prokes noted that they're sending out even more jury notices than before because there are more allowed conflicts that potential jurors can use to not serve.
"We are certainly sensitive to the fact that every time a juror notice goes out people are having to take time off from their employment and it disrupts their life," he said. "There's more reasons for them not to serve than ever before and that impacts the whole community."