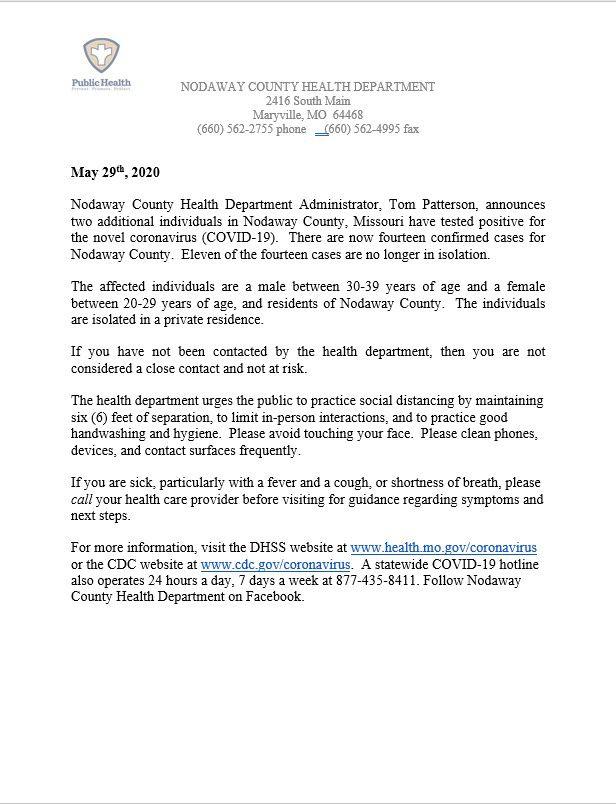 MARYVILLE, Mo. — Nodaway County Health Department Administrator Tom Patterson announced Friday afternoon another two confirmed cases of COVID-19, bringing the total to 14 positive cases for Nodaway County.
There are now 14 confirmed cases of the virus in Nodaway County. Eleven of the 14 cases are no longer in isolation.
According to a health department news release, the affected individuals are a male between 30-39 years of age and a female between 20-29 years of age. Both individuals are isolated in a private residence.
The news release noted that if you are not contacted by a health official, then you are not considered a close contact of the person.
The first positive case of COVID-19 in the county — in a female age 50-59 — was confirmed on April 2, followed by a second positive test on April 5 and a third case on April 13.
A fourth positive case was confirmed on April 30 and a fifth case on May 5. The sixth and seventh cases were confirmed May 18. The eighth case was confirmed May 19 afternoon. Three more cases were confirmed May 21. A 12th case was confirmed May 22.
The health department urges the public to practice social distancing by maintaining six (6) feet of separation, to limit in-person interactions, and to practice good hand washing and hygiene.
If sick, particularly with a fever and a cough, or shortness of breath, the health department suggests calling a health care provider before visiting for guidance regarding symptoms and next steps.
For more information, visit the DHSS website at www.health.mo.gov/coronavirus or the CDC website at www.cdc.gov/coronavirus. A statewide COVID-19 hotline also operates 24 hours a day, 7 days a week at 877-435-8411. Follow Nodaway County Health Department on Facebook.