MARYVILLE, Mo. — The focus of this year's St. Francis Foundation Gala is trained squarely on mental health, where rural areas like Maryville have continued to see increasing demand for services while resources remain scarce.
"Prior to COVID and the pandemic, we were like any other community, especially in rural areas — we did not have the depth and breadth of mental health services to fully meet the demands of the patient population of the community," said Nate Blackford, president of Mosaic Medical Center - Maryville. "So it's not uncommon that mental health services have been hard to access, or difficult to access in a timely manner. That skillset — counselors, psychiatrists, especially adolescent psychiatrists — are very, very difficult to find, retain and keep. It's just a profession that there's just not enough supply for the demand that's out there."
The past two years, the foundation's fundraising gala had focused on cancer care, but Blackford said that this year, based on the rise in demand both before COVID — and especially after the pandemic began — the choice to focus on mental health was clear.
"When we got into COVID, and the quarantine and everything that goes with that, we also saw an increase in mental health challenges, whether that be loneliness from isolation, anxiety, depression," Blackford said. "… And so there are some who are concerned, and I share that concern, that the pandemic behind this COVID pandemic is going to be the mental health challenges that result — and that have resulted."
To try and meet that demand, MMC-M has turned to alternatives like telehealth appointments, something that this year's fundraising gala will look to expand, specifically to increase access for local school-aged children, the population receiving MMC-M's primary focus.
Especially during a pandemic that has done away with most typical social interactions for both students and adults alike, Blackford said health care providers are seeing more and more patients with depression or other conditions exacerbated by the loneliness and the other myriad stresses brought on by the global onset of the virus.
"In talking with school counselors — in talking even with university counselors for that matter — it's clear the toll that it's taken on many of those kids," Blackford said. "… I think that there are some kids whose highlight of the day is to be in school and to have access to friends and meals and all those things that schools can provide, and an education of course as well. And when those things are taken away, and you don't have access to some of those things that you count on, it can be a challenge."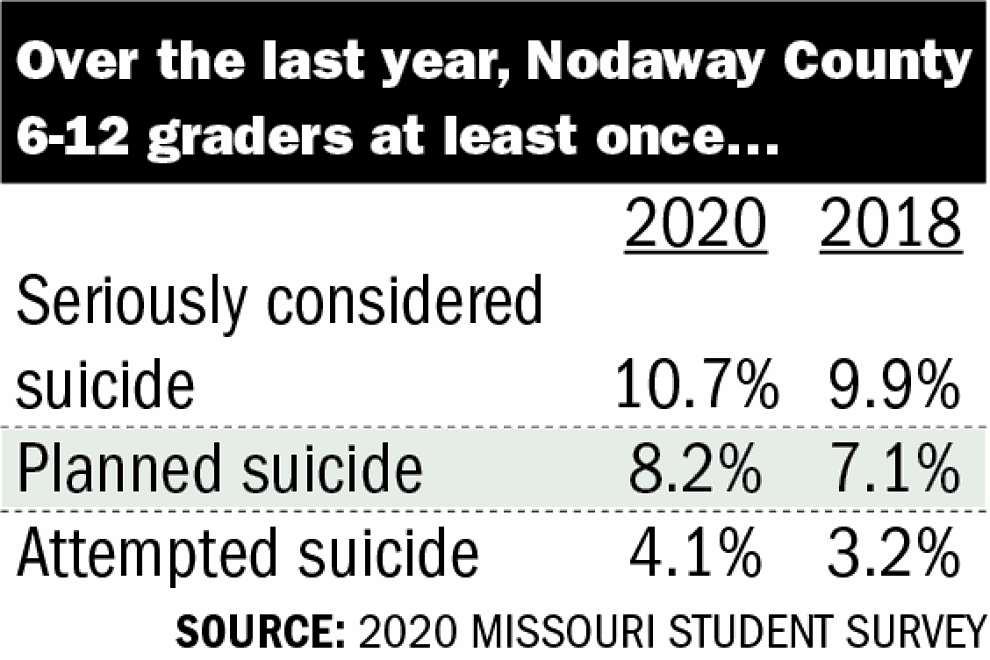 Nodaway Co. 6-12 graders - suicide
Even before the pandemic, there were indications of a greater need for mental health care for Nodaway County children. According to a 2020 Missouri Student Survey, conducted in every even-numbered year by the Missouri Department of Mental Health, Nodaway County students in grades 6-12 saw nearly every measure of depression and suicidal behavior rise, some significantly, since the last survey in 2018.
Conducted from January through March of last year, more than 14 percent said they had often or always felt hopeless about the future over the past month, while more than 8 percent said they had planned a suicide attempt within the past year at least once — both figures up from 2018.
Funds raised by the gala, which will be held virtually for participants this year, will primarily go to new initiatives aimed at connecting children with more mental health resources, including enabling connections at school districts across the county to see telehealth providers. The gala has already sold out of its 375 virtual kits for attendees, who will see a recorded event featuring several local mental health ambassadors who have shared their experiences with mental health issues.
"Maryville's a special place, and in the midst of a pandemic, and everything else that's going on … it's great to be part of a community that would support the gala in such a meaningful way," Blackford said. "We're excited about the evening, and looking forward to telling some stories."