MARYVILLE, Mo. — Commissioners representing the five counties of the 4th Judicial Circuit met Wednesday in Maryville to hear a pitch — and a plea — for an ambitious new initiative that would attempt to bolster mental health resources in the region.
Associate Circuit Court Judge Robert Rice presented a proposal to create a Northwest Missouri Cooperative Board of Trustees made up of representatives from Atchison, Gentry, Holt, Nodaway and Worth counties, which would aim to continue and expand a pilot program Rice spearheaded earlier this year, and work with local health care providers to expand access to mental health resources.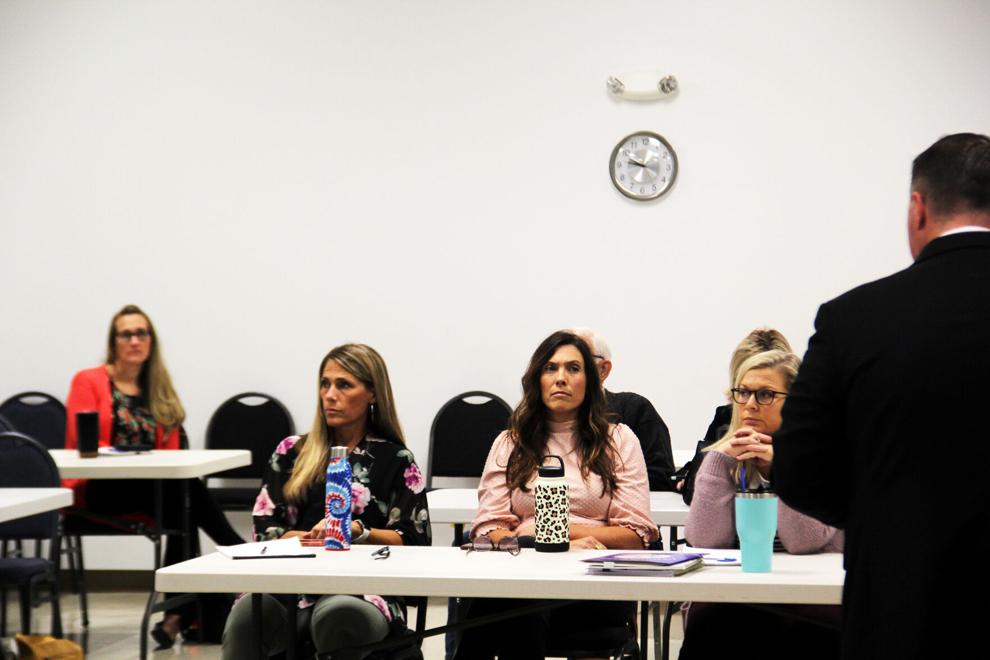 Pilot program
In February, the 4th Circuit won a $50,000 federal grant facilitated by the Missouri Department of Corrections to implement an after-hours hotline staffed by a licensed counselor for use by law enforcement during a contact with a person in crisis, an expansion of Alternative Treatment Court programs and crisis intervention training for law enforcement.
The bulk of the funding — about $38,000 — went to the hotline, which was administered by New Beginnings Counseling Center. The service supplemented an existing daytime hotline for a nine-county region in northwest Missouri staffed by the Family Guidance Center.
Access to a trained professional, Rice said, was especially helpful not just in criminal situations, but in other crises that don't involve any crimes, like a well-being check.
Last school year, Northwest Missouri State University Police performed 153 well-being checks, according to data presented by Rice. In Atchison County, the sheriff's office responded to 132 calls for suicide, attempted suicide or involving a suicidal subject from 2016-2020.
Over the past six months, 37 individuals or families were offered mental health services, alcohol abuse or substance abuse treatment through the hotline's added hours.
Another major component of the grant helped expand the 4th Circuit's Drug Court and DWI Court programs. Drug Court participants work through a rehabilitation program on parole rather than with the Department of Corrections, allowing them to continue living and working in their home community while completing the treatment.
The DWI Court is aimed at offenders who have been found guilty and placed on probation for DWI. The program allows such offenders to earn back limited, work-related driving privileges while completing a treatment program.
The grant allowed the court to expand both programs, which Rice said have shown success in lowering recidivism rates.
Between 2011-2019, 9.7 percent of drug offenders in Nodaway County went on to commit another drug offense, and 42.2 percent committed another crime of any type, Rice said. But among those who graduated from the Drug Court program over the same period, only 1.5 percent committed another drug offense and only 30.3 percent committed another crime.
However, the state grant's funding lasted only for six months, and Rice said he submitted the final bill to the state this week. Currently, there is no funding mechanism in place to continue the added services, but New Beginnings will continue to staff the after-hours hotline on its own dime until January.
Bill Walker, Nodaway County presiding commissioner, said that he was confident the commissions would be willing to shoulder the financial cost of at least keeping the hotline going, rather than New Beginnings footing the bill. Nate Blackford, president of Mosaic Medical Center - Maryville, also said that some of the money raised by the St. Francis Foundation's annual gala this year — which raised money for mental health initiatives — may be able to be allocated to helping fund the continuation of the grant's services.
Resources
Although the proposal stemmed from Rice's interest in finding a dedicated funding source to continue the programs made possible by the grant, health care providers and experts representing a dozen agencies from across the five-county area attended the meeting to support a push to put together the mental health board in order to address what they unanimously agreed is a health crisis.
From young to old, northwest Missouri does not have the resources needed to help patients through mental health issues, they said.
"It starts young, and there's no resource that we really have to send anybody to," said Beth Graves, elementary counselor at the Mound City R-II school district. "… The families that I've worked with, they can't go anywhere. So, they get us — boom. We're a Band-Aid. That's all we are."
"We're not trained for that," said Shauna Farmer, high school counselor at Rock Port R-II.
Graves drew a through line between kids who suffer from mental and behavioral health problems, and those who later end up in a Drug Court program.
"So, we need support, for sure," she said.
Jennifer Vernon, a juvenile officer with the 4th Circuit, said that about two-thirds of her cases involve a juvenile with a mental health issue. In many of those cases, she said that she can't get appointments with counselors or psychiatrists in a timely fashion to ensure the kids she's responsible for get the help they need.
Blackford said that over a 12-month period at MMC-M, 75 pediatric patients came to the emergency room with some sort of psychiatric need.
"And our resources for getting them care is really at two ends of the spectrum: One is, see a counselor maybe two to three weeks out," he said. "And if that's not doable, then we've gotta admit them. And we don't have anything in between.
"And oftentimes, we end up shipping — and these are the cold, hard facts of the story — 7-, 8-, 9-year-olds in secure transport away from their parents to a place like Nevada, Missouri, where they're gonna be for three weeks and their parents may or may not be able to be there with them. We need a solution that's somewhere between those two extremes."
Coming up with those kinds of solutions, Blackford said, could be one major goal of the board Rice proposed, along with applying for grant funding that could help those solutions become reality.
For adults, the lack of resources can mean a lack of treatment, resulting in serious consequences.
"We admitted seven patients yesterday evening, all local from our counties in this room," said Joy Heastan, director of inpatient behavioral health at MMC-M. "All very ill. I did a quick count this morning: four out of the seven didn't have services at all, and they are sick. And they've been sick. And struggling. And their families are fracturing, and everything that goes with it."
When she started out as a young nurse, Heastan said, she was worried about the state of mental health care. Now, she's "terrified," she said. At the time, patients discharged from the hospital where she worked had to be seen by a counselor or psychiatrist within seven days.
"Now, I'm praying to God that we can get somebody in within a couple months," she said. "And you have to be sick to be in the hospital — imminent danger to yourself, someone else or so mentally ill you can't function. Those are the people we take care of, and I can't get them in with somebody."
The health care leaders in the room Wednesday asked the county commissioners to consider creating the board that could get the ball rolling on ways to increase access to more resources, with the aim of getting care to patients before they end up in a hospital or the back of a police car.
Board creation
In general, the assembled commissioners representing the five counties of the 4th Circuit reacted positively to the idea of creating a mental health board.
The board proposed by Rice is structured in the way outlined by state statute. Such a board would have its members appointed by the participating county commissions, with each county represented by at least one board member. The exact number would be based on population, along with requirements that lay out how many can be involved in health care, how many must be doctors and other requirements.
The statute that describes the board's structure concerns a particular way counties are able to use a property tax to fund a combined mental health board like the one proposed. However, to create the board itself, no property tax would be needed.
It was unclear how willing each commission may be to approve placing a property tax on the ballot to pay for the board's initiatives. Such a tax would be capped by statute at up to 40 cents per $100 valuation. Because each county can decide whether to place the increase on the ballot, the exact number would not have to be the same for each county, and each county would not necessarily have to pass one, either.
But even without county funding, Rice and the health care representatives said the board could still coordinate new efforts, seek out grant funding sources, and, if requested, could make a recommendation on a tax funding structure to the county commissions.
No decisions were made at Wednesday's meeting, but Rice said he would follow up with the county commissions in the next couple of weeks and meet with them in their home counties to answer any further questions.