MARYVILLE, Mo. — "Nobody goes into the occupation thinking they're going to spend most of their life sitting behind a desk, but that's the way it turned out and it's been good to me," Maryville Public Safety Director Keith Wood said about his 43-year career in law enforcement.
And while the majority of his career has been behind a desk — 31 of those in Maryville — a large part of it was spent on patrol, leaving no doubt about his commitment to safety, his officers and his community.
"My heart probably starts on the road and evolves to here," Wood told The Forum just after his retirement announcement. "In fact, I still find more rewards from what my guys do out there than with what I do in here."
Getting started in Clinton
In the summer of 1977, Wood began his public safety career by accepting an internship with the Clinton Police Department through then Central Missouri State University in Warrensburg. By September, he was hired on full time and patrolling the streets.
Gaining experience for 12 years as patrolman to assistant police chief, Wood moved through the ranks cutting his teeth on a lot of different incidents.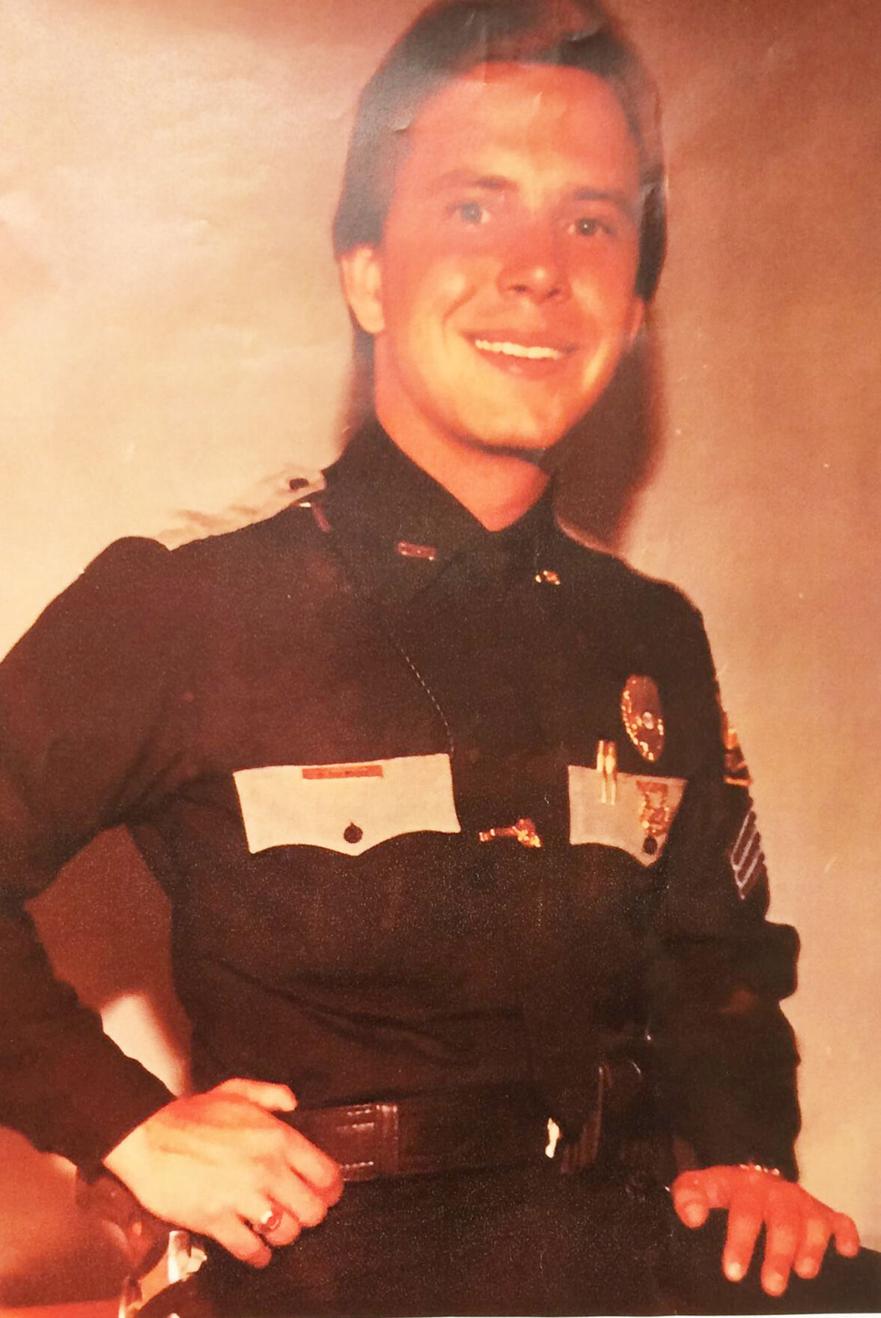 He explained that the tourist-heavy area is situated right at Truman Lake and halfway between Kansas City and Springfield, and offered numerous opportunities to learn how to help keep the public safe during very busy times.
"For a small town it had lots of activity," he said.
Riding motorcycle for the department, one of his duties during the busy weekends included manually running traffic lights at a couple of intersections that were a bypass around town. The highway has changed since then, he said. At that time it was only two lanes in and out and it wasn't uncommon for traffic to back up seven or eight miles.
"It was almost a Branson environment in terms of traffic," he said.
For the first eight or nine years in Clinton he worked shifts that included weekends and didn't work a day shift for more than two years. When Wood became assistant chief his work moved into the office environment. When the chief position changed, Wood led the department in the interim as acting chief and, choosing to approach it aggressively, learned a lot about staffing, budgeting and more.
"I would say it was a more political environment down there," he said.
Wood learned career survival techniques by paying attention to things that would cause trouble or keep in favor, the five different chiefs he worked under while in the department.
"I think that I observed those things and kind of filed them away for future use," he said. "Thirty-plus years in this chair is a little bit unusual."
Former Clinton Police Chief Robert Hyder, who worked as a patrolman and then sergeant in Clinton under Wood in the 1980s, agreed that it's unusual to be in the chief seat that long. On the phone last week, he said Wood was always very conscientious and aware of doing the right thing for Clinton citizens.
"Their welfare was his primary concern," Hyder said.
He recalled a middle-of-the-night call where a man had barricaded himself in a trailer and Wood got there, took charge and "nobody got hurt, primarily due to Keith and the way he's able to handle and defuse ... manage the situation until it could be handled properly."
Hyder said that around the department it became known that "if Keith was running it, it was going to be handled as well as could possibly be handled. I enjoyed working for him. It was always an honor to be on the department with him because you knew things were going to be done right."
Keeping in contact through the years as part of the Missouri Police Chiefs Association, Hyder, an avid hunter, said Wood even helped him find a place just outside Maryville to take down his first pheasant and that he'll always remember it.
"As a police chief, Keith's well respected within the police chief community itself," he said. "He's very involved in the Missouri Police Chiefs Association. His attitude of always wanting to do what's right rather than what's easy, I think is responsible for a lot of his success. He's a great guy."
Wood said his emotional involvement is different when behind a desk than in the field. He's more concerned for the officers out doing the work now, than he was while out on calls himself.
"I should be a support system for them," he said. "Part of that also is being concerned for their well-being. I won't miss the phone calls at two in the morning that something's happened here in town. … You sleep with one eye open waiting for the phone to ring to say everything's OK, everybody's back in town and safe."
Wood hasn't had many overnight call outs in recent years and he attributes that to the current makeup of the department with more experienced officers.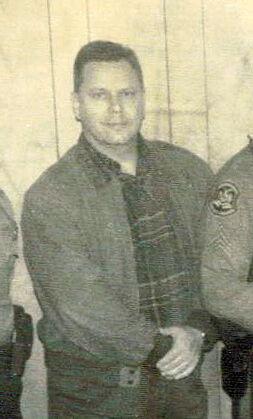 "We had a terrible time when I first started here, especially for the first 15 years, with turnover," he said.
At times he had five out of 20 officers with less than a year of experience.
'You go to bed praying that God protects them and keeps (them safe)," he said.
In recent years, Wood said the city has done some things to help retain officers, thus adding depth to the department's experience and leadership roles.
"I have a good group of supervisors," he said. "That took time to put them in a leadership capacity where you had some confidence in what they were going to do and how they were going to guide their men."
Officers staying for longer terms helps the town with consistent policing practices, he said, but he never wanted to stand in the way of anyone's career improvement.
"If you leave for the right reason, then so be it," Wood said.
And leaving for the right reason, is exactly what former MPS Sgt. David Lin did with no small amount of help from Director Wood. From 1983-1992, Lin worked as an investigator with the department and was in that position when Wood took over leadership.
He described a department restructure that realigned workflow and created a new lieutenant position about a year after Wood arrived in town.
"It was a good relationship with Keith," Lin said. "He was very adept at the time in law enforcement and I would consider him a fairly progressive innovator, in that way he obviously changed the status quo there in Maryville.
"He changed some of the 'good ol' boys' stuff that was inherent back in those days in law enforcement. He made it a better place to work, I thought as far as to see needs, not just in the community, but in his staff. He was very supportive."
Lin had applied for the chief position, since he had been filling in after previous director Larry Jackson left, but in the second round of interviews, Wood was chosen.
"He did a lot of things that helped me get to where I was going," Lin said. "He never stood in my way for advancement or promotion … That speaks volumes for Keith."
He described the staff realignment as a "shake up" and it allowed Wood to choose Lin for the new lieutenant position.
"It was pretty contentious at that time," he said. "I was pretty honored that he would pick me to be his right hand guy. To me that told me that he had a lot of confidence in me."
Lin described Wood's leadership as calm, diplomatic and team oriented.
"I learned a lot from him I would say as far as how to be a good human being," he said. "He was firm when he had to be, but he wasn't an authoritarian individual."
Wood endorsed and arranged for Lin to attend the FBI National Academy, from which Wood also graduated. However, before he could attend, Lin left to accept a position with the Bureau of Alcohol, Tobacco and Firearms.
"I think it is quite an accomplishment for him to be in the position that long," he said.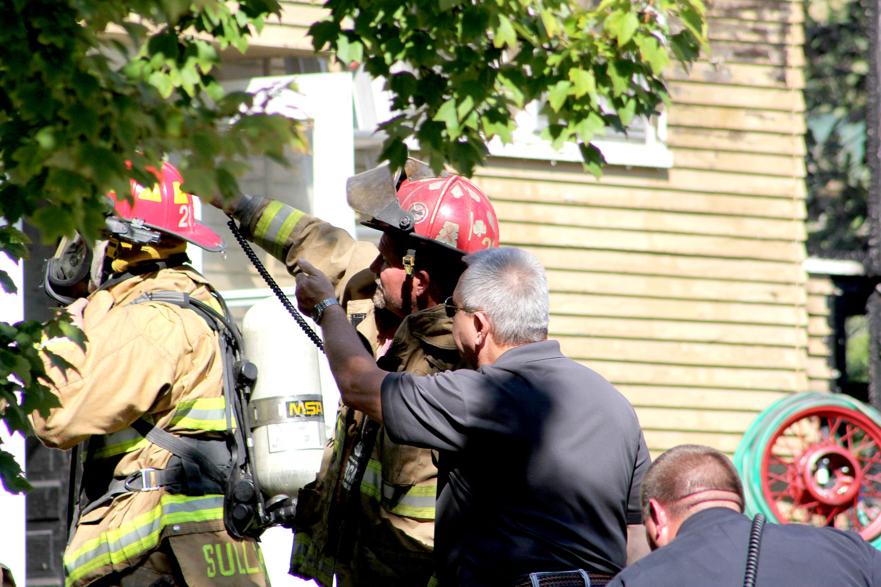 Working with other agencies
Growing up in Columbia, Wood said he's used to a university town and that he thinks college students bring a different and beneficial element to the community.
He worked hard to shift the department's perspective regarding the students who help support the town.
"They should be considered our friends," he said. "It was a long process."
During that time Clarence Green, who would go on to become chief of the University Police Department at Northwest Missouri State University, was working for MPS. Wood said Green's career and work in the community is a definite source of pride for him.
"Clarence has done a fantastic job," he said. "One of my guys has done well and has paid the community back many times over for his initial experiences he hopefully picked up here. I like to think he got some of his good things from here."
Wood said the department has a good working relationship with all local law enforcement agencies.
"We certainly enjoy a good relationship with Sheriff (Randy) Strong, him having worked for us for a number of years," he said.
With regard to the Missouri State Highway Patrol, Wood said the troopers are always willing to help during accidents or for mutual aid calls.
While local law enforcement has helped each other, sometimes help from a larger office is required.
"We had some legitimate crime issues going on in this community and they were extremely helpful," he said.
He explained that some of the cases the ATF were working on in other locations led back to Maryville and the department worked with them on those.
He recalled a drug related homicide case — the Elkins homicide in 1990 — that the ATF helped with that originated in Maryville.
"That one was extremely interesting, the work, because it had lots of twists and turns," he said. "The people responsible even though we knew who it was, we couldn't get charges on them until we had a body."
Seven years later the body of Christine Elkins was found rolled up in a carpet in the trunk of a car submerged in the Missouri River near Amazonia.
"That was a challenging case that we worked very closely with the ATF and other local agencies here," he said. "We still refer to it today as kind of a turning point in the community. It took a criminal element out of here. … I think it sent a message, that if you do something in this community we're going to stay on it."
A different case, still yet unsolved, weighs on Wood's mind — the 1973 Teresa Hilt homicide.
"I would have loved to have been able to have cleared that, and closed that out with an arrest or something, but as more time passes, even the players that are involved in that are aging out," he said. "Many of the players have even passed away."
Wood said the case, which occurred when he was a senior in high school, was pending when he joined the community. "You take it personal," he said. "Everybody that wears a uniform feels it and wears that personal responsibility. I think you're going to see that differently in a small community like this where the guys take their work personally as opposed to somebody in Kansas City that has 40 or 50 uncleared homicides in a year. … I know they take their work personally too. It's just different."
Wood explained that he believes it would be easier for an officer to leave a community like Maryville for work in a larger city, than it would for someone from a larger city to move to a smaller community.
"Who you encounter today, you're going to bump into at Walmart tonight," he said. "That's just part of being in a community this size. You have to learn that. That has to be part of how you conduct your business, because these are our friends and neighbors a lot of times."
One of the safest Missouri cities
Maryville has consistently been ranked on numerous lists as one of the safest cities in Missouri by numerous agencies, thanks in part to Maryville Public Safety and Wood's leadership over the years, according to a city news release.
"I attribute that to a healthy relationship between us and the people we serve," Wood said.
Community members feel comfortable calling to tell MPS about things they observe and hear and he strongly encourages that.
"I'd rather hear something and it be nothing, than for somebody to not say something and we're missing a piece of the puzzle they're holding," said Wood.
He said sometimes people don't know they're holding a piece of the puzzle.
"I think we've had good, strong relationships with the community," he said. "I've enjoyed the size of the community. … I think I have had more rewards in this community than I would have anywhere else."
Now departing law enforcement, Wood said the field is in a bit of a sad state right now.
"We're being painted with a paint brush I personally don't think is fair," he said.
Growing up in Columbia in the 1960s, Wood believes he has a good understanding of civil rights. He thought the people in his field had done a good job with race relations but finds himself looking back questioning whether anything's improved at all.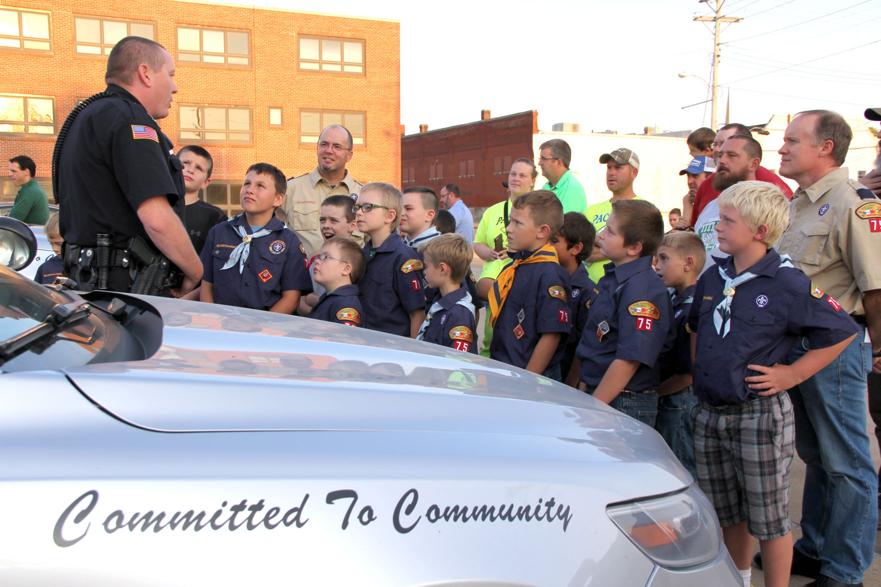 "I know that's not the case, but it's easy to view it with skewed eyes," he said. "Again the paint brush has been given to somebody else to make something of it."
He said this skewed view impacts law enforcement and its ability to keep the public safe.
"Even before this, getting somebody to put the uniform on in the last four or five years has become increasingly difficult and this has only added to it," Wood said.
MPS Lt. Ron Christian, who will takeover as interim director on Tuesday, Aug. 4, told The Forum on Monday that he's worked with Wood his entire career at MPS. And while it may seem like a small addition to the vehicles that patrol the city, the "Committed to Community" logo speaks volumes about the focus of Wood's heart and mind.
"He always took that very seriously and always tried to instill in officers to have that sense of community and to remember that they're here to serve," Christian said.
With the ups and downs of how law enforcement is viewed by society, "he always tried to remind us how blessed we are to work in a community such as Maryville," he said.
Very mindful of pursuing professionalism, Christian explained that Wood has always looked for ways to improve the quality of services the department offers the community.
"He really instilled in us a sense of love for our community," he said. "We all live here. … That slogan that he put on our cars a long, long, long time ago, to him it's more than just a slogan. It really is in his heart. … He really does have a love of Maryville."
Wood said that since his retirement announcement he's hearing from a lot people he's worked with throughout his career.
"It means a lot to me to just hear kind words," he said. "A lot of the people that I've worked with throughout my career are retiring or have retired."
He began noticing about 10 years ago that the faces in his professional network were changing. New people were entering law enforcement professional circles with their own way of doing things.
And as part of that, the new MPS building set to open in August, and because of Wood's retirement a new person will be able to put their mark on the facility.
Wood, who has played a large role in deciding the elements included in the building's construction, said that even though he's not moving into the structure, it's exciting that someone new will put his or her identity on it.
"I feel like it's a lot more important what we look at right now, than whether I ever set foot inside it," he said. "I kind of came to peace with that as I struggled with when to do the retirement. … Let that chapter be somebody else's."
He said the time seemed right. After last year's lengthy discussions regarding the combined 911 center — his fourth on the topic, coupled with some of the things going on nationwide, it felt right to him.
"Here we are and we're within weeks of that going live, I hope we've put all our pieces in the right places to make that transition go smooth," he said. "(There's) lots and lots of technology involved in that effort. There's different overlays in that technology to make it work."
Wood said the technology side of that building has been more complex in the last couple of months than the entire building project up to that point. In the last 43 years, he's seen the technology change quite a bit.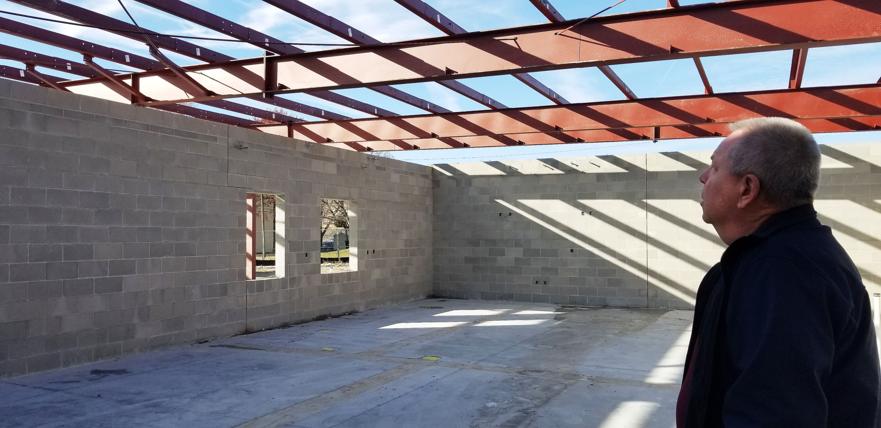 "When I moved up here, we were the first city entity to have a fax machine," he said. "City Hall would come down here to send faxes when they had them."
MPS was using it for identity purposes and it was a standard at that time, but now the machines are all gathering dust somewhere he said.
Another shift Wood saw during his career was the increase in technology in patrol vehicles. From dash cams to in-car computers and license plate readers, he said there's a lot of expensive equipment in them.
"We probably have more dollar value now in the car, than the car itself," he said. "I think the excitement in the department should just be palpable. With all the things going on right now, that building, joint communications, me getting out of the way for somebody else, the folks in this department are getting ready to undergo more changes in a short period of time, than anytime at all."
"My heart was telling me ... I think in the last couple years, I've become professionally tired," Wood said. "At some point I've become less and less satisfied with my own professional performance, just because my heart was not there anymore. It became more and more difficult for my heart to be where I wanted it to be."
So starting on Aug. 4, his heart will be where he chooses, with family and possibly volunteering throughout the community. Wood said he and his wife, Chris, a supervisor at the Maryville Treatment Center, don't intend on moving out the area in the near future.
"We're going to stick around," he said. "I don't know what I'm going to do. I don't have any hobbies."
Sitting around the house with nothing to do will probably be OK with him … for about three days, he joked. Then he plans to find something to keep him busy, perhaps volunteer work.
Wood's family has been in the loop about his upcoming retirement, but didn't necessarily think it was going happen as suddenly as it did. The family does a good job of staying connected, because his son Tony lives in town and daughter Whitney lives not far away in Clinton, but he and Chris are considering plans to visit their daughter Lindsey in Baltimore, Maryland, in the next few months.
"The community's been good to me," he said. "It's been fun and rewarding to be a part of the community. We, my family and I, appreciate being welcomed here and made to feel a part of it."
To recognize Wood for his service to the community, the city has scheduled a public retirement reception for 4 to 6 p.m. on Monday, Aug. 3 at the Mozingo Event Center.