MARYVILLE, Mo. — Last November at the end of a year unlike many others, Bedford, Iowa, resident Shaun Thornton was releasing some frustration and spending time with family throwing axes (hatchets) when the wheels began turning in his head.
"I got through about two or three throws ... we need to do this back where we're at," he told The Forum in late March.
Thus Timbearcats Axe Throwing was born. Through a lot of research (some of it patent pending) and planning, a location was found, and Thornton began putting out the word.
For a while the location was kept secret, but late last week Thornton announced the business will be located where White Elm Mercantile Co. is at 218 N. Main St.
At the time of the interview, Thornton said it was important to building owner Stephanie Campbell, not to announce before she had a plan for her business, which he said isn't going to close, but probably move.
Thanks to the very open woodsy atmosphere of the current business, he noted the throwing lanes' construction likely wouldn't take long. Depending on how quickly Thornton can get into the building and begin construction — he expects in May — the business will open sometime late spring or early summer.
He and his crew have practiced building the lanes and now have a good understanding of what it will take to construct them.
In that space he plans to create seven to eight throwing lanes and accommodate up to six people per lane, but he's also bringing his own bit of flair to the setting. Each lane will offer digital scoring and games.
"We have multiple different games," Thornton said. "We actually project our targets onto there."
All the scoring and games are digital offering a different experience than most other throwing facilities, he said.
Though the traditional method of throwing at circles is available, because it's digital, many new games become possible. Thornton provided some examples: Tic-Tac-Toe or zombie slaying. He also suggested that during Maryville homecoming or a rivalry week, hatchets could be thrown at a picture of the opposing team's mascot.
"You're not just going to be playing one game if you don't want to," he said. "... We want to keep the experience as likable as possible and let people really have a lot of fun with it."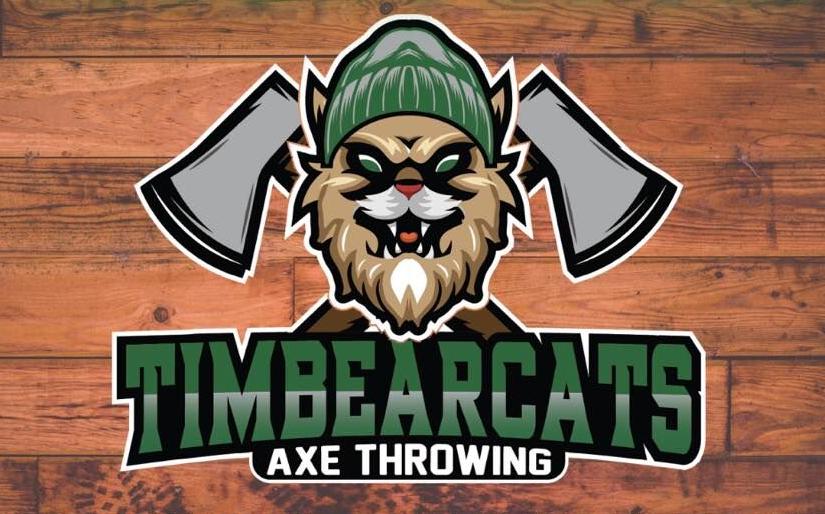 Though the act of throwing axes is not dissimilar from other locations offering the same activity, there will be a couple of definite differences at Timbearcats Axe Throwing.
Along with the typical throwing of hatchets and the digital games and scoring, participants may also notice the targets will look a bit different.
At most axe-throwing places, throwers lob hatchets at planks. At Timbearcats, hatchets are hurled at tightly formed wood targets.
Thornton was hesitant to explain exactly how he created them, but the targets offer a higher stick ratio, meaning a thrower is more likely to have a hatchet hit and stay stuck in the wall.
"It's frustrating if you go and you throw four or five times and it just hits and comes off," he said. "Ours you can throw almost at any different angle and it will stick."
Thornton said he's worked to make it as fun of an experience as possible. To get a stick, a thrower doesn't even necessarily have to throw hard to be treated to a satisfactory "thunk."
With regard to safety, always key in an insurance agent's mind, his patent-pending bounce-back system helps with ricochets and hatchets returning back at the thrower.
"Ours if it hits, it just drops," he said.
Thornton said that he would like to offer alcoholic beverages, like beer, but is still in the process of talking with the city about restrictions and requirements. As part of that he hopes to support and utilize as many Maryville businesses as possible.
"We'll probably do some type of alcohol," he said. "I'd really like to hopefully work with the brewery — Black Pony Brewery is still under construction at Fourth and Main streets — with what they have and try to help spread their cause too. I think that's a great thing. We'll be close to them, I mean we'll be on the square."
Father of two, Thornton said it's important that the facility be an all ages entertainment location, and that he wants the facility to be classified as an axe throwing house, not a bar so children can be present.
For families considering birthday parties, he's even planning for small suction cup "axes" for younger children so they can feel involved as well.
Later in the summer, he's considering opening a traveling axe throwing trailer with two lanes available to rent for fair season, open houses, business events, birthdays or even weddings, which he noted they've already been asked about numerous times.
Thornton is quite used to entrepreneurship as he owns an insurance agency in Bedford and his family also runs a fireworks stand.
"It's not the first dabble into entertainment, if you will," he said.
Growing up in Bedford, he said Maryville was where his family and friends came for entertainment throughout his childhood, school and college years.
"It's not where I reside, but to me it's home," he said.
Thornton said his wife, Brittany graduated from Northwest, was a Phi Mu and tied to the school community.
"I just think Maryville is a really good place for a lot of stuff," he said. "The growth that I've seen over the years … and the direction that Maryville takes with … trying to bring new businesses, I'm overwhelmed with just the reception that I've gotten from this. ...
"I think just in general after last year and what we all went through, we all deserve to have fun and be able to smile and enjoy laughter," he said. "It is a fun thing. … It's something that you'll want to come back and do it again."
Though nothing is set in stone at this time, Thornton said he's considering having the business open in afternoons and evenings Thursday through Sunday. He's also considering setting up a league night.
Once the business opens, more information will become available on Timbearcats Axe Throwing social media.