PICKERING, Mo. — Offering entertainment for families, friends and equestrian enthusiasts, the 2020 Pickering Horse Show provided a large crowd nine rounds of draft horse pull entertainment Friday, Sept. 18 and numerous other events Saturday.
Unlike last year's show where a team of horses tore down part of the arena fence, this year's event went very smoothly.
According to Dagmar Whipple, event volunteer and organizer, last year's show had a bit of frightening excitement, but this year, along with a new, sturdy, arena fence, the show brought families together to share favorite foods, a love of horses and time with each other.
In his 30th year pulling, Ryan Smith, of Clark, Missouri, with his 4,100-pound team of Belgian draft horses Bill and Don, took first place during Friday's event.
Exhibiting a remarkable amount of control, Smith held back his horses for a long period of time before each pull, sometimes several seconds, until he was certain they were ready to work together.
When asked how he has trained the two so well, he explained that he uses a series of small hills in an area on his land to help them recognize when to hold and how to start together.
Now in his fifth season competing with the pair of Belgians, Smith said the largest amount of weight they've pulled together was 18,700 pounds in Denver. But he was quite happy with their work Friday night.
Smith said he recently traded horses with another contender: David White, who has won the draft horse pull at Pickering for the last two years in a row. Smith received Bill for two horses, one named Deuce and another full brother he said.
Smith started working with horses when he was 13 years old and said he's been to Pickering a few times before and won at least once — he thought in 2007 — and hopes to come back.
"We like coming up here," Smith said. "Dad was a really good friend of Jack Gray's, traded horses."
He got Don about seven years ago as a 6-year-old weighing 1,550 pounds. Don now tips the scales at about 2,150-2,200 pounds, Smith said.
"He was nothing but skin and bones," he said.
Having pulled a pair of Don's half-brothers, and along with the shape of his and Bill's backends, he knew the two would work well together.
The event, which used to be referred to as "The Biggest Little Horse Show in the World," has been held annually since its inception in 1934, with the exception of 1942-1945, during World War II. The Pickering Lions Club wasn't about to let the COVID-19 pandemic put a stop to it.
"We cut down due to the virus," said Bob Whipple, Lions Club member. "We're pretty disappointed in this virus. … It's kind of sad."
A lot of ideas for community youth were cut from the event in an effort to keep people safe, but that didn't stop families from coming out to visit with each other.
Brother and sister Alan Roush, of Maryville, and Teresa Parker, of Shambaugh, Iowa, met up at the show with other siblings Jola Fisher, of Savannah, and Pam Tempel, of Columbia, to work the event and enjoy the festivities with their mother, Marjorie Roush, at the Pickering Lions Club food stand open during the show.
The family uses the show as a family reunion of sorts and Parker makes pies for the event each year.
This year Parker brought Alan's favorite pie: a "Blue Goose" pie. A mixture of blueberries and homegrown gooseberries, the balanced sweet and tart pie was served in a sugared pie crust. Parker also brought apple and cherry pies, though only the apples and gooseberries were homegrown she told The Forum.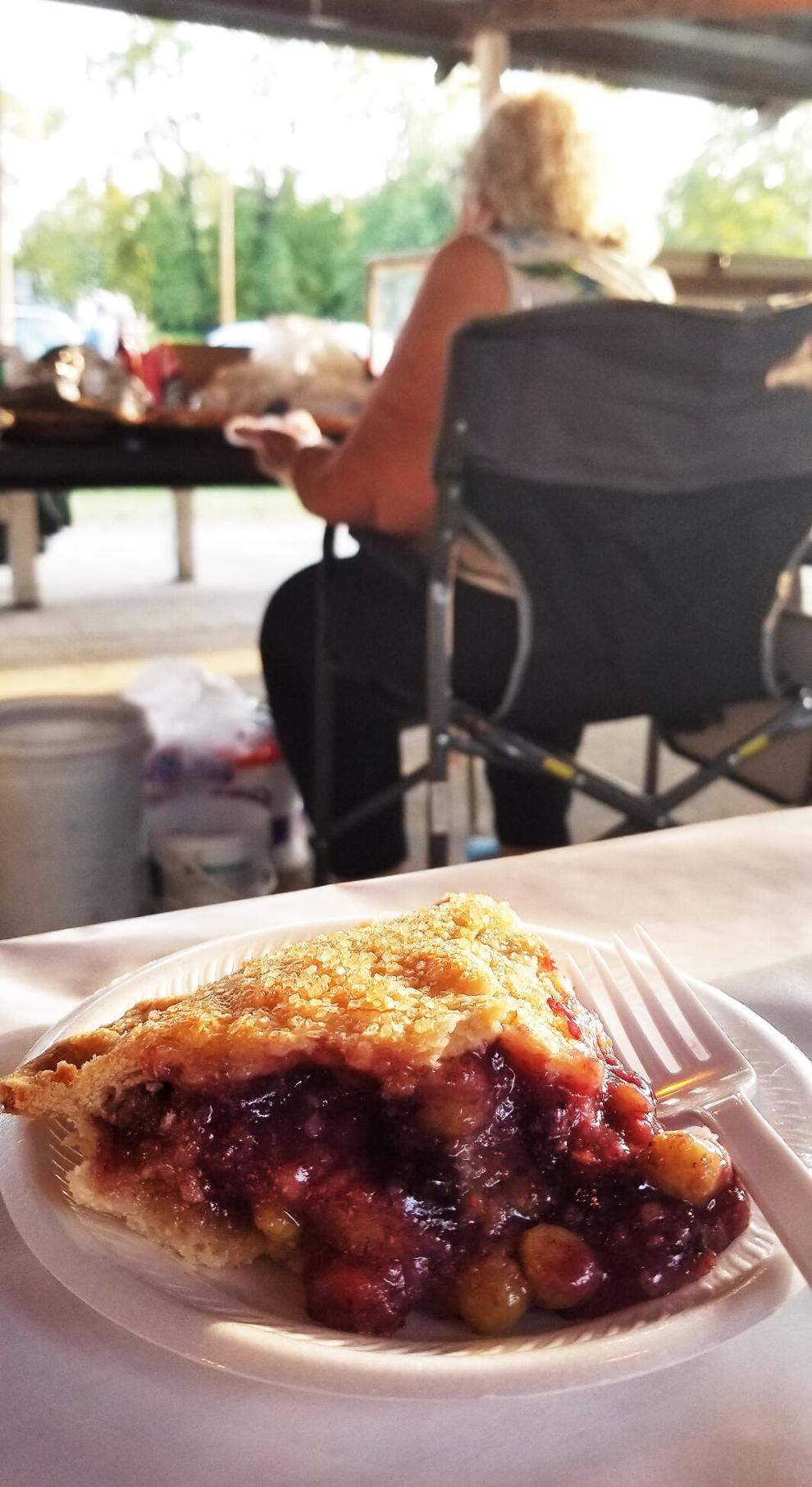 Another family finding time to partake in the show is from Villisca, Iowa.
The Gray family has attended the annual horse show for many years, participating in the draft horse pull each year.
This year, 25-year-old Cody Gray, placed fourth in the draft horse pull with horses Pete and Baldy. Gray, a fifth-generation draft horse puller, has worked with horses for 16 years, or since he was 9 years old.
While preparing his horses before the event, he told The Forum, that his family with multiple teams entered in the contest, always makes a point to attend the horse show in Pickering.
Cody's father also pulled at the event Friday night. Daniel Gray got his start pulling ponies when he was around the same age as his son.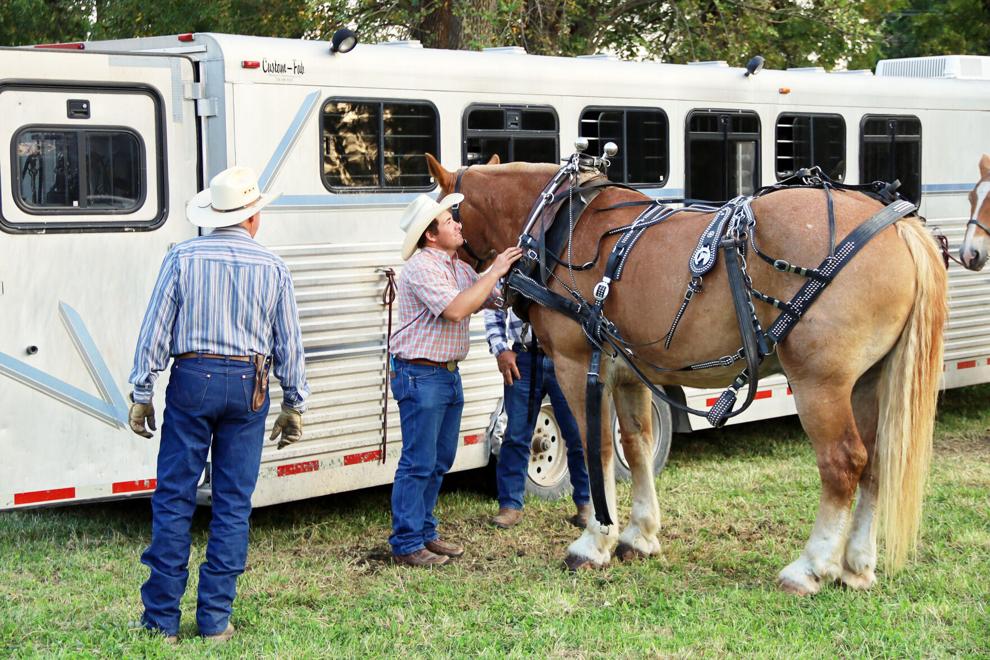 "I then graduated into these for 50 years," he said. "I must like it."
Daniel placed ninth in Friday night's events with 3,500-pound team Shorty and Cracker pulling a weight of 8,500 pounds (5,000 pounds more than their weight) a distance of 16-feet, 8-inches.
"When I was 9 years old I won my first pony pull here," Daniel said. "We've been coming here for a long time."
He explained that a lot has changed at the show, with fewer people attending and even fewer people interested in the equestrian activities in general.
"Everything's changed," he said. "It's getting less all the time. All the older fellers are passing away. There just ain't as many to be able to do it."
He said part of it is likely due to the cost of keeping the horses, whose only job is to pull competitively. With the cost of feed and gas to travel from competition to competition it can add up.
While patrons may notice a decline in visitors, Lions Club members are still coming up with new ideas to draw attention to the show.
This year the club scheduled a Poker Run for Saturday morning. Anyone was welcome to run, walk or ride the six-mile course and it raised about $650 for the club. That same amount was paid out to the top five placers in the run.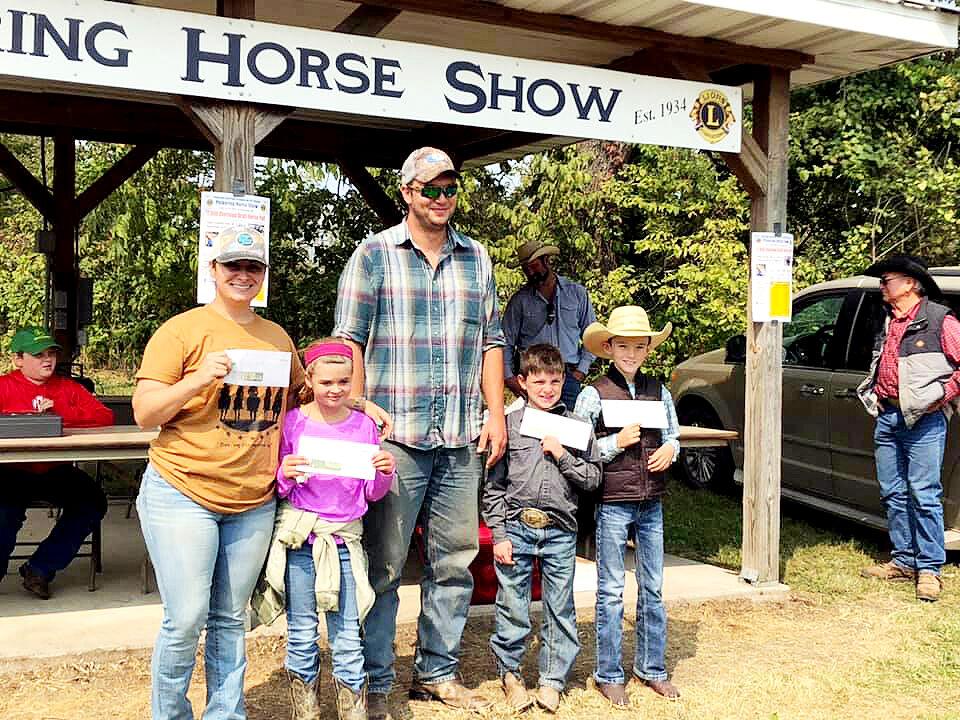 Poker run winners included: Cassandra Smith first place $195, Emmalyn Hill second place $162, Silas Nielson third place $130, Clell Clements fourth place $97 and Luke Clements fifth place $65.
Proceeds from the run will be used for club scholarships.