MARYVILLE, Mo. — Ed and Bonnie Dew, of Maryville, had five boys and three girls and Connie McGinness, the oldest of those eight, has made it a point in her life to serve others, starting with God, family, church and community.
What has helped her find balance and focus has been her large, close family. She said almost all her siblings live in Nodaway County thus creating a solid foundation for her family to expand.
Growing her own family, McGinness and her husband Bob were married in 1962 and had three children: Greg McGinness, Brenda Jones and JoAnna Baker. Now grown, they along with their spouses Shelly, Barry and Sean, have given her 12 grandchildren and eight great-grandchildren.
About to celebrate their 60th wedding anniversary in June 2022, McGinness said family is very important to her and was part of the reason she has kept herself so busy.
"My philosophy has always been, 'There's no reason to be bored, and there's plenty of things to do,'" she said. "That was one of the rules in my family: the kids, they never told me they were bored."
Much of the family history includes Northwest Missouri State University, as numerous family members have received their education there or teach there now.
Bob, Greg and JoAnna all graduated from Northwest. Bob double majored in accounting and agriculture in the 1960s. At the time, the school didn't have an agribusiness degree.
McGinness's granddaughter Aubrey Jones is a Bearcat Stepper.
"So we get to go watch her," she said.
Some of her grandchildren have begun to seek other locales around the country, one up to Omaha, another to Colorado.
"My grandkids are starting to fan out, but the kids are all here," she said.
McGinness herself spent two years at the university around 1961, then found work at a local bank that paid for her to take night classes to learn accounting.
After those, and for 26 years she worked at Harden, Cummins, Moss & Miller LLC. McGinness attributed much of her tax knowledge to Mr. Cummins who also made sure she was up to date on her refresher courses.
McGinness laughed saying it's because of her skill with numbers that in most of her clubs and organizations — of which there are quite a number — she's typically asked to be treasurer.
While her children were still in the Maryville R-II school district, McGinness served for 15 years on the board of education, eventually leaving in 1994.
"That was an adventure," she remarked about her time on the board.
At the end of her stint on the board, the district was searching for land to build a new high school and middle school. Though McGinness wasn't on the board when the decision was finalized, she recalled the negotiations that took place.
"I think she has been especially outstanding as a volunteer with children at home and after," according to her nominator who wished to remain anonymous. "She managed a great balance in her life."
Some of those other clubs she helped lead while her children were still young included 4-H and Scouts. She was a 4-H project leader and a Cub Scouts leader. Later she was a Girl Scout leader and neighborhood chairperson for cookie drives.
"And, of course, you know the kids had to be involved in all the summer baseball and all that kind of stuff," McGinness said.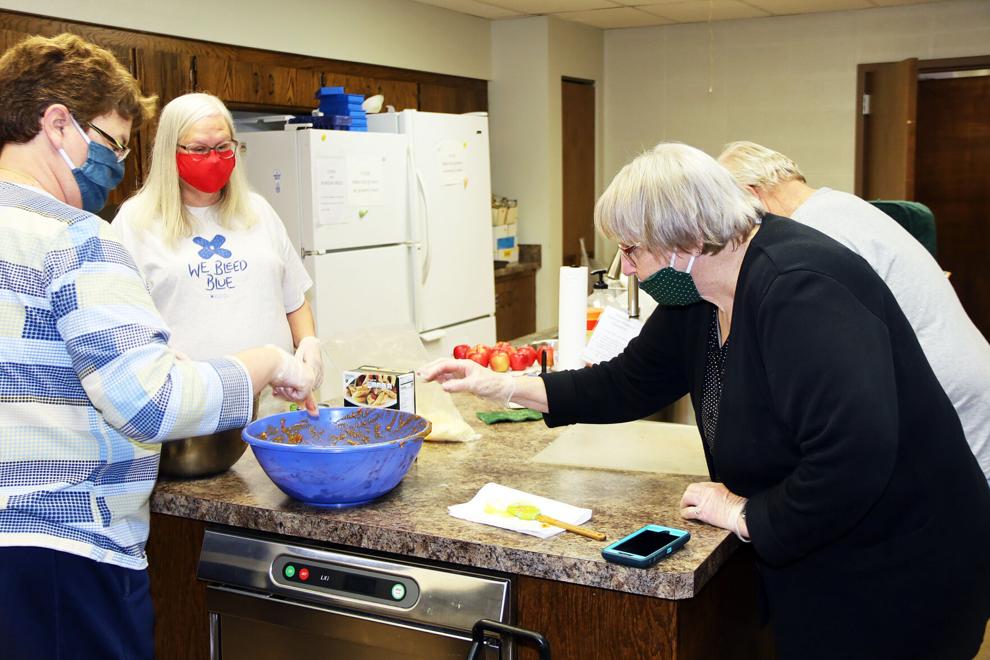 McGinness has been a member of the First Christian Church for around 64 years, volunteering to lead the youth ministry and is the current chair of the Outreach Committee. As an elder she also teaches Prayer & Share Sunday School class and volunteers to help with weekly food distribution to community members.
Since the onset of the COVID-19 pandemic, and with the assistance of Matt Johnson, a local firefighter, councilman and professor at Northwest, the church has provided free meals to community members each Thursday with a goal of feeding 5,000 people.
"We've passed that," McGinness said. "That's what he started out doing and we just have rotated fixing meals for people to pick up and to deliver."
She believed that Friday is the only weekday where a meal is not provided by a local church for those in need. The meals are provided during a drive-thru event around 5 p.m. each Thursday at the Third Street side of the church.
On average through the winter, she thinks they served around 125 meals. Some weeks there were more, some saw fewer participants.
As treasurer of The Ministry Center for the last three years, McGinness has seen donations come in from Second Harvest Community Food Bank, Walmart and Hy-Vee and said "It's great," being able to feed people.
The Ministry Center and church members then donate some of the food to the local churches who cook up the meals to deliver.
She noted that other areas outside of Nodaway County have seen a lot of people going hungry.
"We've been really fortunate up in this area," McGinness said. "If there's anybody that you know that needs something, if they'll contact The Ministry Center or the church we'll make sure that they are fed."
If still yet unsure of McGinness' work ethic, in yet another facet of her life, she's also a businesswoman who keeps the books at her husband Bob and son Greg's business McGinness Electric Inc., of Maryville. She's also served eight years as treasurer of the Business Women of Missouri State Foundation.
The Maryville chapter of BWM has sponsored the 'It's a Real Christmas Dinner' at the Nodaway County Senior Center, now in its 30th year. The Maryville Citizens for Community Action sponsored the event for 12 years before the local chapter of BWM took over its management.
McGinness, who also is the Nodaway County Senior Center board of trustees treasurer, accepts donations throughout the year to help with food costs. Last year, the dinner shifted to pickup or delivery only.
"It turned out being probably better donations than when people came in," McGinness said. "They didn't have to wait. They could come by and pick it up."
She thought they saw more people and those people also felt the drive to give more for the freewill donation.
McGinness is also a member of Chapter KP of the P.E.O. Sisterhood, Daughters of the American Revolution and also has served as chaplain.
She likes helping connect veterans with honor flights and then hearing from them. She also enjoys taking part in citizenship award presentations at the high school.
She also served on the hospice board when it was organized by the hospital in around 1990.
When asked if she was very well-known throughout town, McGinness chuckled and said "Infamous or something, I don't know."
Working to keep her life in balance, McGinness said she only spends a few hours a week doing work for the business, and makes sure to find time to play cards at the senior center twice a week.
"I never really thought about how much time I spend doing other things, I just do them," she said. "... It's a little different philosophy after I retired."
As an early riser, she said she enjoys the quiet serene quality of early morning.
"It must be in my genes, my dad was that way," McGinness said. "I always tell the kids, that's such a beautiful time of day."
She also enjoys reading and traveling and two years ago went to Ireland for a week with her daughters.
"It's just so beautiful," McGinness said.
In 2000, she and her husband took a trip to Germany to see the passion play held once every 10 years.
"Those were both really nice trips," she said. "It was fun."
Normally she and her siblings get together on Christmas and Easter and Thanksgiving, but last year's pandemic caused them to not meet up.
But as the pandemic is easing and events begin to be scheduled, this Easter her sister in Burlington Junction is planning to host a meal for about half the crowd who would usually show up.
Between work and her volunteerism, it is that time with family that has helped McGinness find equilibrium in the world. She has worked during her life to make a difference in others' because she cares and has a good work ethic, which she attributes to her mother's long hours cooking meals at Eugene Field Elementary.
"It's kind of humbling," she said. "(Being recognized is) really nice because I never think about what I'm doing … like for recognition or anything. It's just the feeling inside that you get when you help somebody or done something good for somebody else and it comes back to you."