MARYVILLE, Mo. — Hundreds of people, including firefighters, police officers, rescue workers, uniformed U.S. Army soldiers and eighth grade students gathered and paid their respects Friday morning during a ceremony, held at Freedom Rock Plaza, honoring the sacrifices made by firefighters and other first responders killed during the Sept. 11, 2001, terrorist attacks in New York City, Washington, D.C. and rural Pennsylvania.
The Maryville Fire Department hosts the ceremony each year to pay tribute to the 343 firefighters, 72 law enforcement officers and 55 military personnel who lost their lives in the attacks and those who have died since, with an array of medical issues resulting from the event.
Pastor J.D. Dirks with Calvary Chapel offered an invocation. The prayer was followed by a keynote address from Karla Duncan, senior disaster program manager with the American Red Cross.
On the ground in New York City just three days after the tragic event to help city residents, responders and anyone impacted, Duncan spent a month working with responders and community members in what she described as one of those life-changing events that she'll always recall where she was.
"Little did I know that I was going to be called to respond to such a heinous event that impacted our entire nation," she said. "Twenty years ago (Sept. 11), people in New York City, in Washington, D.C., and in Shanksville, Pennsylvania, had no idea what was about to happen to their lives."
Duncan spoke of her personal experiences while there and at one point found recalling her time there difficult to talk about.
"It took a community to respond, but actually not just a community, it took the nation to respond and among those people that responded, I was just one of them," she said.
She was one of four people on a private plane Angel Flight to New York City on Sept. 14. The next day happened to be her birthday.
"I spent the entire day of my birthday at Ground Zero at the site of the twin towers," she said.
She was one of 57,000 Red Cross workers who helped hundreds of thousands of individuals through what for many was the most difficult time they've ever faced, she told the audience.
Immediately following the attack, she said the Red Cross provided shelter to 4,500 people in 60 different shelters and served more than 14 million meals and provided health and mental health services at more than 100 sites.
"We helped local citizens whose livelihood stopped, because their city stopped," she said. "The Broadway theater worker, the taxi driver, the restaurant waitress, all of those people no longer had a job because their city was shut down to tourists.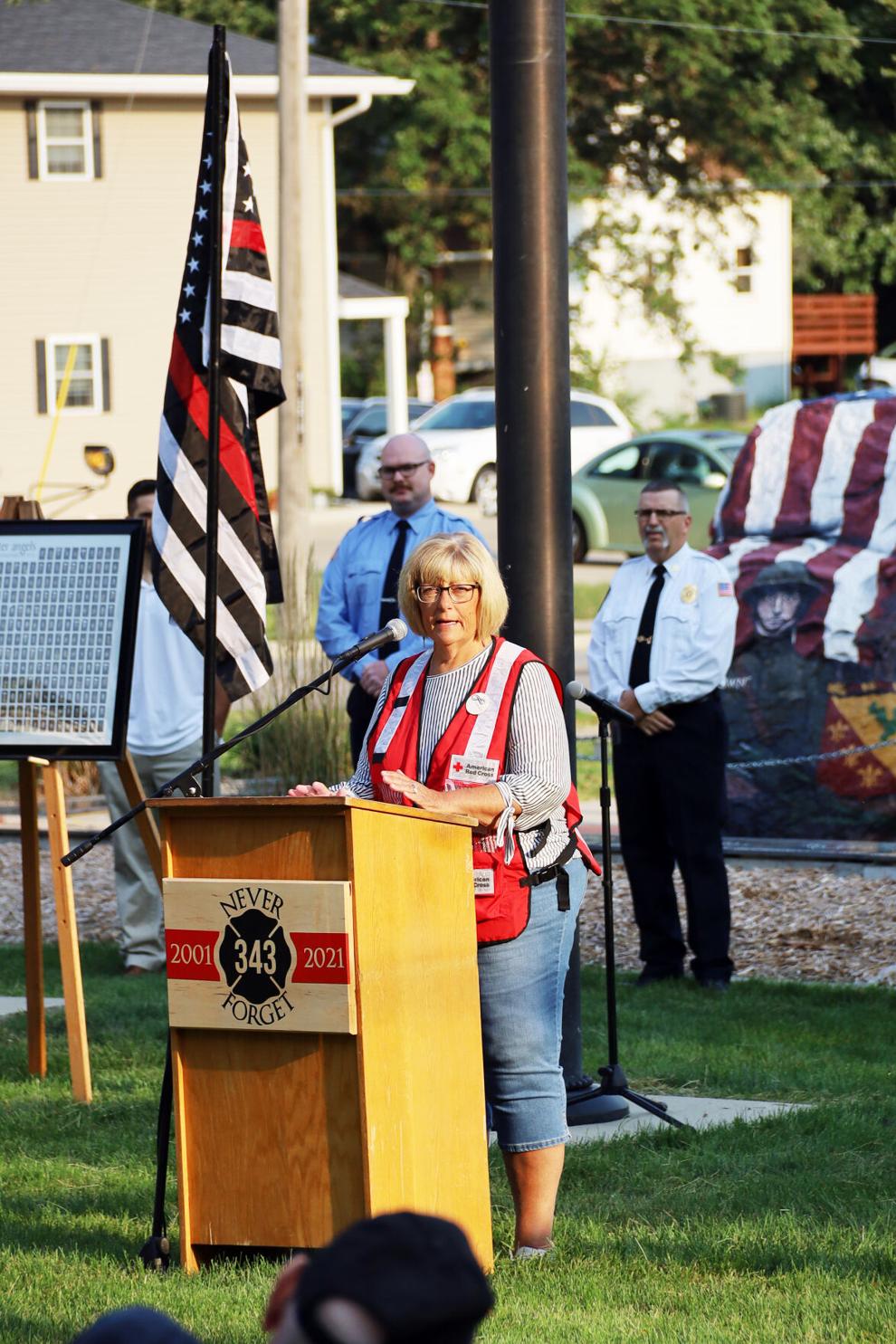 "We helped the rescuers that came from literally every corner of the United States to dig through the pile of the towers. They came in hopes of it being a rescue mission and finding people trapped in the rubble, but as we all know it quickly became a recovery mission — recovery of the bodies to identify them and return their remains to their families.
"We helped the survivors of those who were killed, many of whom came from many other locations throughout our land. Those family members needed housed, they needed fed and they needed information. And lastly we helped those who lost their lives by helping with their funeral expenses."
Duncan said upon arrival at the site she was struck by all the trash bags piled up, but the next day realized those bags were already full of debris that rescuers had been piling into lines of dump trucks filling the streets leading to the World Trade Center as they cleared the site looking for survivors.
That debris was hand-loaded into the trucks with shovels, then ferried across the river where people in protective gear would sift through it little by little searching for important items.
"They found thousands of items, ranging from charred fire department helmets to scorched shoes to airplane parts and sadly they also found body parts," she said. "Once that garbage truck pulled away, the very next truck pulled up and they did that 24 hours a day, seven days a week. They were still doing it when I left on Oct. 10."
She said on a parallel street, ambulances filled the streets, much like the garbage trucks, with the plan to transport patients.
"While the dump trucks moved regularly, the ambulances never did," she said.
Duncan told the crowd that upon seeing Ground Zero for the first time, it activated all of her senses. Visually, the sheer mountainous size of the downed towers. Her hearing was battered by regular sounds of helicopters and small aircraft there to serve as protection, since no one knew what may still happen. She said her sense of smell was bombarded by the scent of the pile as it burned, which she noted was still burning when she left a month later.
"Lastly the dust," Duncan said. "A layer of dust was all over everything and people would use that dust on windows all over the city to write messages of either encouragement or messages of searching."
With some difficulty, she recalled one of those messages on a window of a business that had not been blown out, not far from the site: "Dad, I was here. I won't stop looking for you. I love you, Matt."
Her job at the site was to coordinate feeding for rescuers at 48 different locations. The plan was to have food nearby where when someone came off the pile, they could have a meal, water or food and drink and also for their rescue animals. She explained that they not only provided meals and water, but also batteries for head lamps and children's socks for the animals paws, which would get cut up while searching.
Duncan explained feeding rescuers with all different backgrounds, the Red Cross offered culturally appropriate meals, whether kosher, no beef or otherwise. She said they also made a point to not serve any food that was red or had bones, because rescuers needed to eat and seeing something that might remind them of the blood they had been seeing might stop them from doing so.
She recalled the very specific posters lining any bare wall, with information about people who might be wandering around in shock or have amnesia. She held up a photo she had taken of one of them, where the person searching for a woman who had just been married, noted that she would have a wedding ring, then even described the items in her purse.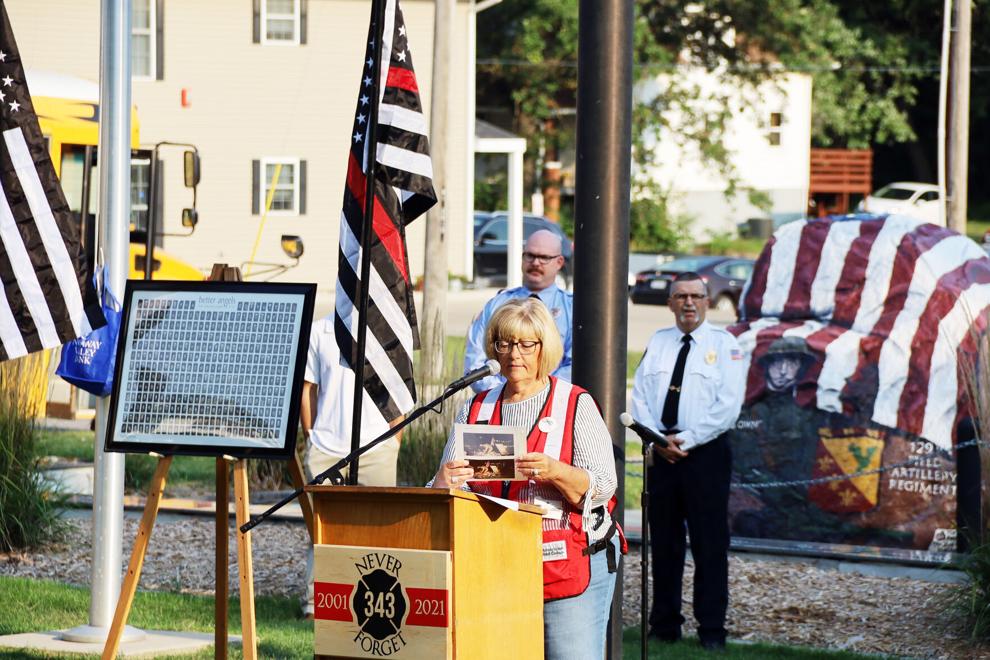 Duncan wears a button each year on the anniversary of the attacks that says "I am broken." It was given to her by a taxi driver who took her to the airport once her tour of duty was over.
"As he unloaded my bags at the airport, he took this pin off of his shirt and he took my hand," she said. "He put it in my hand and he looked me straight in the eye with the most sincerity I've probably ever heard and he simply said, 'Thank you. Thank you for helping us.'"
Duncan said she could go on forever, but wanted to say one thing about her experience.
"9/11 was horrible," she said. "It was absolutely, it was just horrible. One memory I will always cherish is the way we came together as a nation. We weren't Democrats. We weren't Republicans. We weren't Christian or Jewish or Muslim. We weren't LGBTQ or Black or white. We were American. We were brothers and sisters and we stood together as one. I wish we could just for a moment remember that time that we stood together as a nation."
Maryville Fire Chief Phil Rickabaugh then spoke about the reason the fire department holds the event each year. In 9/11 attacks, 2,996 were killed at the hands of terrorists.
"That figure includes 343 FDNY firefighters and paramedics, 23 New York City police officers, 37 New York City Port Authority officers," he said. "These first responders paid the ultimate price, but their actions likely saved hundreds and hundreds of other lives."
At the Pentagon, 189 people were killed including 64 passengers on American Airlines Flight 77. In rural Pennsylvania, passengers on board Flight 93 were killed as the aircraft crashed into a field.
He noted that the deaths didn't stop there as thousands of first responders continue to die from ailments received from being in the toxic environment.
"I ask one thing of all of you today, just pledge to never forget," he said.
To end the ceremony, a ceremonial bell was struck to honor the first responders who have died in the line of duty. The bell, according to Rickabaugh, is steeped in tradition.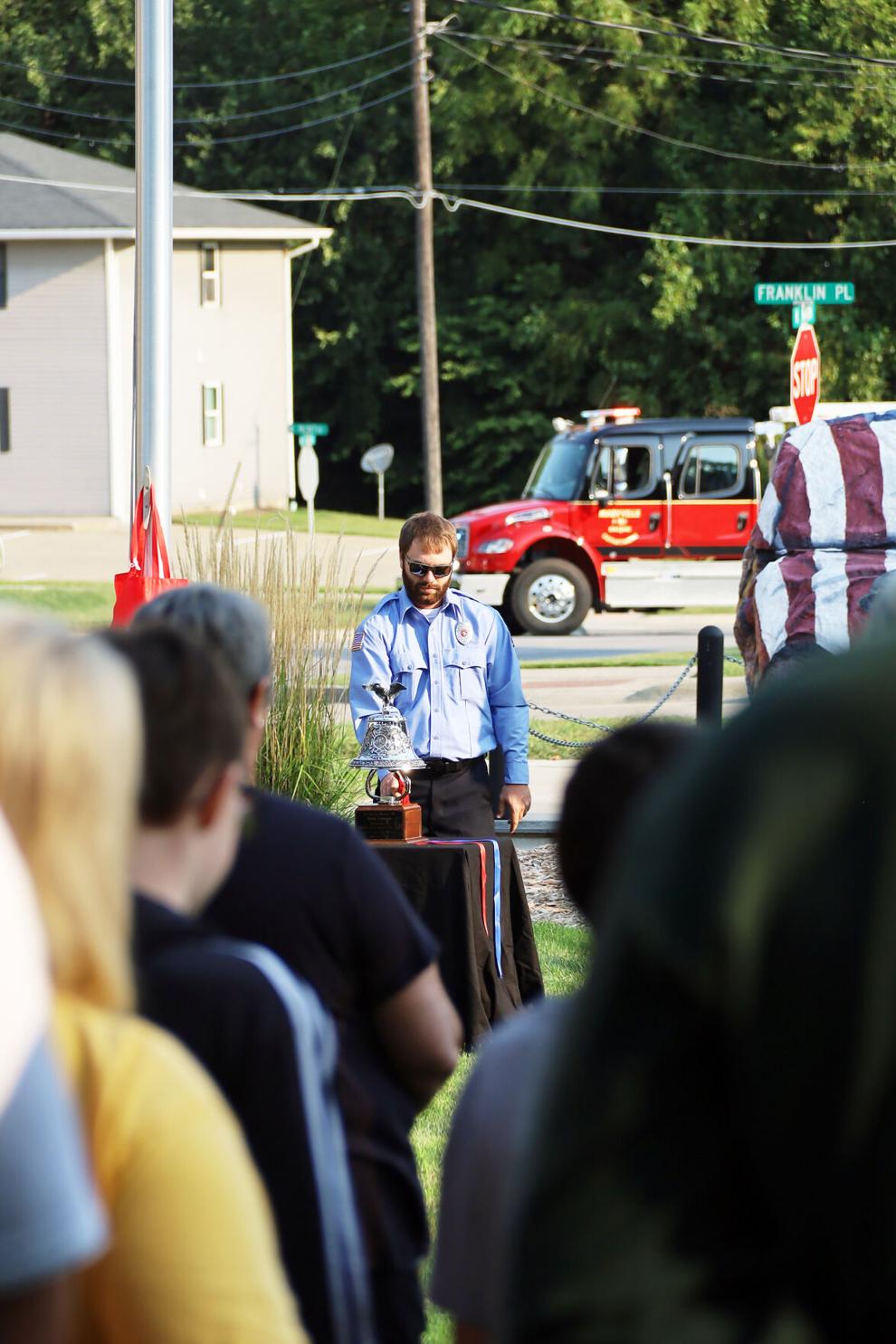 It can be traced as far back as 1865, in New York City, being rung to signify the death of former president Abraham Lincoln. In that time before computers and radios, fire bells were rung in four sets consisting of five chimes each whenever a firefighter died in the line of duty.
After the final bell was rung, the ceremony ended with Bob Burnett's rendition of "Amazing Grace" on bagpipes, yet one more tradition used to honor someone who has paid the ultimate price in service of others.
After the ceremony, Maryville Middle School students shook hands with first responders and toured the Freedom Rock Plaza.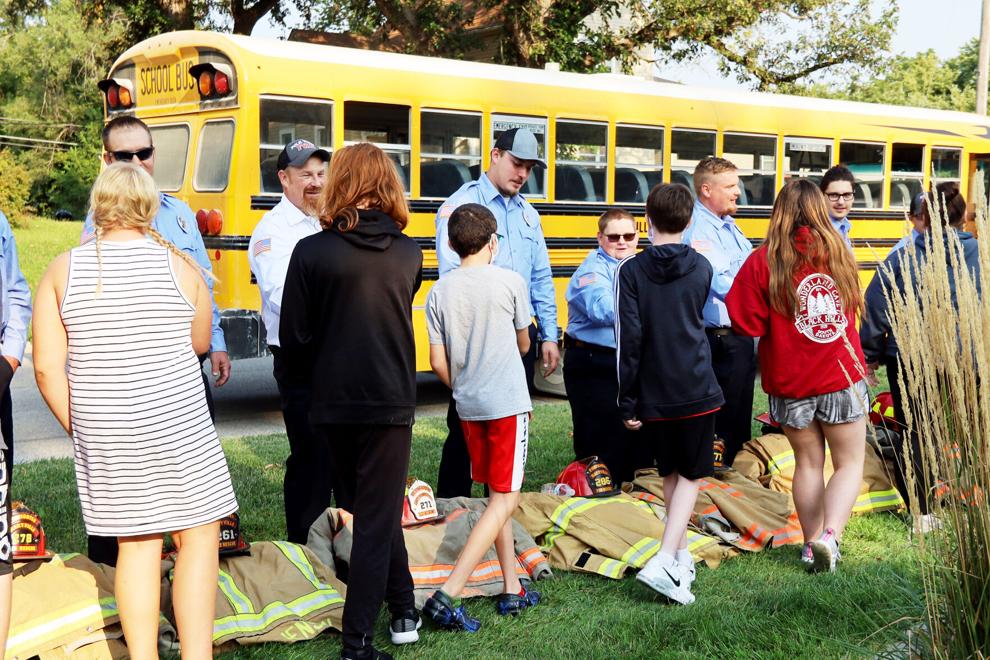 MMS American History teacher Jamie Thieman told The Forum that he's been teaching his students about this historic and tragic event in American History during the last week in preparation for them taking part in the ceremony at Franklin Park.
"I didn't really shy away from anything," he said. "I told them who was behind it, why they were thought to be behind it, the deaths and everything. We watched some pretty impactful videos about the day, the day of and after."
The students — who were not yet alive when the attacks took place — stood solemnly throughout the ceremony taking in the first-hand experiences from Duncan and the sheer weight of the numbers provided by Rickabaugh.
"If I could say anything about this class, as an eighth grade class it's probably the most patriotic of a class I've ever had and they'll let you know about it," Thieman said. "They love America and I told them at the beginning of the class that I take this very seriously. We're going to give this day the respect it deserves and boy did they."
Thieman said they had solid questions while learning about the event and that during the military studies portion of their discussions they've talked of the current events happening in Afghanistan and have been quite attentive.
Eighth grader Cash Dew told The Forum the event was really good and that he learned a lot from it.
"It's a very important event to remember," he said.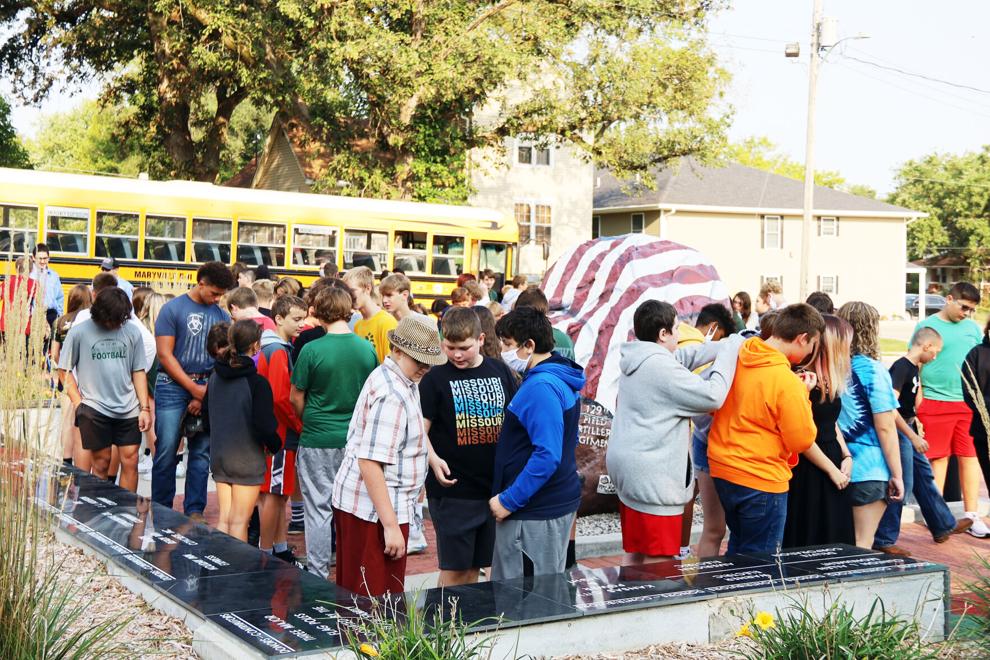 Eighth grader Ellie Parsons said she was kind of trying to keep it together during the ceremony.
"It was really meaningful," she said. "It's really nice to have this remembrance, this time to come together. I'm really happy that they let us come to this today."