MARYVILLE, Mo. — If Jamie Hooyman, the first female provost and chief academic officer at Northwest Missouri State University, will leave a legacy, she says, it will be in the "slivers" of success she's ignited in the lives of others — just as her success has been the result of many women who have helped her, time and again, end up in places where women had rarely been before.
Twenty years ago, she said, it would have been hard to imagine a woman in her role. Around that time, Hooyman was imagining herself in a new place, too — higher education — and facing down the challenges of making it a reality.
She, her husband Gary, and their young family of three daughters were living in Edmond, Oklahoma — though Gary, a Navy pilot, was often away on deployment. By day, Hooyman was teaching classes at the University of Central Oklahoma. By night, she was taking classes of her own as a doctoral student at Oklahoma State University in Stillwater.
"I would teach full time at UCO — I had three girls under the age of 4 — and I was driving three nights a week to Stillwater, which was about an hour and 15 (minutes) away, to go to classes, come back, do my homework, prepare my lectures," she said. "I had a husband that was deployed; you know, he couldn't help. When he was there, he would help as much as he could, but a lot of times he wasn't there.
"It's a matter of learning to balance and juggle. I think the most important thing is keeping your priorities straight: … my dad used to say, 'God, family, work.' And it helps to do that. But it is tough, and you always feel guilty about something — which isn't getting your full (attention)."
Her father, Bill Ausmus, was the one who first encouraged his daughter to go into education. Ausmus spent 20 years in various roles, including as dean, at Trenton Junior College, now North Central Missouri College, in Trenton, Missouri — Hooyman's hometown.
"Education was extremely important in my house, to say the least," Hooyman said. "My dad, being in higher education himself, he kept saying, 'You need to get your teaching degree.' And, you know, I was 18. What 18-year-old's going to listen to their parents? But I actually did."
First came an associate's degree. Then a bachelor's. And then a master's. And even though both the bachelor's and master's degrees were in education, with concentrations in physical education and exercise physiology and fitness respectively, Hooyman said she still didn't see herself chiefly as an educator. In fact her first job was clinical, in a hospital in Texas.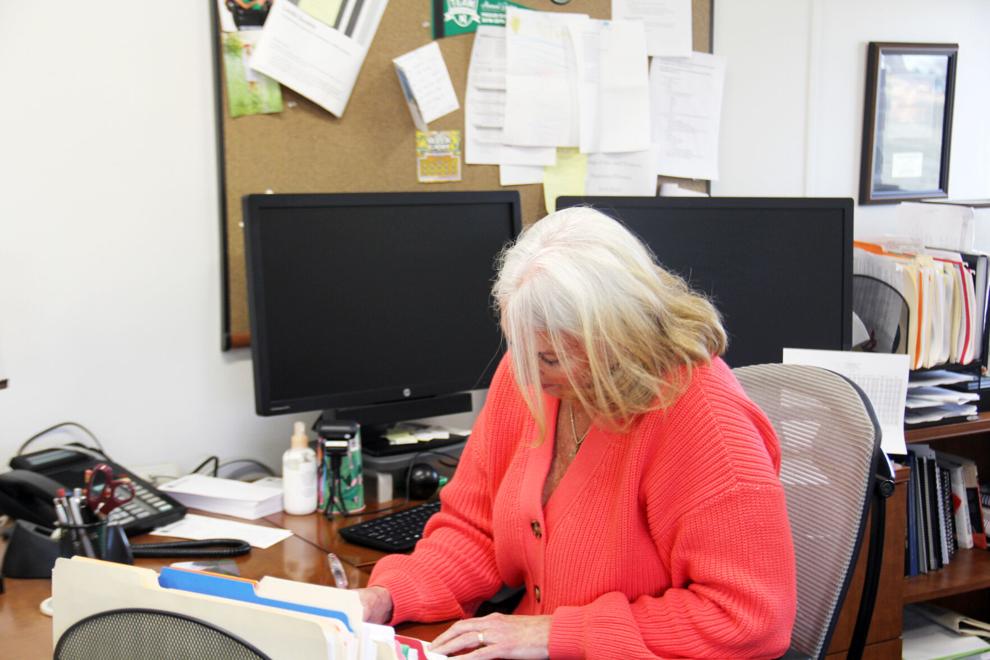 Already she was in rarified air, often one of the only women in her classes.
"It wasn't a common field; it was very male-dominated at the time," Hooyman said. "… Because it kind of pushed the envelope on the realms of things that (women) did."
But once she did get in front of students in the classroom, while at UCO, she knew it was where she belonged.
"Loved it," Hooyman said. "Loved the connection with the students, loved the fact that you're helping change lives. You're helping give skills to people — skills and knowledge and abilities — to achieve their dreams. Loved everything about it.
"And eventually, (I) moved up and each role I took, it was all because of that. … It's hard to explain, but when … that student gets that light bulb, when they finally catch on to something — there's nothing better than that."
But Hooyman never would have gotten to that point without a support system, she said, both a personal one, and one built by women who came before her whom she will never meet.
"When I went to UCO, what … pulled me back into education was the department chair at the time, Dr. Karen Dowd," Hooyman said. "She had heard through the grapevine that an exercise physiologist had moved into town."
Even though Hooyman said she didn't have much experience in teaching, Dowd and Donna Cobb — themselves both trailblazing educators in Oklahoma higher education — pushed her to get into the classroom.
"At that point, I still had my master's, and I was pregnant with my third child, and decided to go back and get my doctorate because I found my passion," she said. "But it was lit by women like that. They were so supportive through the whole process."
But with two young children, a third on the way and a husband often on deployment in the Navy, Hooyman faced a challenge familiar to her from her own family, and one familiar to many women who've found themselves in a similar position at the front of the line.
"My mother, she didn't finish her college degree until I was in high school," Hooyman said. "She didn't have that … chance, that opportunity. But I remember when I was in junior high — they didn't have online back then — her driving every night to go over and get a degree, or every day when we were in school, to get her degree, and still doing all the things for our family."
Hooyman's grandmother, too, showed the same determination.
"My grandmother, in her own way — you know, generations are different in how women's strengths come out," Hooyman said. "She was very much a traditional wife, but my grandfather was military and gone. And she found ways to raise her family and make a living with no education — I don't think she even finished eighth grade."
It's that throughline — from her grandmother, to her mother, to her, on down to her three daughters — that Hooyman said makes change and progress possible, and allows the previously only imaginable to become reality.
"Like my grandmother, like I said, I don't think she even made it up through eighth grade," Hooyman said. "That wasn't expected, that wasn't anything that was even ever encouraged because their lifestyle, her focus, was a lot different. And then my mother married right out of high school and, raising a family very young, again, education wasn't really a focus. That has changed tremendously. The expectation or the desire to go get that education is a lot more available. …
"Now, that's becoming more and more (common), but those things are all, they're different expectations as far as what people think they can do. I think it's the thought of knowing what's out there — the broad perspective — and then knowing how to get it. And then, having the support system. I think that's tough a lot of times."
One of the most important parts of that support system, Hooyman said, is women who have come before. Now, she sees her role as the next in a long, unbroken line of women who have opened up new possibilities for each subsequent generation through their own success.
"I've really been blessed in my career: I've had great mentors, I've had great role models, all in their different ways," she said. "And I'm a mother of three daughters. So I think that's probably a motivator too, is, I want my daughters to be able to — like anyone — achieve what they want and need to achieve, and have some of those roadblocks removed that might be there, and find happiness. I think that's the biggest thing with life, finding whatever it is to bring you joy and happiness — and then if you can help people along the way, that's a pretty good life."
Joining the likes of her mentors and family members who came before her in building her own additions to the heights of what women can expect to achieve, Hooyman said, is exactly what Women's History Month celebrates, and what each generation of women has continued to do for the next.
"When I think about Women's History Month, I think of the evolution that has occurred, and the possibilities that have opened up that weren't there for so many women and people before me," she said. "… People have made choices prior to my existence that have had an impact on my life. The fact that I did go straight on and get my degrees, multiple degrees — those options, like I said, even for my grandmother through my mother, weren't really available."
Her addition to those possibilities, and her own satisfaction, Hooyman said, comes from recognizing those "slivers" she's responsible for in the success of students whose lives she's impacted.
"… The best thing I can do in my job is develop the next generation of leaders," she said. "Working hard, and then also reaching down to help others lift higher results — this place is going to be much better. They may not remember who I am in 20 years, and that's OK, but if I've helped develop one of those leaders in the future, that's a pretty good legacy.
"And I think that's women's history: it's a legacy of progressive change, and helping the ones ahead of you reach the heights they need to reach."