MARYVILLE, Mo. — Honky-tonk, classic rock, blues and classic country are no challenge for band-of-all-trades "Dixie Cadillacs."
The trio is comprised of local musician Phil Forney, bass and guitar, and fellow Midwesterners Harold Nussbaum, guitar, and Dennis Dressler, drums, harmonica and vocals. They occasionally become a quartet when Frank Brown, a blind musician, joins the group to play the keyboard or the fiddle.
"We try not to limit what we're doing," said Dressler, bandleader, adding that the group plays music ranging from George Jones to Uncle Kracker.
In recognition of their talent, the Kansas Music Hall of Fame, an organization that recognizes success in a variety of musical genres, inducted the band into its 2021 class on Saturday, Oct. 23. Dixie Cadillacs is one of seven recent recipients chosen by hall of fame board members and past inductees.
"It really is — gosh, how do I put it — it feels like an accomplishment to keep things going and be successful and be recognized by your peers," Dressler said.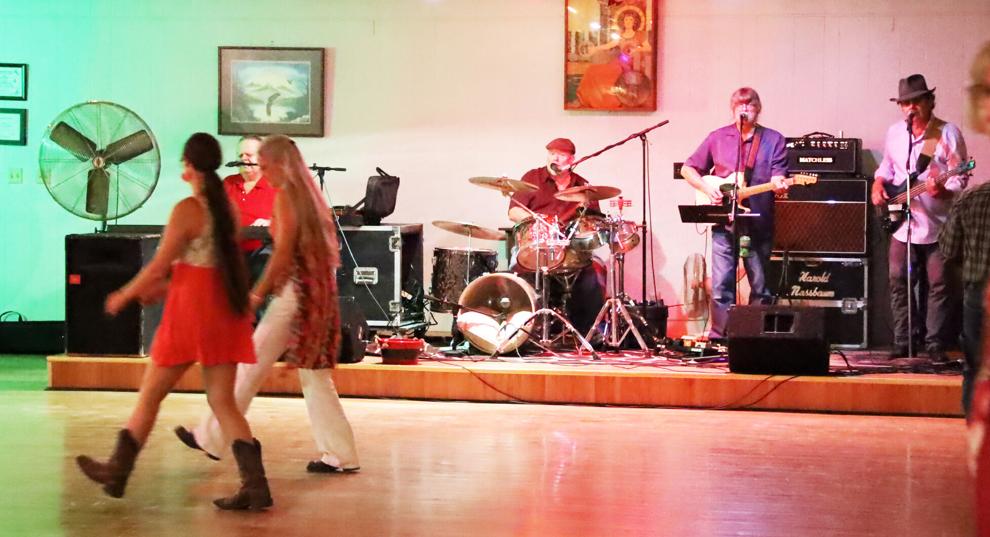 For him, the award reminds him that he has made a difference by influencing and impacting others.
The KMHoF presented Dressler with eight plaques for the band's integral members, including writers and those who were part of the band during its most successful period.
"We've had some people comment we're one of the best five-piece trios they've ever seen," Dressler said.
Dixie Cadillacs has charted the billboards with their song "The Man of Her Dreams." It has also had popular videos, including "Feels Like Rain" and "My Future Ex-Wife."
Prior to this success, Dressler started his musical career by learning to play the drums in fifth grade. By the time he was in eighth grade, he started his first band. In college, Dressler studied electrical engineering and continued to play music six nights a week.
He often found himself staying up until 1 or 2 a.m. and going to class at 7 or 8 a.m. At that point, he decided music was what he wanted to do with his life.
"I just kept trying to surround myself with the best players and the people who challenged me to be better," Dressler said.
Originally called Southern Express, Dixie Cadillacs formed in the 1980s. The band has had success in Texas and in the northeast and southeast regions of the U.S. It has also toured in Puerto Rico and Canada, and its members performed in Germany around the time the Berlin Wall fell.
Winning the chance to open for Alabama is one of the band's major accomplishments.
In 2000, the band performed at colleges across the U.S., and the National Association for Campus Activities recognized the group as the best country act on a college circuit.
Dressler made a living off of music until 2000, when he decided to supplement his income with a job at the post office. Around this time, he began performing with Phil Forney and former member Phil Vandel.
Dressler's Kansas residency allowed the band to be inducted in Kansas, however, the band has performances in Maryville.
The band performs under the name "Phil Forney Band" every Sunday night from 7 to 10 p.m. at the Eagles Aerie. The musicians have also performed locally under their signature name Dixie Cadillacs on The Hangar patio, at Shooters and occasionally at the Eagles Lodge on the third Saturday of the month.
As the Christmas season approaches and more packages have to be delivered for his job, Dressler noted his calendar will fill up quickly; however, he will continue to make time to help others.
"That's a lot of it; trying to play music to help people forget about their troubles or to raise money to help," Dressler said.
"It has been a lot of fun, a lot of work, and very rewarding."
This weekend, the band will perform at a benefit for Sheila Luke from 7 p.m. to midnight on Saturday, Nov. 20 at the Old Highway Barn, 29455 State Route M in Barnard.
For more information about the benefit, contact Mary Stiens, 660-853-9386; Tammy Thompson, 816-351-7250; or Marlin O'Donnell, 660-582-1841.