MARYVILLE, Mo. — The Four Horsemen are riding into Maryville and with them they're bringing brews, food and rooms.
Local residents Kent Yount, Stephanie Campbell and Brandon and Jen Jensen formed Four Horsemen Properties LLC to redevelop the property at 101 E. Fourth St. and offer the community a new option for dining, entertainment and even a place to stay.
"We're super excited, it's going to be a great part of the community," said Campbell.
With most of the demolition complete, the building sat waiting for the wheels of City Hall to complete a redevelopment plan that provides Missouri Chapter 353 tax abatement incentives to new projects in the blighted area.
The owners took advantage of the opportunity and will receive 100 percent tax abatement for the first 10 years and up to 50 percent for the following 15 years on real estate property.
The new 7,200 square-foot restaurant, bar and brewery will be built with about $750,000 in private investment according to city documents.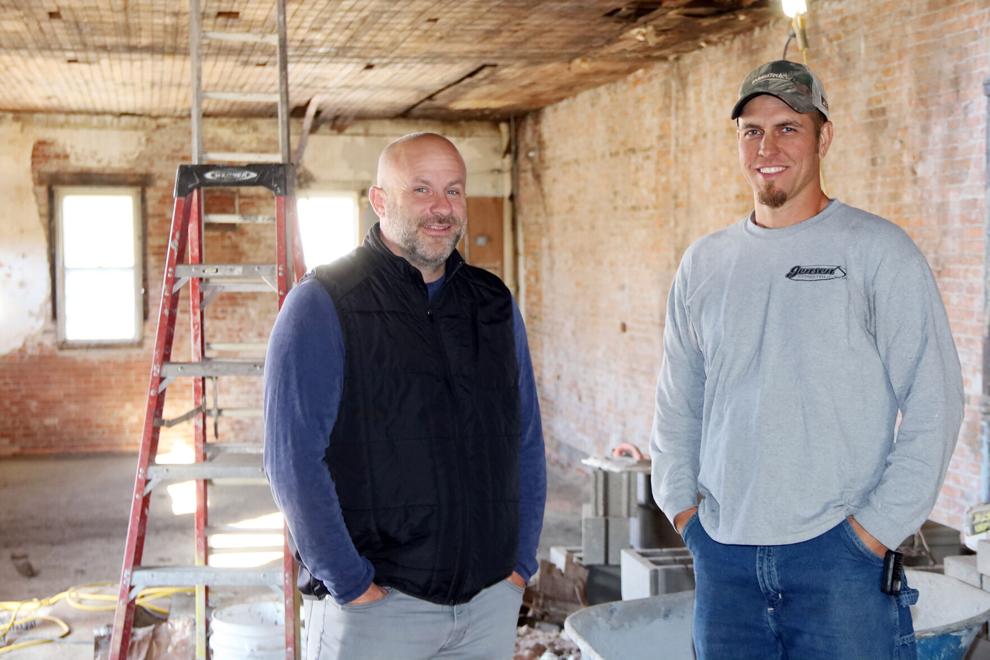 The genesis of the brewery started somewhat offhandedly, Yount said.
The building was purchased by Yount and Campbell about two years ago when they considered using it for a warehouse.
The foursome went out to dinner one night and chatted about Jensen's brewing and the brewery bloomed from there.
Campbell and Jen Jensen then discussed it further and began looking into making it a reality.
"I've always thought Maryville needed a brewery," Jensen said. "We started talking and it's only taken about a year and a half to get to this point."
Yount said that they're "do-ers," who came up with an expensive idea and are making it happen.
"I don't even know how it came up, we just kind of came together on this and decided we were going to do it," Yount said. "It's a scary endeavor, but we're likeminded in that we like to give back to the community too. It's not always what's best for the bottom line, but also that it gives back to the community."
Currently, each of the four owners is working on brew recipes with the help of a professor on the Northwest Missouri State University campus.
Working with a small system which is a version of the larger system they will have at the brewery, the four have been creating and testing batches for the microbrew. Yount said they don't yet know how many brews they'll have on tap, but that it's in the process.
"We all have a hand in that," he said.
Jensen said he's hoping to have 10-15. But Yount said the four hope to have a consistent change.
"We don't want anything to be stagnant," he said, explaining that the menu is still up in the air, because they hope to cook and create food using beer and change with the flavors on tap.
"We just want the atmosphere to be right," Yount said.
The Black Pony Facebook page offers a glimpse of the new upcoming brews, specifically a "smooth honey brown," that a post notes will definitely be on tap.

While walking around the construction site last week, owners Yount and Jensen were happy to point out special original features of the building found after demolition of the interior walls. From arched windows and a tin ceiling to a part of a basement crawlspace that needed repaired and necessary masonry work, the building offered a few problems as well as some glints of local history.
Yount said they found a lot of early-1900 newspapers that might make their way into the design of the place and even an 1899-1900 Nodaway County Schools book detailing information about all the schools in the county.
From the outside, the building shows signs of work and the arched window on the west side of the building was cut out and will be used, but others will not. Because some are a different height and because of their locations, they may not all have been windows. One may have been a door, making it unlike others.
Yount said it will be visible from the interior, but covered from the outside. The four owners plan to design the building in an industrial style showcasing the exposed bricks. Along that style, Jensen said they would have liked to leave the ductwork exposed, but it's unclear if that will be possible.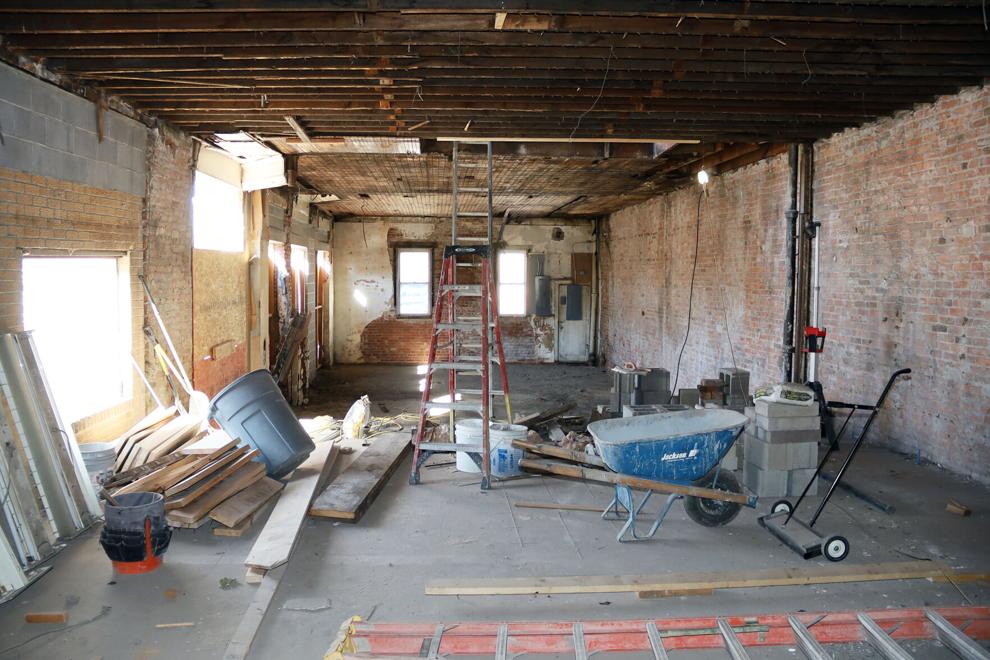 "We kind of came up with our designs as a foursome," Yount said. But it was local designer Bryan Nigh who designed the artwork for the look of the building as well as the Black Pony Brewing Company logo.
"Surprisingly it took us the longest to decide on the name," Yount said. "We debated on that for, I don't know, four or five months. We just couldn't ever agree."
He said the four liked various names, but never really fell in love with one until this one: Black Pony Brewing Company.
"We're happy with it," Jensen said. "It feels like that's what it should have been all along."
He noted that it's good to have four opinions because they all have different backgrounds with different tastes.
"We're hoping to make a nice little mix of everybody's styles when it's all said and done," Yount said.
Jensen said they're trying as hard as they can to stay local when contracting out work on the redevelopment project. It's not possible in all cases, he explained such as with the masonry work.
"We're trying to use as many local people as we can," he said.
Jensen, owner of Jensen Construction of Maryville, will do a majority of the construction work inside the building, with the exception of the electrical, plumbing and masonry.
"Anything construction-wise we're going to do," he said.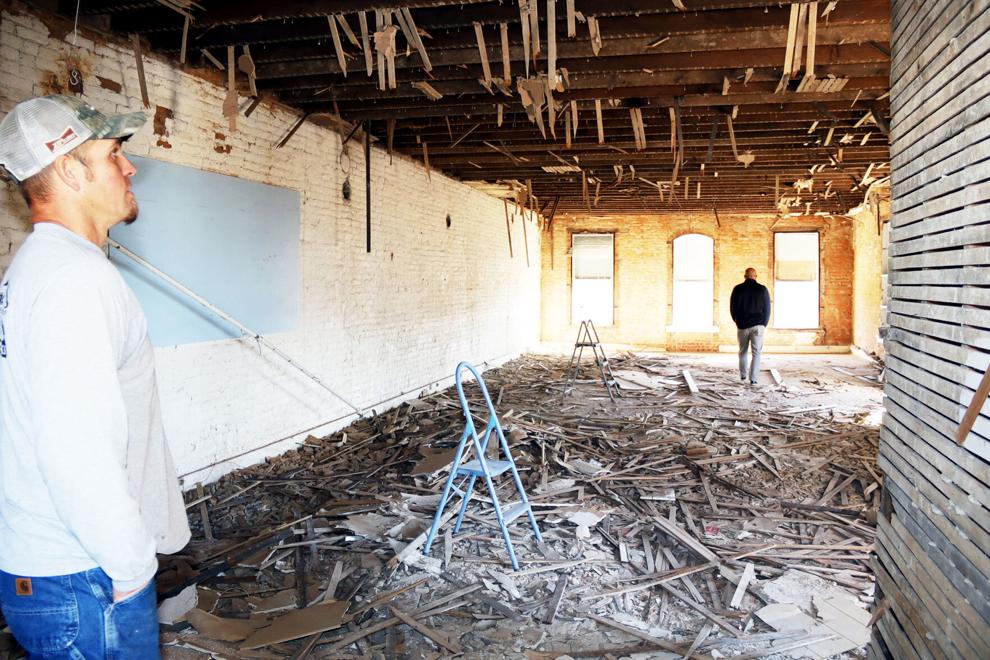 In the back of the building, Yount explained the brewing equipment and tanks will be visible through the doors and for those on their way up to the restaurant seating.
"We're hoping with the outdoor seating we'll get us about double what we could have in good weather," he said.
He said they plan to have a large balcony/deck over the sidewalk to offer open air dining. They also intend to work with the city to get some sidewalk seating as well.
"It's big anywhere you go," he said. "They find creative ways to get more outdoor seating."
Another change to the building includes the additional housing units on the second and third floors. Though the plans are yet to be designed, the owners said they hope to offer three two-story units for Air BnB-type short term rentals.
Jensen said two of the units are likely to be one-bedroom while one may be able to house two bedrooms.
While describing the units, the owners said each would have their own staircase to the third floor.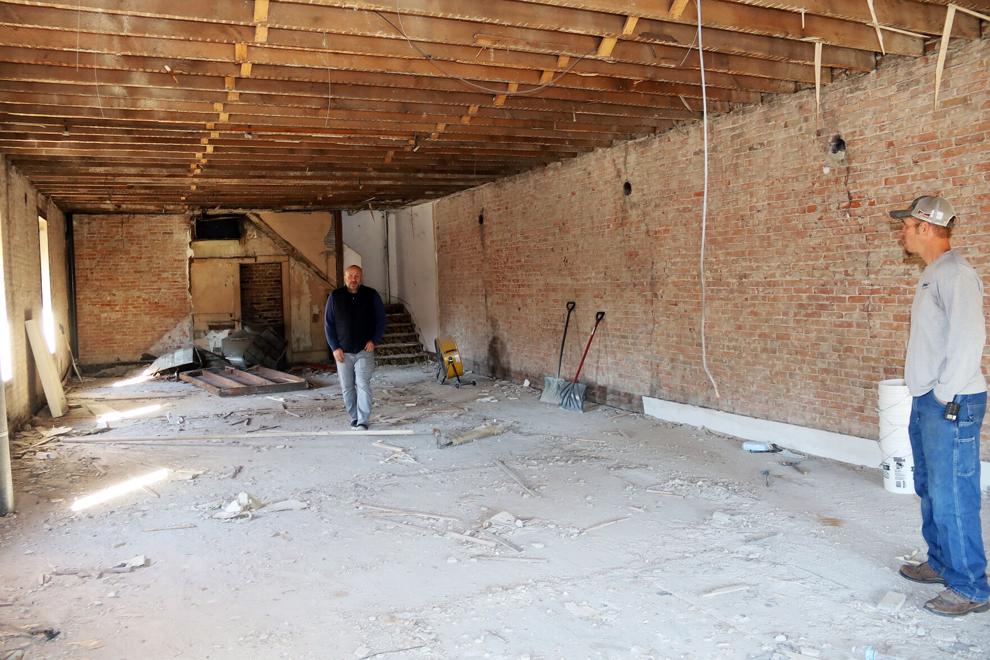 Jensen said the very day they released information about the building, someone contacted them wanting to rent a unit.
"Even those we're going above and beyond with them," Yount said. "There's not any other three-story buildings left, so that's just something that's unique."
They're planning to do a higher-end two-story apartments with separate balconies
Yount said the scary thing for him, "other than the price tag," is that Maryville can be a difficult place in which to bring something new.
"You just never know when you put so much heart into something, money as well, that it could (fail)," Yount said. "It doesn't scare us off because we keep doing other stuff, but that's a concern of mine."
Jensen said he thinks the idea is being very well supported since its announcement. He travels to breweries quite a bit and he believes they appear to be doing well.
"I think it's definitely something new, something Maryville's never had," Jensen said. "From what I hear the word on the street is pretty positive."
Yount said that since announcing the project, the four haven't received one negative comment or piece of feedback regarding the project and that it seems people are genuinely excited about the new venture.
"We're very happy with it, lots of positive feedback," he said. "The city has been very supportive and help with what they can. We're pleased with the feedback so far."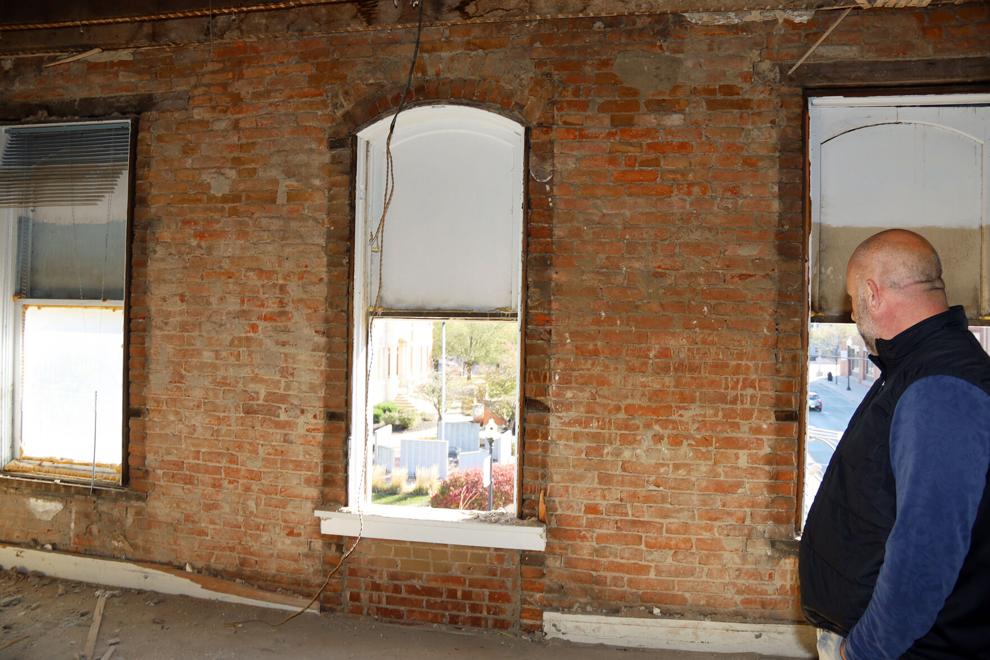 He said they're hoping it's a tipping point not only for Downtown Maryville, but the city as well, drawing people to support businesses and continue city growth.
Because of the COVID-19 pandemic, Yount said the doors and windows have all been backordered so it will be approximately two months before those arrive on site.
Jensen said since the windows are way behind, the concrete will probably be the next to go into the building.
After that the sidewalk will see repairs and a new layer of brick will be installed on the outside of the building.
"It's part of the agreement for the tax abatement we have to take things back to the original look somewhat," he said. "There will be new brick on the first floor of this building. The stucco up above will be repaired and repainted."
Yount said that thanks to Northwest Missouri State University students who helped with the demolition and cleanup, the facility is ready for construction and Jensen is putting on his work clothes to get to work this winter.