BARNARD, Mo. — Sisters Josie and Lily Baker, daughters of Matt and Jackie Baker, are so active in the Busy Bee 4-H club, that they have to get up very early in the morning to work with animals and complete chores before heading off to school.
"Josie and Lily are very hard-working girls with very big hearts for their animals," said Dana Auffert, Nodaway County MU Extension youth program associate. "They enjoy 4-H and are following in their mom's footsteps as she was a very active member of 4-H in Iowa, taking several of the same projects herself."
Deciding to join 4-H to show her cattle and visit different places, Josie, 12, has exhibited at the Nodaway County, Eagleville and DeKalb County livestock shows as well as the Missouri State Fair.
Josie said one of her most memorable moments was winning Reserve Grand Champion Market Heifer at the 2019 Missouri State Fair, not to mention every county fair she exhibited it in that year.
The beef project isn't an easy one for her. She gets up at 5:15 in the morning to work with her animals. She already has her current steer broke to lead. Her market heifer and breeding heifer are on the way, and Josie is ready to put time in to work with each of them also.
Besides getting the animal ready to work in the ring, she has to prepare them for it by washing and combing them daily. When she has all her show animals in the spring and summer, it takes her about two hours every evening to get all the feeding and work chores completed.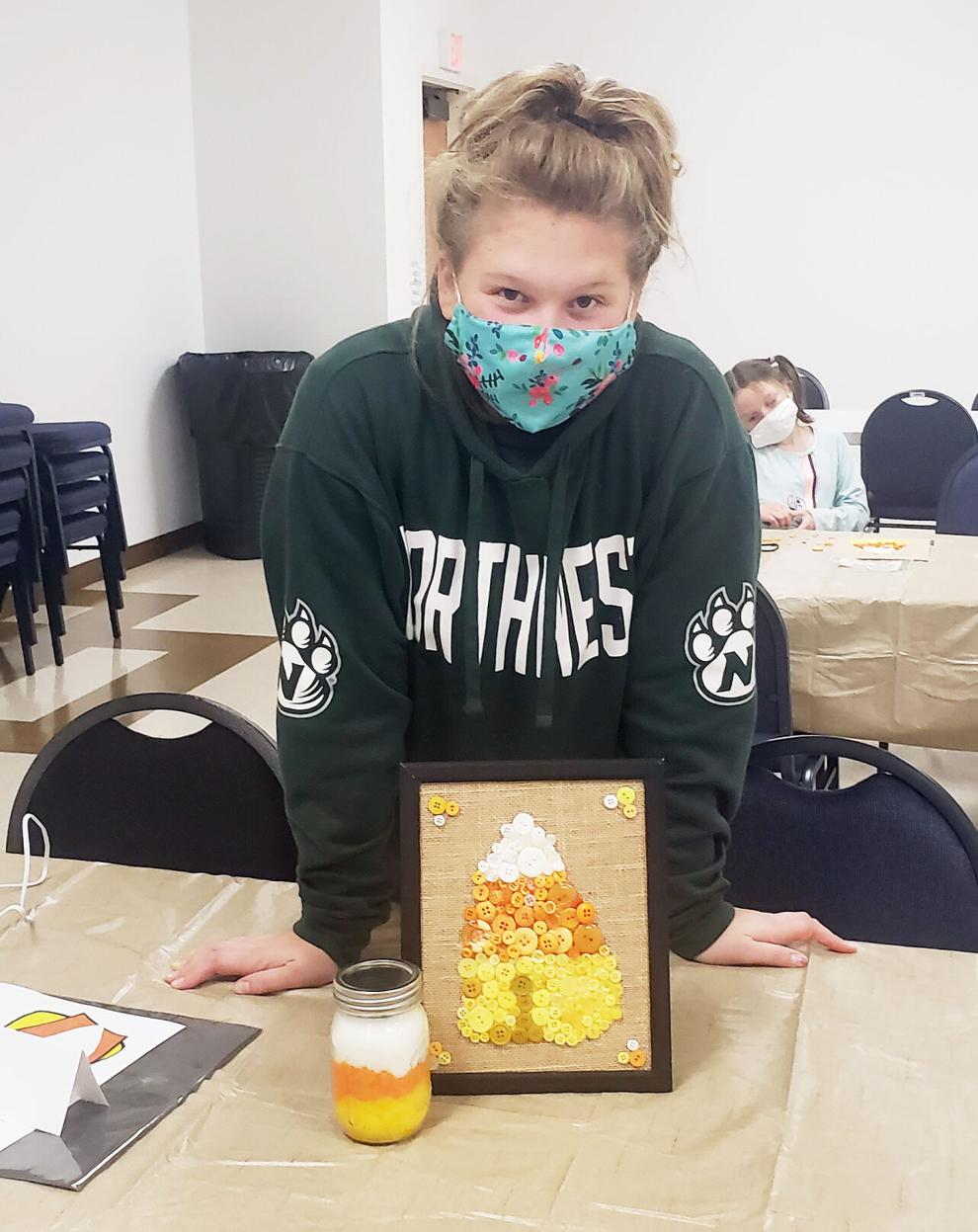 This year has been more difficult for competition, due to the COVID-19 pandemic, but in the end, it offered other opportunities, such as being able to participate in her first virtual livestock judging contest. Josie was a member of the Nodaway County team that placed sixth in the state in the junior division in September.
Noting the classes were tough, Josie said she needed to learn more and would like to try something like it again.
Even with her passion and love of showing, Josie says her favorite part of 4-H is the arts and crafts projects. She collects toy farm animals and enjoys finding creative ways to make barns and fences for them out of her craft supplies.
Besides livestock, arts and crafts, and food projects, Josie also keeps herself busy with photography, shopping in style (a clothing buying project), sewing, swine, cured bacon, breads, cake decorating and woodworking through her 4-H club.
Lily, 7, is a first grader at Horace Mann Laboratory School and a member of the Busy Bee 4-H Club like her big sister. Participating in the Clover Kids SPIN Club day at Mozingo Lake Recreation Park was one of her favorite activities this year because she enjoyed meeting new people and playing with her friends.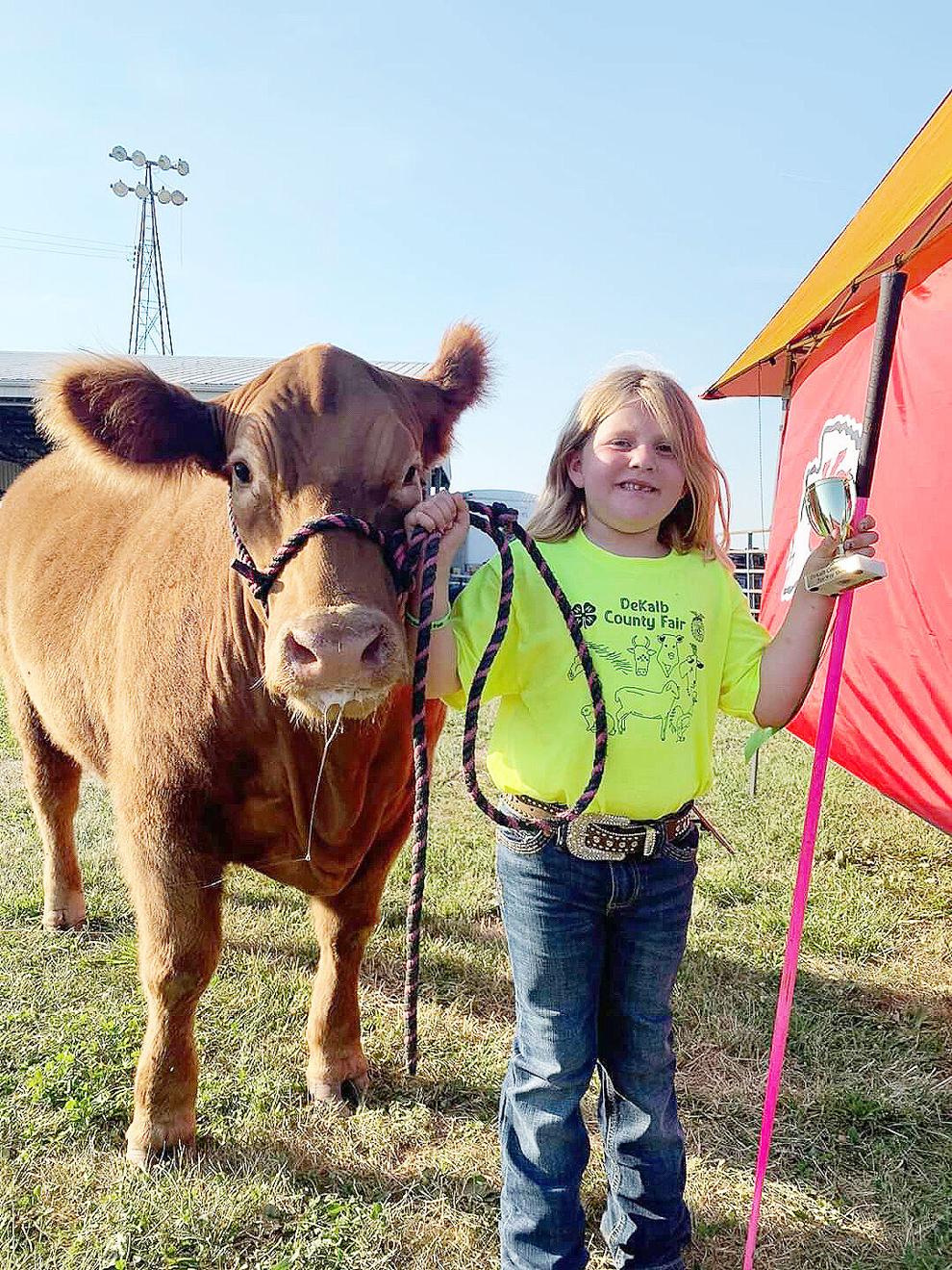 Maybe not yet quite as busy as her sister, Lily's favorite animal is a cow, so her favorite chore is taking care of bottle calves Laverne and Shirley. She said they are fun to play with.
Lily also gets to help take care of Hank and Mable, her sister's show calves. She looks forward to exhibiting at fairs this summer in the Pee Wee division.
The family also has chickens, ducks and turkeys. Lily's favorite chicken is Caramel. She enjoys exhibiting the chickens in the Pee Wee Division of the Nodaway County Fair and thinks the turkeys are cool, even if they end up getting eaten every year.
Speaking of turkeys, the girls started a business called Thankfully Gobbled in which they raise turkeys, have them processed at a USDA facility and sell them to people for holiday dinners. This business also affords Josie the opportunity to take part in other 4-H contests and projects like the Entrepreneur project and the State 4-H Public Speaking Contest where she promoted her business through the Business Pitch category and placed first in the Junior Division in 2019.
Last year, the family raised and sold nearly 140 turkeys, but farm activities are not all they do. The girls still find time to be active in other organizations and sports.
Lily plays soccer. Josie is on a swim team and plays volleyball and basketball. She also participates in Maryville Young Players.
With all her activities and responsibilities Josie says she doesn't really have much free time, while Lily likes to spend hers outside playing.
"I enjoy working with them on county activities and the SPIN Clubs they are involved in," Auffert said. "I look forward to seeing what the future holds for these two as they grow in their businesses and their experiences in 4-H. The sky is the limit for these two."