MARYVILLE, Mo. — Adam and Ashley Marriott recently purchased the former Elks Lodge, a two-story building located at 115 N. Main St., with an eye toward creating a downtown entertainment destination.
As the owners of A&M Amusements and Snowie, a mobile shaved ice trailer, and the operators of the Mozingo Lake Snack Shack, the couple knows a thing or two about entertaining crowds. This new purchase is just the next step in the numerous business plans Adam wrote during the COVID-19 pandemic.
"The year of just sitting on my hands with COVID … gave me a ton of time to just work on these other things," he said. "That gave me plenty of time to think about it."
As he put it to The Forum on Tuesday morning, he has many irons in the fire and this one just hit the right temperature late last year.
Adam said that his inflatable rental business decreased dramatically during the pandemic with people social distancing, but that didn't stop him from writing up eight different business plans and when opportunity arose, he jumped.
"It's been kind of a labor of love, a lot of setbacks," he said. "Finding the right building has been the hardest part."
So far this year, business has come back like gangbusters and Adam said it already has done better than in its previous best year leading him to believe people are ready to get back out to do things.
That's where the Elks building comes in and the Marriotts' new business, Tap N Tilt, LLC. Combining a traditional bar and grill setting with nontraditional entertainment, the new business plans to offer something fun for everyone all in one building.
"The thing about Maryville is it's not one thing," Adam said. "It's not your typical 10,000-plus people town in the Midwest. … It's a very dynamic town when it comes to its demographic."
The Marriott's new facility will provide the space to offer numerous activities and also for people interested in different experiences.
"People will be able to go to the bar, get a drink, order dinner, go upstairs, throw, hang out, watch your friends," Ashley said. "An hour later you're going to do a VR. It's a night out place — to go spend the whole evening. …"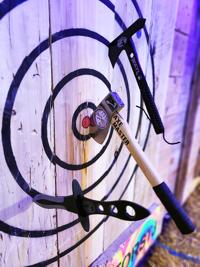 The Axe Factor helps.jpg
The Axe Factor is assisting in the build out of six ax throwing lanes at the former Elks Lodge building on Main Street in downtown Maryville.
Adam said the idea behind it is to provide a one-stop shop for families and friends looking for an entire evening of entertainment. The restaurant won't necessarily be focused on turning tables.
"We're the complete opposite," he said. "We want you to come and spend three hours with us."
With more than 8,000 square feet, the building will take some time to evolve into the shape the Marriotts want, but that's not stopping them from opening his axe throwing venue on the second floor.
Buildout of six ax throwing lanes has begun on that floor and he hopes the facility will be open this month.
Adam explained that as partners with The Axe Factor in St. Joseph, his lanes will allow him to host tournaments and leagues with scores that can be reported to the World Axe Throwing League, the global governing body and leagues for the sport of urban axe throwing. He hopes people will feel comfortable enough to form leagues and compete against each other for fun and possibly national acclaim.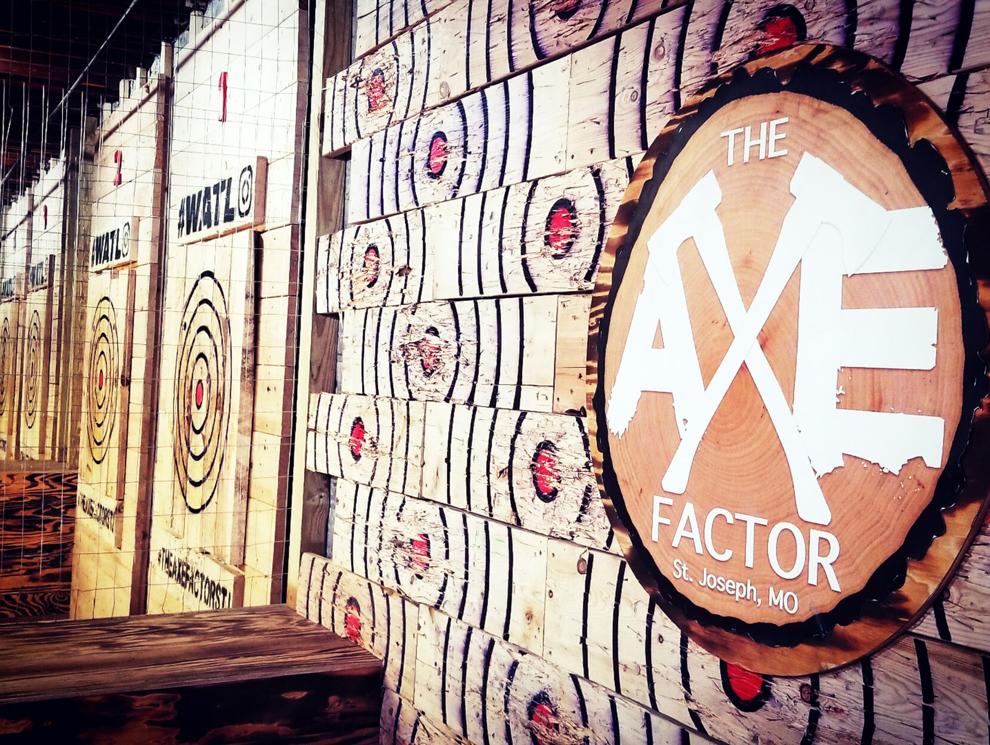 "They're a great group of guys, and they've been right there helping me figure everything out," he said.
When the restaurant portion opens, people also will be able to have appetizers and soft drinks while they throw axes. But for those not entirely interested in throwing hatchets, but still wanting to hangout with friends or family, there will be other options.
Also on the second floor, and set to open in the next six to eight weeks, the Marriotts plan to open four virtual reality lounges.
"Nobody (in Maryville) does what we are going to do," Adam said. "Kansas City is the closest place and the next closest is going to be St. Louis."
Users will be able to "visit" other places in the world using Google Earth and sensors in the room or take part in a virtual escape room. Adam said one of the escape room experiences has the player escaping from the pyramids in Egypt. Players can also take part in kids' games like a Spiderman one that allows the user to virtually swing from buildings on a web, or more in-depth multiplayer ones like "Pavlov" which Adam said is similar to "Call of Duty," and played with others throughout the world.
He explained that the custom-built VR computer systems are being built with help from Kansas City company Disciples of Gaming and will feature top of the line HTC headsets.
Adam told The Forum that they plan to offer memberships for those gamers interested in regular gaming sessions, but also times for anyone new to the experience. He said they plan to have VR guides on hand to help those new to the virtual experience, select a game or tour fit for them from the more than 200 games available in the world now. He said they're planning to offer a core five games and rotate 25 others each quarter.
"A 5-year-old can do VR as long as a parent is there to make sure they don't mess up the headsets," Adam said. "A 90-year-old can do VR because it's not physically demanding. … You can see the world."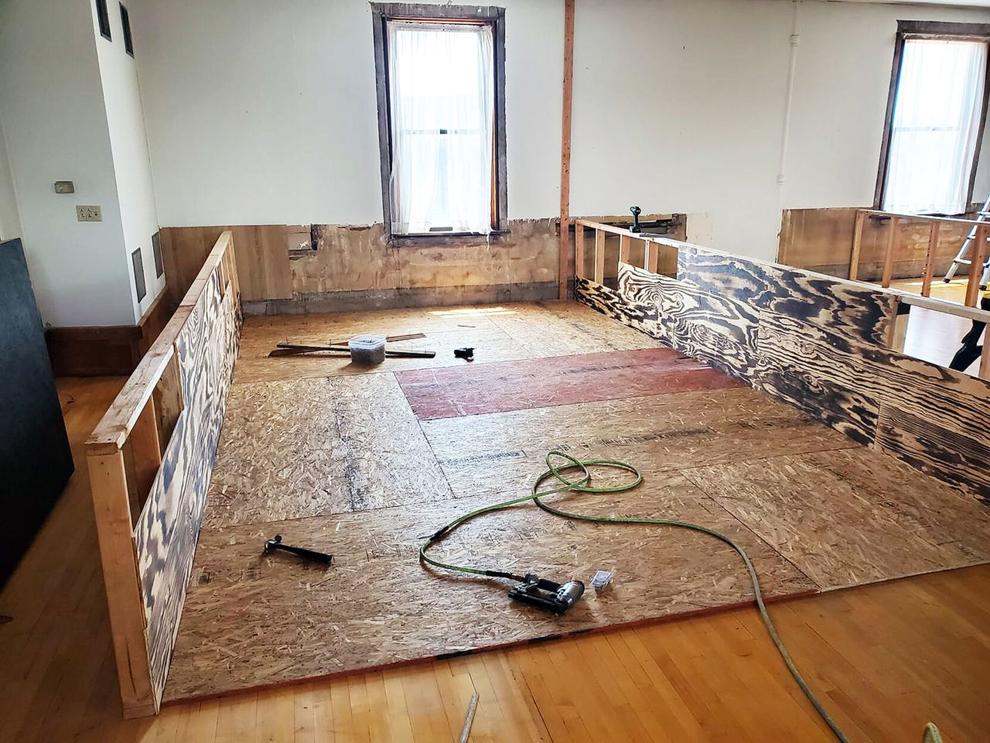 Elks building goes through changes
The second floor of the former Elks Lodge building located at 115 N. Main St. is undergoing a massive change. Staff from the Axe Factor is ass…
Benjamin Marriott, 10 years old in July, told The Forum that he has played several of the games including "Beat Saber," "Elven Assassin," and a job simulator where he learned how to cook a steak to become a chef, which his father said he enjoyed most.
The rest of the Marriotts' plans, for now, must wait. As part of the agreement at purchase in February, the new owners are allowing the Elks to use the main floor and basement until the end of the year when the club officially moves to the former Maryville Public Safety building on Vine Street.
But when that time period is up, the Marriotts will start their extensive plan to renovate the kitchen and install pinball machines — the "Tilt" reference in Tap N Tilt — in the basement as well as open a public bar and grill on the main floor.
"You can't stop him," Ashley told The Forum of her husband.
Adam said he's always wanted to own multiple businesses that people love.
"When they call about a bounce house and you show up with it, you're the coolest guy in the world," he said. "We'll have a facility where they can have a birthday party or a bachelor party. ... With Tap N Tilt, it's kind of come eat and drink and enjoy yourself in any way you see fit. … It's going to allow people to have options."
The fact that all of his businesses relate in some way to the entertainment world allows him to attend trade shows and learn different and new things to offer the community and grow his businesses.
The family also plans to continue reinvesting in the building, but in a business savvy way accomplishing it over time. Adam said they plan to replace all the windows and doors as well as make the building ADA compliant.
"The building's in great shape," he said. "We love the building. It's got character."
He explained that because of a report made during the Elks' ownership of the building there had been some concerns about the stability of the building.
During this purchase process, Fire Department Chief Phil Rickabaugh and city inspector Jim Wiederholt each assessed the building finding it in good repair and offering a few action items to complete repairs.
"They've been really helpful," Adam said noting that they plan to apply for a city tax abatement program, to help with costs associated with the renovations.
Now with all this on his plate, many might think Adam and the Marriotts in general were too busy to even consider another project, but alas that is not the case.
Always thinking and planning for the future, Adam, a self-described "dreamer," is also looking for the right location for an indoor inflatable experience for younger children.
He saw his idea was one that would work here when McDonald's opened its indoor PlayPlace. He is keeping that iron in the fire, but is hyper-focused on finding the right location with the right associated costs.
"We really do think that is one thing that Maryville needs, is younger kids entertainment," Adam said. "... I'm not going to stop working toward it."
Adam attributed his ability to keep looking and moving forward to his partners in his many entertainment-based endeavors. He trusts in their abilities to keep his businesses serving the community, which allows him to think of future business plans. Adam believes they'll end up hiring 15 to 20 people for the new event location in the former Elks building. He also hopes to work with other downtown businesses to possibly feature specials using their products.
Working with other business-minded people allows for cooperation and planning that helps area businesses thrive, he said, explaining that he's always willing to collaborate and work toward bettering the community.
"I'll talk to anyone about business as long as there's coffee involved," he said. "... Stay tuned. We've got a lot of stuff coming."