STANBERRY, Mo. — Platte Valley softball is loaded with seniors. Five of its starters are seniors and seven are upperclassmen, but when it came time for the biggest hits of Platte Valley's season, they found themselves relying on freshmen.
The freshmen helped deliver a 4-3 extra-innings win and a second-straight district championship on Thursday in Stanberry.
"Surreal honestly," Platte Valley senior Malia Collins of the game. "Especially because it is senior year, it just kind of hits closer to home."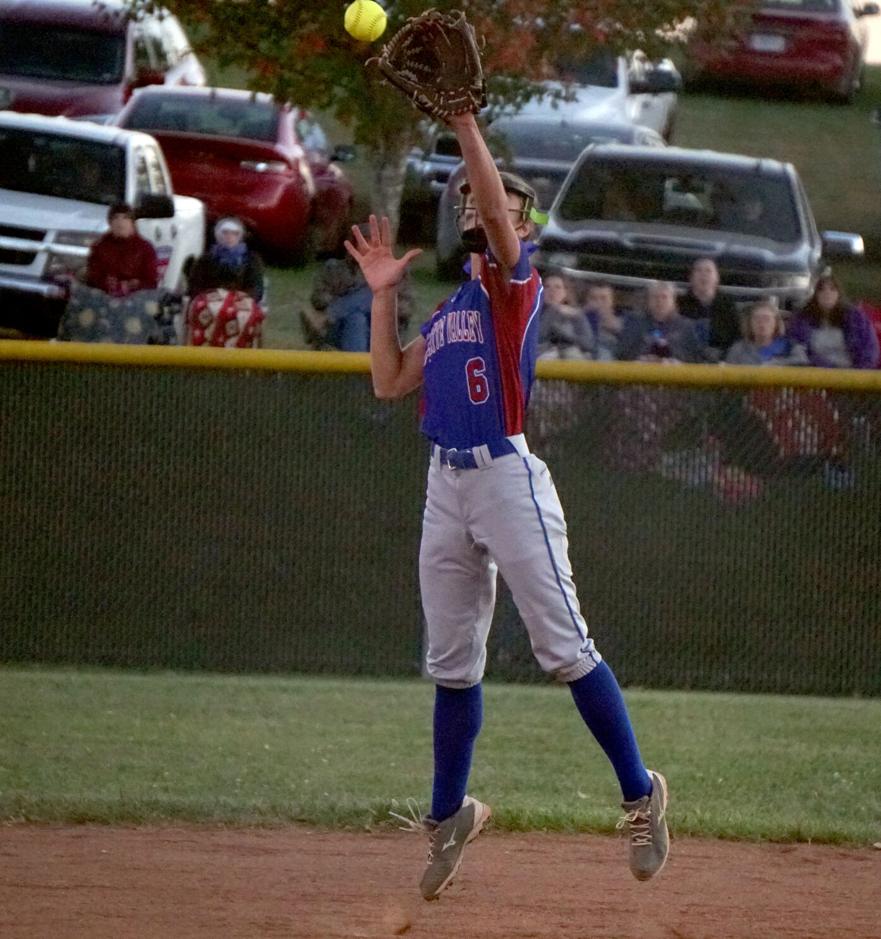 Stanberry (14-4) took a 3-2 lead over Platte Valley (19-3) in the top of the eighth, and with the way Stanberry senior Riley McQueen was throwing the ball, it looked as though Stanberry was on its way to ending Platte Valley's season.
"They never give up," Platte Valley coach Shelly Deen said. "They came into the huddle and said 'we aren't done.' They believe in each other."
McQueen worked quickly to draw fly outs from seniors Sydnee Deen and Allie Wolf. She then worked freshman Maggie Collins into a full count, before Collins hit a screamer right past the third baseman.
Platte Valley junior Jackie Pappert kept the rally alive by hustling down the line and forcing an error from Stanberry shortstop Sadie Runde.
That brought up another freshman and one that Shelly Deen didn't even anticipate having in her lineup a couple months ago. Brylie Angle became the team's second baseman after sophomore Sarah Langford injured her hand.
"I was pretty nervous, we had two outs and were down by one," Angle said. "I was kind of freaking out that I was going to get the last out, and I was kind of panicking."
One of the team's seniors, Malia Collins, had some words of wisdom for her double-play partner up the middle.
"Brylie Angle is a phenomenal athlete — I think I'm going to cry here a little bit," Collins said while wiping her eyes. "She was in the circle and she said, 'I'm nervous,' so I just told her, 'This is your game. You have the routine and it is the same every time you go up to bat. This is your at bat. You know what you can do. Just show us.'
"And she did. She hit the heck out of the ball. I couldn't be more proud of her."
Angle wasted no time and took McQueen's first offering into left field for a double which scored Maggie Collins and got Pappert to third.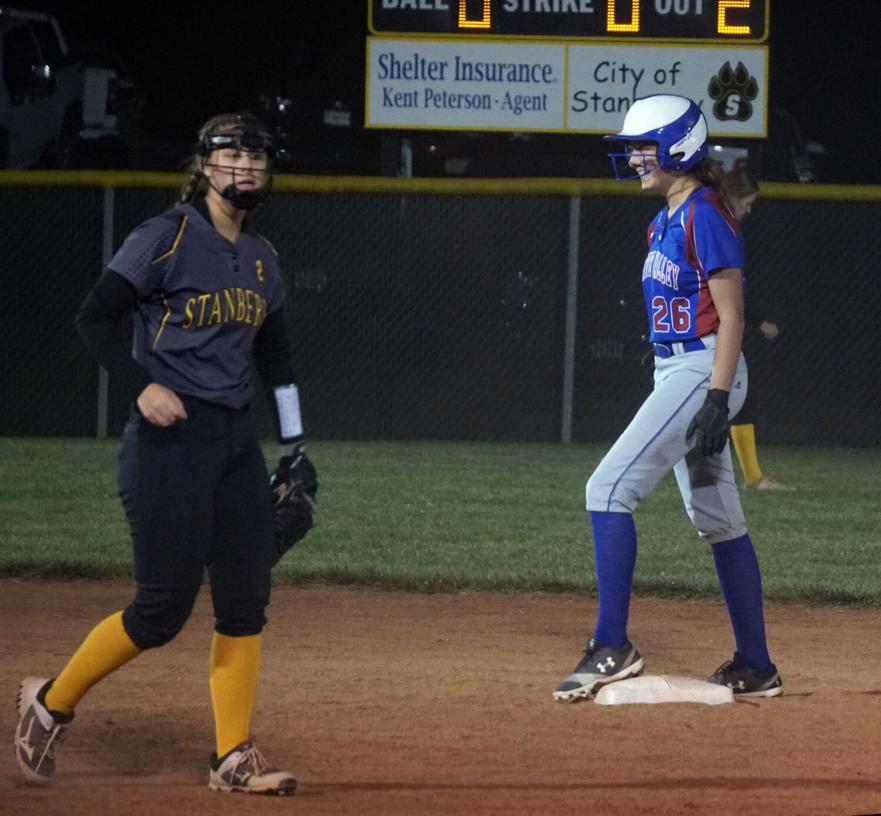 "First pitch came and I just went for it," Angle said. "Almost got a home run, but not quite."
The comeback was not through though and that brought junior speedster Stephanie Turpin to the plate. Like Maggie Collins, Turpin worked the count full. Like Pappert, she got the ball in play and let her speed panic the Stanberry defense.
Turpin grounded it to shortstop, and Runde, who had been terrific defensively all night prior to the final inning, knew she's need to rush to get Turpin flying down the line. The second error of the inning gave Platte Valley the district crown for the fourth time in five seasons.
"I knew I couldn't let my team down, and I knew I could hit Riley," Turpin said. "So I just went up there what I had to do."
The game began as a pitcher's duel with Jessica Miller squaring off with McQueen.
"Everybody was counting on Jess Miller on the mound and she was counting on us to back her up," Malia Collins said. "We all buckled down and got it done."
Miller battled in the early frames with errors making her work. She stranded five runs through two frames including working out of bases loaded, nobody out in the second.
"I just had to stay true to what I know and trust (assistant coach) Adam (Henry) because he was calling my pitches," Miller said. "I knew if I could trust him, we were going to get through that first part of the game."
Speed got Platte Valley on the board in the third inning. Turpin led off with a single up the middle. Malia Collins sacrifice bunted her to second and she advanced to third on a Paige West fly out. Turpin raced home on a passed ball and slid under McQueen's tag for the first run of the night.
"Once it was passed her, it was now or never and this is our time to give it all we got," Turpin said. "Big players make big plays so I knew I had to get in there and score."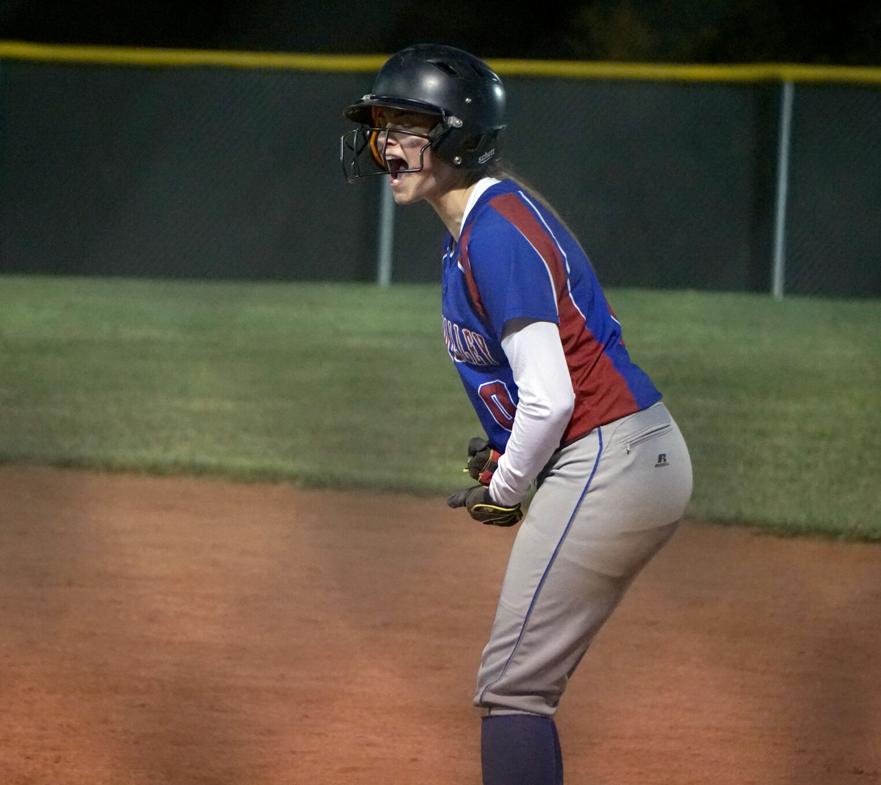 The pitchers continued to battle until the top of the sixth when Stanberry used its heady base-running to tie things. Tarynn Mattson laid down a sacrifice bunt with Amelia Wallace on third, Sydnee Deen rushed in to field the bunt, but didn't look Wallace back. Deen threw to Angle for the out at first, but Wallace broke for home on the throw and scored to tie the game.
McQueen helped herself in the top of the seventh with a 2-out double to center field to score Runde and give Stanberry its first lead.
Pappert hit the first pitch of the bottom of the seventh inning for a single to left field. A 2-base error by Wallace on the throw got Pappert to third with no outs.
Angle hit one of the hardest hit balls of the night next, but Runde snared it for an out. Turpin got Pappert home on a squeeze bunt which she beat out to first for a hit and an RBI. That knotted the game at 2-2 and set up extra innings.
Stanberry took the lead back on an RBI by Kaitlyn James, but Angle, Turpin and Platte Valley had the answer in the bottom of the eighth.
"We are very resilient, and we know how to pick each other up and help each other out when we are down," Miller said. "Having that is what helped us come back in those later innings."
The instant classic sends Platte Valley into the sectional round where they will draw Princeton (15-11) after the Tigers upset the top seeds in District 15 on Thursday night with a 2-0 win over North Harrison in Eagleville. Platte Valley will host the game on Wednesday.
"Lots of momentum," Malia Collins said. "Hopefully, we carry it into practice for the rest of this week into next week. Every game is a new season now."