MARYVILLE, Mo. — As Northwest Missouri State football sets to open its season on the road, coach Rich Wright didn't mince his words — it's not just another game.
The No. 6-ranked Bearcats will travel 45.2 miles to the south to face off against Missouri Western at 7 p.m. today at Spratt Stadium in St. Joseph.
With the conclusion of the green and white scrimmage last week and as the game inched closer, coach Rich Wright said he felt the mood of his team shift.
"There's been an added element of intensity in practice," Rich Wright said. "You could kind of see the transition after the last scrimmage. As a coach, you always wonder about how they are going to come out the following week and practice and you could definitely tell a difference in the tone of our practice."
Since the series began, the Bearcats hold a 27-13 advantage against Missouri Western as well as a 15-6 record in games played in St. Joseph. Northwest has also won the last six meetings between the two, averaging 36.2 points per game with a 29-point average margin of victory.
"They emphasize being physical," Rich Wright said. "We feel like we're a physical football team too so it's going to be a smash-mouth game. There's no doubt about it. It's a rivalry game, it's Week 1."
The last time the Cats lost their season opener was Sept. 2, 2010, falling to No. 14-ranked Texas A&M-Kingsville, 16-7.
For the Griffons, they haven't lost a home opener since 2011 and have lost three in the past 29 years.
"Statistics are fun because they're easy to manipulate sometimes," Rich Wright said. "I don't think scoring first is necessarily indicative of success or failure. I think what it starts to develop is confidence. When our offense was scoring first, they were confident in what they were doing."
Coming off of a season where he was named MIAA Freshman of the Year, sophomore quarterback Braden Wright will look to avoid the sophomore slump. The Elkhorn, Nebraska, native finished last season with 2,596 passing yards and 24 touchdowns while completing 56.6% of his passes.
"A year of maturation out of Braden is a big help with regards to consistency," Rich Wright said. "… I really like our offensive line and how that's comprised right now. We've got several starters back on our side of the ball too as well as Western so I think that lends itself to better consistency and overall execution of the offense."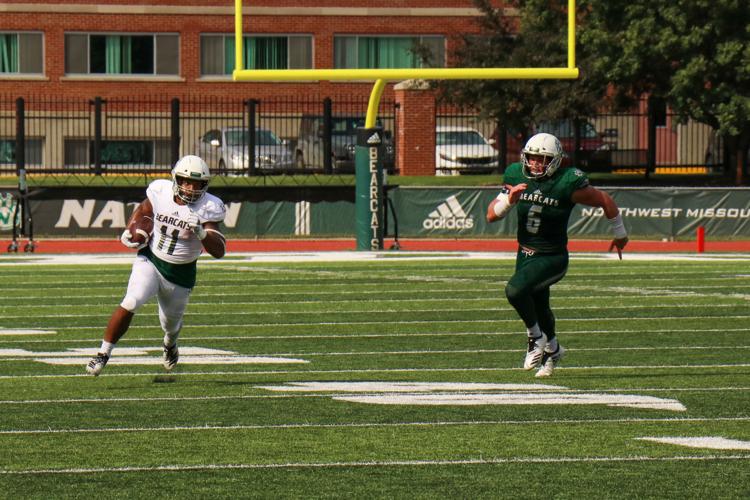 To help with the stability issues, the Bearcats return seven offensive starters including wide receivers senior Alec Tatum and sophomore LaTroy Harper. Tatum hauled in 37 passes while gaining 519 yards last season, good enough for second on the team. In Harper's true freshman season, the Hamilton, Missouri, native averaged 21.2 yards a catch and scored two touchdowns.
Rich Wright and company will prepare for a Missouri Western defense that will look to start only two seniors in defensive lineman Marquis Caldwell and linebacker Anthony Williams. The senior linebacker led the Griffons in tackles a season ago.
"Any time you're playing in Week 1, you can go back and see what's on film a year ago but the people are different and the schemes could be different," Rich Wright said. "I think the thing that you've got to do is you've got to start out maybe a little bit more vanilla to kind of see — particularly for me on defense — what's happening and what they're trying to accomplish."
Missouri Western returns an experience-heavy offense filled with accolades. Between the five linemen, the group has started a total of 105 games. Senior center Hayden Eatinger earned first-team All-MIAA honors last season and was recently named a second-team Preseason All-American by D2Football.com.
"From a foundational standpoint, we pride ourselves on being physical and being pretty good against offensive lines," Rich Wright said. "Missouri Western was one of the best offensive lines we faced last year. We usually try and rise to the occasion against people like that and so it should be a great matchup. We'll find out who wins the test of wills inside."
Behind the offensive line will be a new quarterback from last year as Dom Marino departs the program. As listed on the Griffon's depth chart, either senior Wyatt Steigerwald or redshirt-freshman Anthony Vespo will line up behind center.
Along with a new quarterback in the backfield, Missouri Western added two graduate transfer running backs from Division I schools in Markel Smith and Deron Thompson.
"We're a run stop defense, that's our biggest thing, stopping the run, … making them throw the ball" senior defensive lineman Spencer Phillips said. "… It's going to be tough for teams to beat us (either just) running or (just) passing."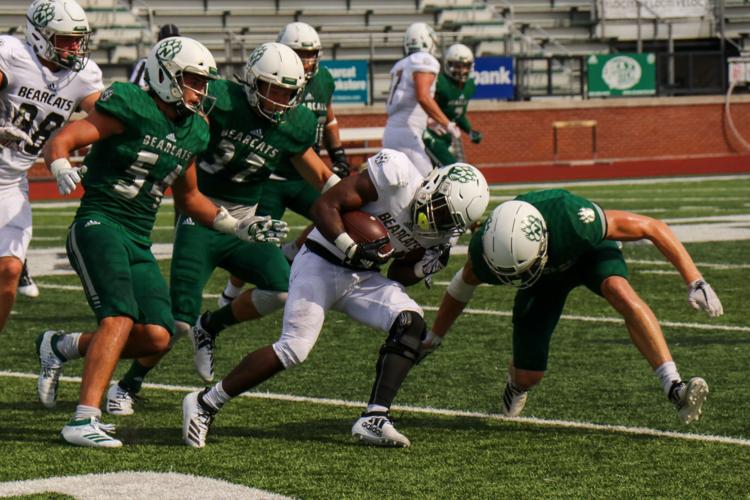 The Bearcats return six defensive starters that include skill at multiple positions. Chama Pierre, Jerrell Green and Jacob Gassman all return for their senior year in the defensive backfield for Northwest. Junior linebacker Andy Hessler rebounds off of a season-ending injury a year ago.
"If we can stay healthy, we're going to be tough to beat over the top," Phillips said. "That's pretty exciting for me. Knowing that I'm in the front lines and the back end has my back which helps us play a little (looser)."
Anchored by Phillips, the core of the defensive line remains young but battle-tested players like juniors Mike Ehlke and Sam Roberts will help stop the run.
"I've never been a guy that hides behind cliches," Rich Wright said. "'Well, it's just another game,' no, it's MO West. Why not embrace that? … Yeah, it's a rivalry game."