ST. JOSEPH, Mo. — Lauren Cullin and Arianne Skidmore came into this season with a very clear goal: Get to state.
Maryville hadn't sent a girls' tennis player to the state tournament since T.J. Oglesby went in 2017 and hadn't sent a doubles team since Lauren Macali and Kelly Filips in 2015. Skidmore and Cullin ended both those droughts on Saturday night as they rolled to a 6-0, 6-1 victory over Kirksville's Gracie Riemenschneider and Maren Elmore.
"This has been our goal all along," Skidmore said. "I'm just thrilled to be going to state."
After cruising through the first set, it was a big priority for the Spoofhound duo not to let up after the dominant first and put the hammer down in the second set.
"I am so incredibly proud," Maryville coach Nicole McGinness said. "They came out, they were focused, and they took care of business right away. It was an amazing sight to see. I was super proud."
Kirksville managed its only point of the match in the second set to tie the score at 1-1, but Maryville ran away with things from there to advance to state.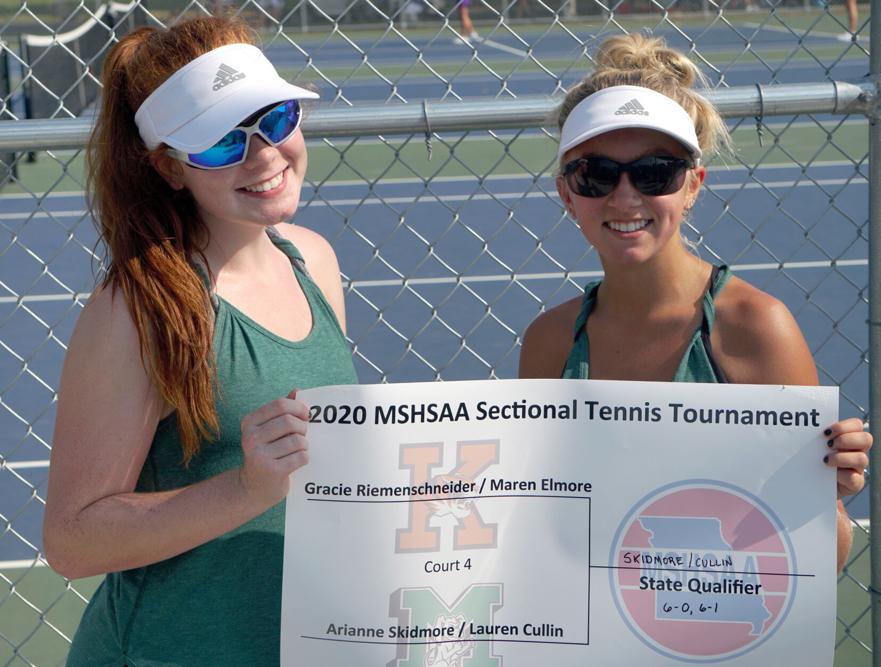 "Today I feel like it was really like, 'We just have to win,' and that really made us give everything we had," Cullin said. "I feel like it made play better together."
The Spoofhounds had their typical subdued celebration. Cullin and Skidmore said they had planned to jump on each other and celebrate if they made state, but when the moment came, a simple racket bump, and 'good game' to their opponents sufficed.
The Maryville pairing has grown over the years from neither playing on varsity as freshmen, to taking third in districts as sophomores, to advancing through districts and sectionals to state as juniors.
Cullin says the duo knew right away when they were paired that they could do big things.
"Since even last year, the first time me and Arianne started playing doubles, we realized we really worked well together so since then it has always been, 'We want to go to state. We want to go to state.' Just barely falling short last year really pushed us to it too," Cullin said.
Skidmore and Cullin improved as this season went on too, particularly near the end after finishing fourth in the MEC Tournament, but jumping to second in the district tournament before winning their sectional match. They say the competition all season helped prepare them for that state run.
"We up against a lot of tough competition, so I'd say it really prepared us for sectionals today," Skidmore said. "It definitely helped us a lot."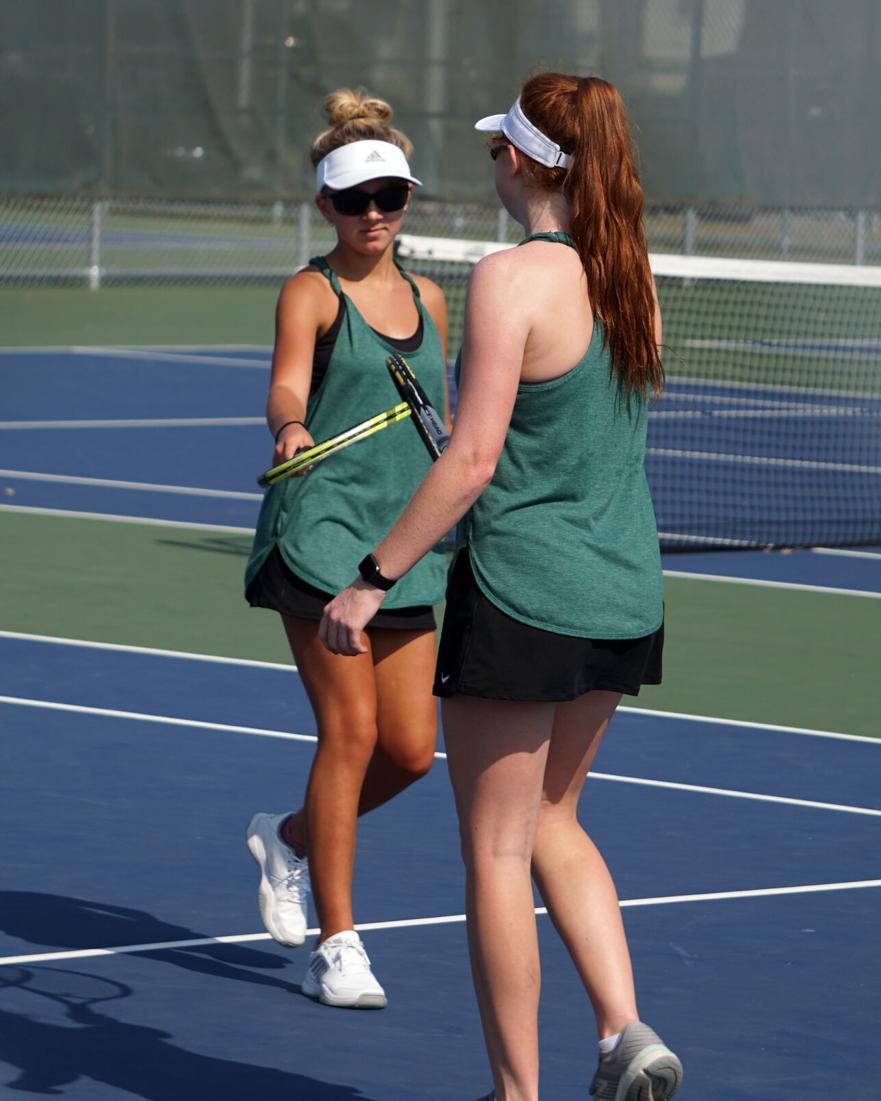 The MEC and the Spoofhounds' district advance five people out of sectionals with the Bishop LeBlond doubles team of Libby Weddle and Peyton Netten beating Chillicothe's Cami Carpenter and Leah Lourenco 6-0, 6-3, and LeBlond's Emily Weddle beating Chillicothe's Delaney May 6-0, 6-4. Trenton's Lexi Gott took the other spot over LeBlond's Reese Robertson 6-3, 6-1.
Cullin and Skidmore now head to Springfield for the state tournament on Friday and Saturday at the Cooper Tennis Complex in Springfield.
"This was a goal of theirs to make it to sectionals, and then for them to win and get to state, that is amazing," McGinness said of the junior pair. "It means good things next year too."