SAVANNAH, Mo. — When Matt Webb first came back to become the head coach of his hometown Maryville Spoofhounds, the Hounds were coming off consecutive losses to their rivals to the south.
Eight years later and 10 iterations of the Highway 71 Showdown those losses are distant memories. Since taking the job prior to the 2012 season, Webb and his Hounds have never lost to Savannah.
"He has been here since 2012, and since then we haven't lost to Savannah," Maryville senior Trey Houchin said. "Coming out of here with a win, its good."
On Friday, a fast start paved the way for a 39-17 victory in Savannah.
"It is always a big game to come out and beat your rival," Maryville lineman Blake Casteel said. "But we just knew we had to come out here and do what we do."
The fast start was quite literal with Kade Wilmes taking the game's first play nine yards then Connor Weiss going 57 yards on the next play for a touchdown and a 6-0 lead.
"Just being patient, waited for my line to get the block, and I saw the hole and ran with it," Weiss said. "And that's what speed do."
A 3-and-out for Savannah (4-2, 3-1 MEC) followed by a big Caleb Kreizinger punt return had the Hounds in business. An 11-yard run by Weiss and a 4-yard run by Houchin set up a 17-yard Weiss score. Five offensive plays into the game and Maryville (5-3, 3-1 MEC) had a 12-0 lead.
"We've learned that if we have great energy at the beginning of the game with good execution, good things happen in all three phases," Webb said.
The next drive featured a 26-yard Connor Drake pass to Weiss to convert a third-and-9 and ended with Trey Houchin going eight yards for a touchdown and a 19-0 lead.
"Coach has been on us all week about coming out better in the first half, like we haven't done in past weeks," Houchin said. "We came out here with a focused start and showed out for the rest of the game."
Three drives and three rushing touchdowns is a testament to the work the Spoofhound offensive line has done in recent weeks.
"It just took just a little while in the season to get going, way longer than it should've," Casteel said of the offensive line. "But we finally just started firing on all cylinders and doing what we do."
Savannah had a quick answer to cut the margin to 19-6. The teams then traded interceptions with Matt Goodridge grabbing one for the Hounds.
Maryville drove deep into Savannah territory again, but a fumble killed the drive. The defense held thanks to two loss-of-yardage plays stopping Evan Yount, who was averaging over 200 yards rushing a game entering the contest.
A fake punt was stuffed by Macen Shurvington and Maryville took over in Savannah territory again. Drake picked up 10 yards rushing on a third-and-11 then picked up the first on a sneak. Weiss took the next handoff 20 yards for his third touchdown of the game and a 26-6 lead.
Savannah ended the half with a field goal and Maryville took a 26-9 lead into the locker room.
After a defensive stop, Houchin turned in a highlight reel run for 59 yards and two feet. The officials ruled he stepped out of bounds right before the pylon, but Houchin got his score on the next play and the Hounds went up 33-9.
Savannah answered again and a 2-point conversion made it a 2-score game at 33-17 with 5:26 left in the third quarter.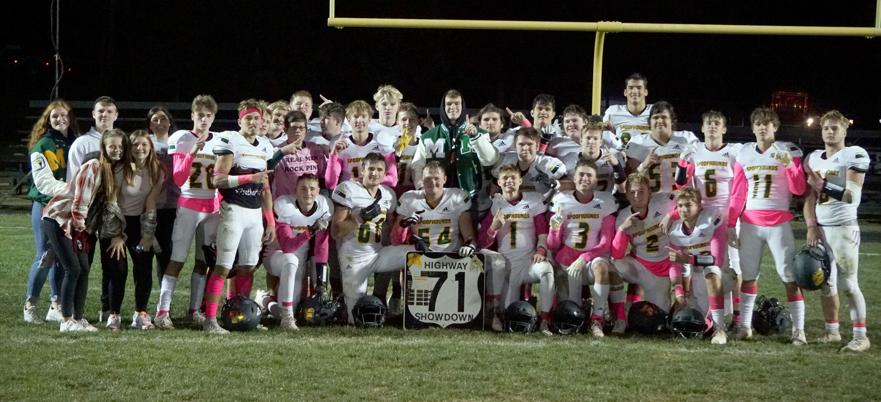 The defense continued to do its job though and on the first drive of the fourth quarter, Drake hit Caden Stoecklein for a 23-yard touchdown to erase any Savannah comeback hopes.
"I was really proud of Connor Drake," Webb said. "He had the interception. Obviously, he doesn't want that to happen, but after that interception was able to come back and make a beautiful throw to Caden. He had the confidence to put it where only he could get it. Caden Stoecklein had a great catch. Just a highlight play."
The final 11 minutes of the game featured some junior varsity reps and solid defense, before Maryville made that familiar sprint to the north goalposts to grab their rightful prize and celebrate with the Highway 71 sign.
"It means a lot," Weiss said. "Not a big fan of Savage Nation, so it is always sweeter to get that victory and keep the sign home in Maryville."
Weiss finished the game with 14 carries for 151 yards and three touchdowns. He added two catches for 31 yards.
Houchin had nine carries for 83 yards and two touchdowns. He added an interception on defense. Goodridge and Kreizinger also had interceptions.
The defensive line lived in Savannah's backfield for much of the night with Jackson Ozanne, Marc Gustafson and Casteel recording sacks.
"It is always nice to get in the backfield," Casteel said. "It flusters the other team. Webb was calling those blitzes and we were doing the best we could to operate them."
Maryville is still alive in the conference title hunt, but needs a win next week at Lafayette along with a Savannah upset of St. Pius X to secure a 3-way tie for the MEC.
A win over Lafayette would also help Maryville secure the top district seed and give the Hounds some home playoff games. They have not been at the Hound Pound since Sept. 11 against Chillicothe.
"We have not played at home since May, or whenever we started playing this football season," Webb said.