MARYVILLE, Mo. — Brenda Ricks didn't really know what to expect from her girls' golf team this season.
The coach knew she had a reliable veteran returning to her varsity lineup in senior Lauren Padgitt. She knew she had another returner in junior Belle Myers who would compete for a varsity spot. Aside from those two, the team was a mystery with eight freshmen.
"There were more people than I thought who came out," Maryville freshman Lauren Jaster said. "I think we all kind of became friends, and it was really fun."
As the season has gone on, Ricks has slowly gotten to discover more and more about what type of hand she was dealt and the findings have been nothing but positive. It all culminated on Monday with the Spoofhounds hosting the Class 1, District 4 championships and sending three golfers to state.
"These girls are so much fun," Ricks said. "They want to play golf, and they want to learn."
Padgitt, the team's captain and someone Ricks has leaned on to show the younger golfers the ropes, will be making her first state appearance.
"I'm so excited that here, in her senior year, she gets to go to state," Ricks said. "I'm just ecstatic for her."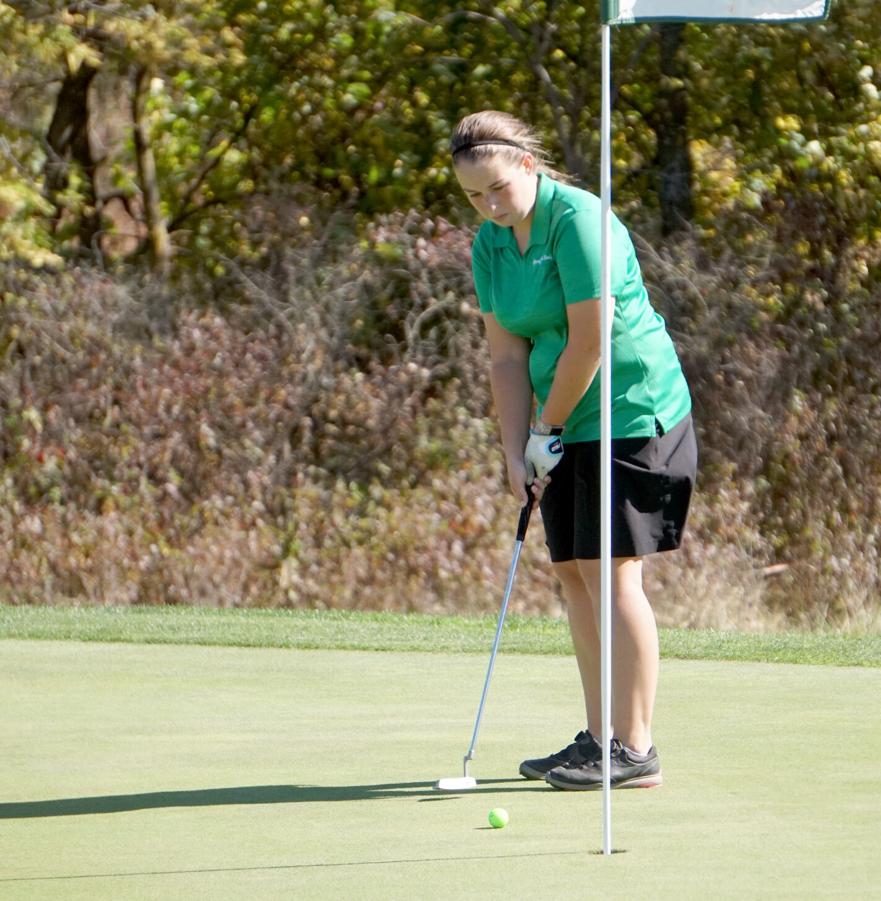 Two seasons ago, Maryville sent a full team to state when Mozingo Lake Recreation Park hosted the event. Padgitt hadn't yet cracked the varsity lineup though and wasn't able to play in the event. Last season, she just missed making the trip.
"I think I've improved most on my drives and irons, and getting it into the fairway," Padgitt said.
Padgitt finished in a tie for ninth on Monday and shot a 107. She shot a 51 on the front nine and finished with a 56 on the back nine.
"When I was a freshman, I was scoring probably in the 140's when I played 18, so I thought there was no chance of going to state," Padgitt said. "I was excited this year that I had the chance to make it."
This season, the rules for advancing have shifted with the team automatic qualifiers taken away. In the past, the two teams who finished with the best team score in the district advanced to state in addition to individual qualifiers, but this season it was determined that just the top-18 individuals from each district would advance.
The change is one that has frustrated many because Maryville's Class 1, District 4 is evenly spread with quality teams and no team in the district got more than three golfers qualified, so no team from the district can compete for the team state championship.
Maryville's top scorer for the day was one of those freshmen surprises with Cailyn Auffert shooting a 100 to tie for third overall.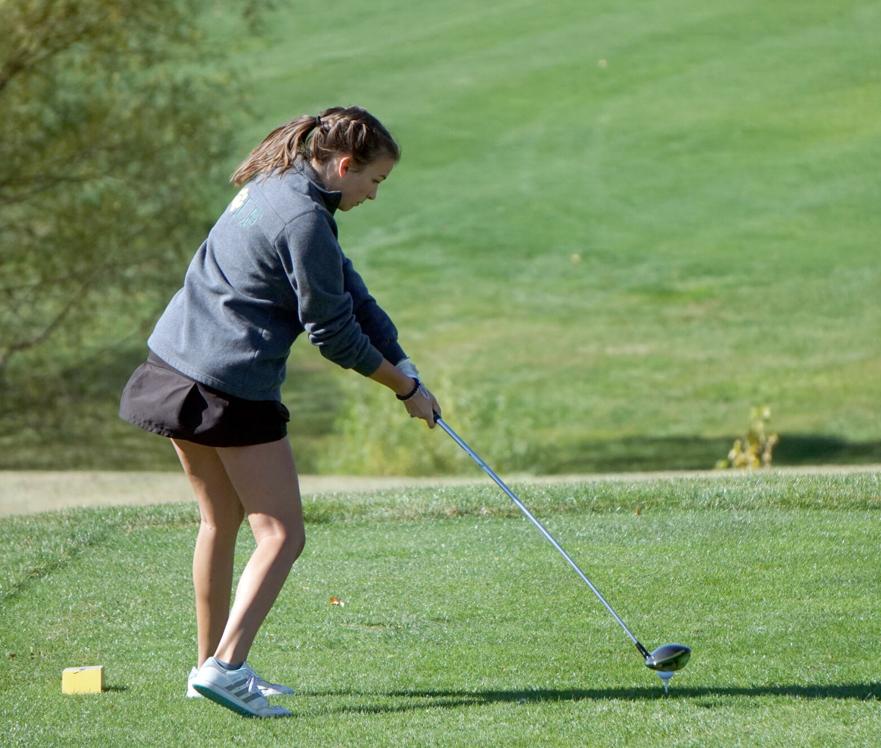 "I was really surprised," Auffert said. "I was just going in, playing and waiting to see what happened."
Auffert may have been a surprise at the beginning of the year, but is anything but now. She has consistently been the team's top scorer throughout the year.
"She has put in the work, and it shows," Ricks said.
The district's individual champion is East Buchanan's Madison Jessen who led the Bulldogs to a district runner-up finish. Alex Barnett was second with a 97 for East Atchison, and the Wolves won the team district championship.
Maryville finished third as a team.
Maryville's third state qualifier had many more stressful moments watching teammate Brinley Conn post scores than she had on the course. Jaster finished with a 115 and initially didn't think she'd be advancing to state, but as scores were being posted, her chances seemed to improve by the minute.
"I didn't think going into it that I was going to make it, but I just tried my best," Jaster said. "... I was just sitting there and hoping that my score was enough to make it."
With Mozingo Lake playing tough in the wind, the top-18 cutoff seemed more and more possible for Jaster until finally all the scores were up and Jaster found herself in 17th place.
"Probably with my chipping," Jaster said on her biggest improvement this year. "In the first tournament, I couldn't chip at all. I would putt from in the rough because all my chips would go either over the green or not far enough. Today, my chips kind of saved me."
The trio is excited to make the journey to Smithville for next Monday and Tuesday's tournament together.
"It feels great," Padgitt said. "The teammates that are going with me are freshmen so they will be excited to go. It is a new experience for them. We will see how it goes."
Ainsley Watkins shot a 127 and Casey Phillips shot a 129 to round out Maryville's scores.
Having four freshmen compete in districts and two advance to state is only continuing to fuel the excitement Ricks has for the program's future.
"I told them out on the balcony, 'Look around, next year with what we've got, we can get five going to state,'" Ricks said.