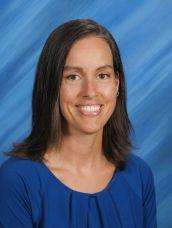 So many exciting things are happening at the Maryville High School Library and I can't wait to share them with you. I'm Kim Offutt the new librarian at MHS.
Let's start with the brand, new addition of the library's own Student Library Advisory.
The best way to decide what students want is to ask them. Thus, the SLA. This group of volunteer students meets once a month to discuss upcoming library displays and promotions, what's working in the library and what can be improved.
Members include: Carter Caceres, Baylee Kropf, Grace McKim, Jessica Mires, Kristin Moore, McKenna Taylor, Kaitlyn Vaught, Alexandra White and Julianna White.
This group's enthusiasm and ideas are invaluable. They have used their time and creativity to make eye-catching library displays and decided what new library furnishings to purchase. I'm excited to see what they think of next.
In collaboration with the Northwest Missouri State University English Department, the library is embarking on another new adventure — the creation of a Table Top Game Club, which will meet at 3:15 p.m., starting Tuesday, Jan. 15, 2019. All MHS students interested in being part of this new club are welcome to attend.
You may be familiar with well-known examples of table top games such as Dungeons and Dragons, Magic the Gathering and Settlers of Catan, but there are hundreds and club members will decide what games they want to play. Participants take an active role in every game and build on skills such as problem solving, strategy/logic and storytelling.
The MHS Library website has been updated. The catalog is easy to access and there's a great little slide show featuring students in the library. Visit mhslib.maryville.k12.mo.us to view the slideshow and updates. The library also now has a presence on social media. If you're interested in seeing what students are up to or what's new, find the library on Instagram and Twitter @r2library.
The library space itself is continually being reconfigured with the goal of making the space welcoming to everyone. Classes come in to work on group projects, students come in before, during and after school to study and access the internet. The library isn't just about books. It's a place where people gather to collaborate, be creative, discuss ideas, study, laugh and relax. Its purpose is as unique as each individual who uses it. That's one of many reasons why I love the library.