MARYVILLE, Mo. — With vaping, and its dangers in the news recently, Mosaic Medical Center – Maryville held a Lunch and Learn event for community members offering medical information on the topic.
Teri Harr, local RN and community health advocate, presented information about smoking and increase in use of e-cigarettes in Nodaway County.
Tobacco use is a topic very close to Harr's heart, as she told the group that her father died of lung cancer last year.
But Harr's interest in smoking cessation began much earlier. 
She has been instrumental in leading the grassroots efforts to pass the smoke-free workplace ordinance in Maryville in 2010, has worked toward tobacco prevention for more than 20 years, even contributing in regional and state smoking prevention efforts.
In 2003, Maryville passed an ordinance to make restaurants smoke-free.
"We were the first ones in the state of Missouri, the first community to pass that ordinance," she said. 
In 2010, Maryville passed a more inclusive ordinance barring tobacco in all workplaces. 
According to the 2019 Robert Wood Johnson County Health Rankings, Nodaway County has seen an increase in smoking prevalence from 15 percent in 2014, the lowest in the state, to 22 percent this year.
"We're not the lowest rate in the state anymore, so we gotta do something about that," Harr said.
Rita Miller, Mosaic Medical Center – Maryville community relations manager, said during the lunch that she believes this year's rate of 22 percent includes e-cigarette use.
Now nearly nine years later, ordinances all over the country are including e-cigarettes, explained Harr.
In 2010, e-cigarettes were not yet available, but probably being designed, she suggested.
"I'm sure tobacco companies were making them and thinking about how else can they get people to start using tobacco and their products and how to market to them," she said.
Number of smokers had been decreasing
Harr showed a chart offering the percentage of middle and high school students who had ever smoked a cigarette from 2007 to 2017. 
The number decreased from 2007's 51.1 percent of Missouri high school students saying they smoked to 28.6 percent in 2017, according to the Youth Risk Behavior Survey, conducted by the Centers for Disease Control and Prevention.
The same decrease was seen in Missouri middle school students from 26.4 percent in 2007 to 10.3 percent in 2017.
With the advent of electronic vapor products, the opposite trend has been seen.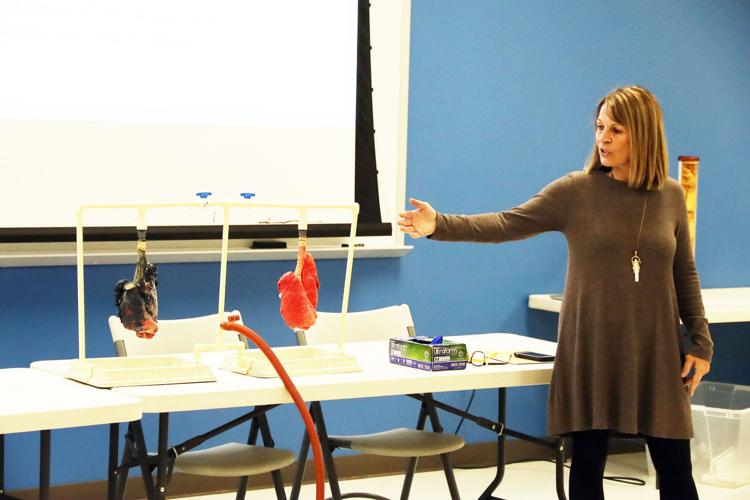 In 2013, 12.4 percent of high school students reported having used an electronic vapor product and in 2017, that number jumped to 39.9 percent.
The report lists 8.5 percent of middle school students reported having used an electronic vapor product, but in 2017 that number increased to 14.4 percent.
Harr places much of the blame on tobacco companies, for marketing their product with fun flavors to entice youthful buyers. But youths aren't the only ones using e-cigarettes. 
She said the tobacco companies were seeing a decrease in smoking nationwide, then began marketing e-cigarettes as a safe way to quit smoking, even offering nicotine-free pods.
Thus a large percentage of smokers switched to the e-cigarettes, some using pods that contains as much nicotine as a pack of 20 regular cigarettes, Harr explained.
"Now it's an epidemic," she said. "Every week there's another death. I think they're up to 34 in the country and one in Missouri."
Harmful and potentially harmful substances, aerosol users can breathe from the device include: volatile organic compounds, nicotine, ultrafine particles, heavy metals such as nickel, tin chromium and lead, cancer-causing chemicals and diacetyl.
Harr said the chemical reaction between the diacetyl in vape flavors and lungs creates "popcorn lung," or  for bronchiolitis obliterans.
"They don't know if it's the gas that it makes," said Harr.
The nickname according to the Office of the U.S. Surgeon General's website, came about because of the incidence of the disease in workers at plants that used flavorants containing diacetyl in microwave popcorn.
According to a report issued by the U.S. Surgeon General, there are several risks involved if partaking in e-cigarettes.
For youths, there is the unique risk for long-term effects of exposing the still-developing brain to nicotine, such as mood disorders and permanent lower impulse control.
Nicotine can disrupt the formation of brain circuits that control attention, learning and susceptibility to addiction. It can activate the limbic system more strongly in the adolescent brain than in the adult brain, making that chance for addiction even greater.
The aerosol from e-cigarettes is not harmless, either for users or for others who are exposed to secondhand aerosol. It can contain harmful and potentially harmful ingredients, including nicotine.
As of Oct. 29, 1,888 cases of e-cigarette, or vaping product use associated lung injuries have been reported to the CDC from 49 states (all except Alaska), the District of Columbia and one U.S. Territory.
All patients have reported a history of using e-cigarette, or vaping, products. THC, the ingredient of marijuana responsible for most of the drug's psychological effects, is present in most of the samples tested by the FDA to date and most patients report a history of using THC-containing products, according to the CDC in its Oct. 31 online update.
The latest national and state findings suggest products containing THC, are linked to most of the cases and play a major role in the outbreak, but the CDC suggests since the specific compound or ingredient causing lung injury is yet to be known, the only way to assure a person is not at risk is to refrain from using all e-cigarette or vaping products.
"It's really become an epidemic and a really scary thing," Harr said of the increased e-cigarette use.
Though e-cigarettes come in many forms, a lot of them are often easily concealable, and like a USB jump drive or even hidden as a string in a hoodie, Harr said.
"The vapor isn't that noticeable," she said, explaining that the pods often smell fruity or like candy.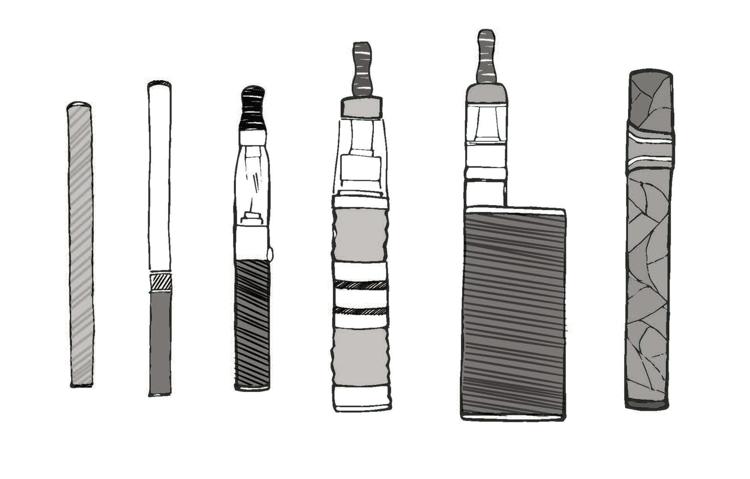 "So actually in Maryville, you could go into a workplace and use an e-cigarette," Harr said. "There's no ordinance that says you can't."
While e-cigarettes are not specifically named in the current Maryville smoking ordinance, Section 235.010 does define smoke or smoking as "inhaling, exhaling, burning or carrying any lighted or heated cigar, cigarette, pipe or other combustible tobacco product in any manner or in any form."
Maryville City Manager Greg McDanel told The Forum by email that he doesn't believe the current ordinance would cover most e-cigarettes or vaping, simply because they do not actually contain tobacco.
He said the city does not currently have plans to update the ordinance, but that model ordinances banning vaping do exist and have been approved by other municipalities.
"... if it's something the community feels strongly about, we encourage citizens to reach out to us and let us know," McDanel wrote in an email.
Harr gave statistics at the meeting about stores selling tobacco products including e-cigarettes to minors, she said the U.S. rate of selling to minors is 10 percent, while the state of Missouri's rate is 17.4 percent. According to Harr, Maryville's rate of selling to minors is even higher - 17.8 percent.
"We do have a compliance issue in Maryville," she said. "I don't know if there's more education we can do for that."
Since 2013, only eight warning letters have been sent to local businesses for selling tobacco products to minors, according to the U.S. Food and Drug Administration tobacco product compliance checks website. Only two letters were issued in 2019, one for cigarettes and another for e-liquid.
Harr explained another thing that probably plays into the fact that Missouri ranks highly with smokers, is that it has the lowest cigarette tax rate in the country at 17 cents.
By comparison, the location with the highest tax rate in the U.S. according to the Centers for Disease Control, is Washington D.C. where the excise tax is $4.94, followed by New York and Connecticut at $4.35.
Education recommendations
Harr said, just as with smoking cigarettes, the key to stopping e-cigarette use is education and development and implementation of community use policies, such as the Tobacco 21 drive to raise the age for tobacco product purchase.
She said there has been some pushback from communities. She explained that a lot of people think if an adult is old enough to fight and die for his or her country, they ought to be allowed to smoke.
"It's seen as rights issue," Harr said. 
However, she suggested tobacco could be regulated more like alcohol, which is still not allowed for people under 21, even if they're entering the military.
Tobacco 21 is a nationwide push by the Preventing Tobacco Addiction Foundation to raise the minimum age to buy tobacco to 21. According to the Tobacco 21 website, more than 500 cities and counties in 30 states, have some sort of Tobacco 21 laws.
As of Sept. 19, 24 Missouri cities and counties have raised the tobacco age to 21, according to the Campaign for Tobacco-Free Kids, a global health advocacy incubator.
For more information or educational information about Tobacco 21, visit the Preventing Tobacco Addiction Foundation website at https://tobacco21.org/.