MARYVILLE, Mo. — On Sunday, five local families opened their holiday decorated homes to the public all in support of one cause, Under the Son Ministries and its mission to teach the gospel and encourage spiritual growth in the hill country of Northern Thailand.
Maryville couple Steve and Donella Sherry founded Under the Son Ministries after alternating several short-term mission trips to Thailand in 2001, 2004 and 2006 and again in 2009. The two fell in love with the people in the area, especially the children they visited at many orphanages in the Doi Saket area and the village of Mae Gone.
After retiring, the couple has spent more time in that region of the world, returning to Maryville for various events and each year for the ministry's Holiday Homes Tour.
"I really, really love the fact that it's such an excellent cause," said Jill Baker, homeowner and Holiday Homes Tour participant. "I love that it benefits kids, as an educator I'm all about benefiting children and Steve and Donella are just wonderful people."
The Baker home, located at 806 S. Alco Ave., provided a look at many of the family's important holiday remembrances.
In the living room is a Nativity set, more than 50 years old, and the original one used in Jill Baker's childhood home. The stockings on the mantle were all hand-cross stitched by her stepmother.
The Bakers have filled their home with so many holiday pieces in their 11 years in the house, those on the tour had plenty to look at, including a gingerbread house created annually by the family and in the basement one very non-traditional "Christmas tree."
Formed by an A-frame stand and a kettle, the fully decorated "tree" is part of a Baker family tradition since 1943. The Christmas Kettle tradition began during the Great Depression when the family couldn't spend money on a tree, so they crafted one from an old kettle and lumber.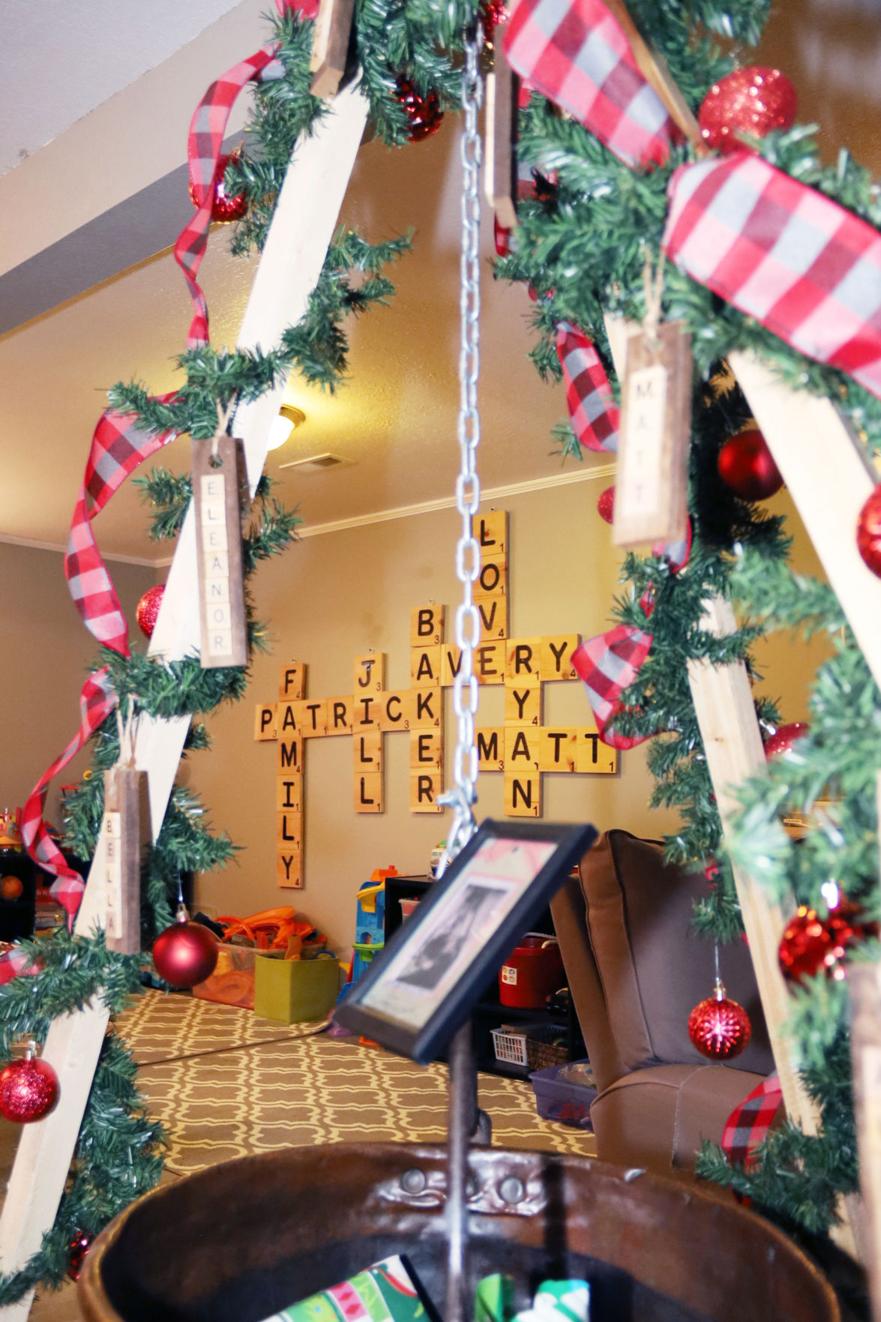 Now when anyone in the family is married, they're gifted an antique kettle to make their own "Kettle Tree." The Bakers received their tree when they married in 1997.
Touring for the first time, family members Traci Copple, Kara Lessman, Charlotte Knorr and Kelly DeMott, said they had enjoyed it so far and may go on the tour again next year.
Avery Baker, daughter of Jill and Matt Baker, handed out flyers with information with some of the history of the family décor spread throughout the house.
"It's fun," said Avery Baker. "It was fun to decorate and it was for a purpose rather than just for yourself and it's such a good cause."
She said the family began decorating the Monday before Thanksgiving and that it didn't take very long. That however could not have been the case for Sue Wood, Jill Baker's mother, who lives just around the corner and whose house was also a part of the tour.
Wood's home, 1012 Victory Lane, provided tour-goers warmth and sustenance with a roaring fireplace and treats. Each room in the house offered a look into Wood's life and history.
Upon entering the house a grand staircase was adorned with holiday décor and several paintings of the homes important to Wood's life. The first is the home where her mother grew up in Red Cloud, Nebraska. Next is the home where her father grew up in Upland, Nebraska.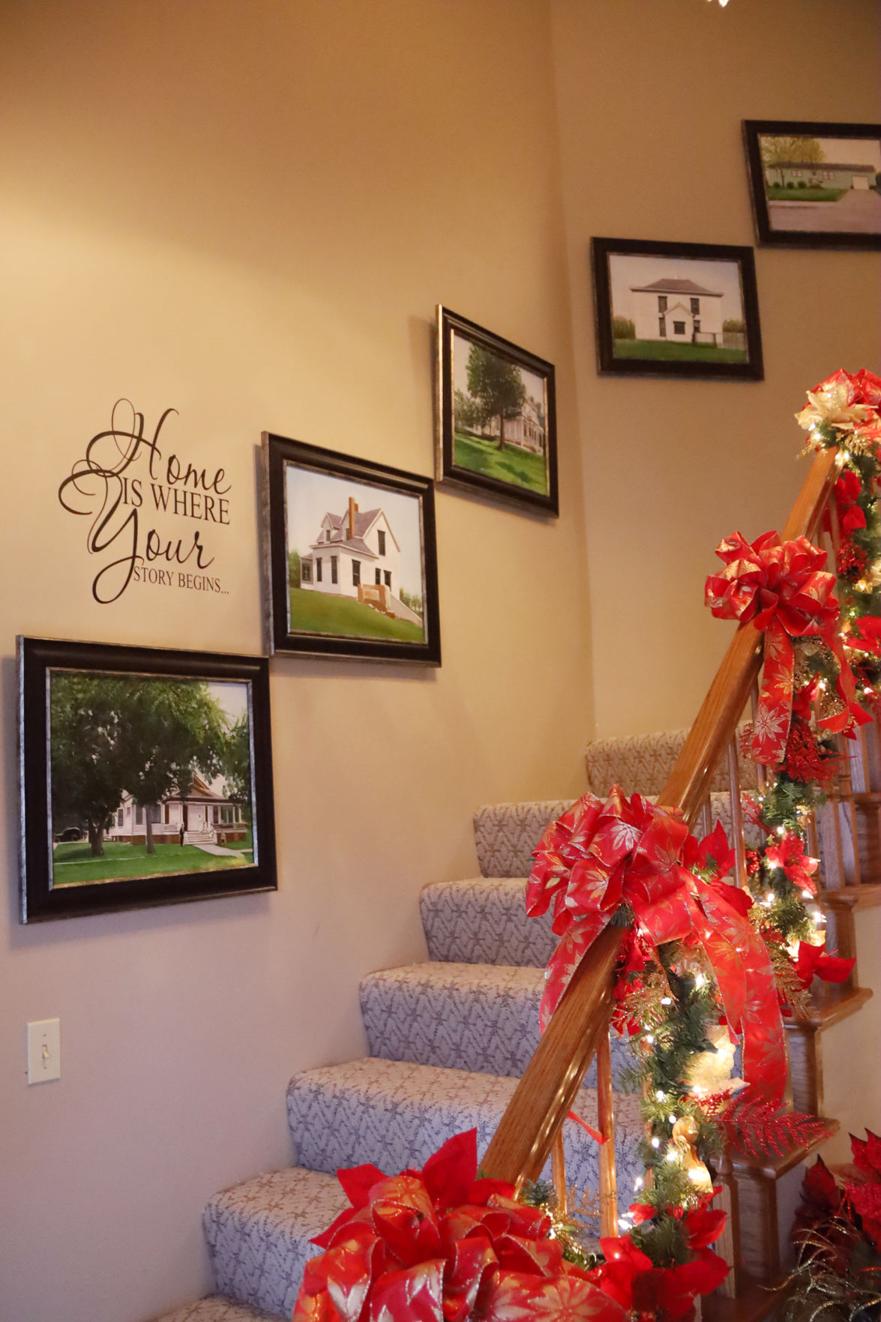 The third painting depicts the Willows Orphanage in Kansas City where she was born and lived for two months before being adopted by her parents. Her parents took her to Campbell, Nebraska, to a home shown in the fourth painting. The final painting atop the stairs is the house in which Wood's daughter Jill Baker was born in Holdrege, Nebraska.
Needless to say, history is important to Wood, who has positioned family history throughout her home. Family stockings created by family members hang from the mantle. In the dining room a tea cart once belonged to her grandparents on her mother's side.
In the library, Wood pointed out her grandfather's old desk. Dr. J.W. Stockman, M.D. had a practice in Red Cloud, Nebraska, where he was a physician.
"He sat at this desk from 1903 on and … I know Willa Cather was one of his patients," said Wood. "I just learned recently, that the book 'My Antonia,' which was one of Willa Cather's most famous books, the subject of that book Antonette Turner … she lived a mile and a half from me on the farm in that white house up there. I knew that was Cather Estate. I just didn't make the connection."
Small pieces of Wood's history and memories fill each room in her home. In the media room, a silver tree is dedicated to her mother and father who she said loved their first silver tree, though she joked it wasn't pre-lit, as her's is, but had a light wheel. Under her tree is a detailed tree skirt handmade by her mother-in-law.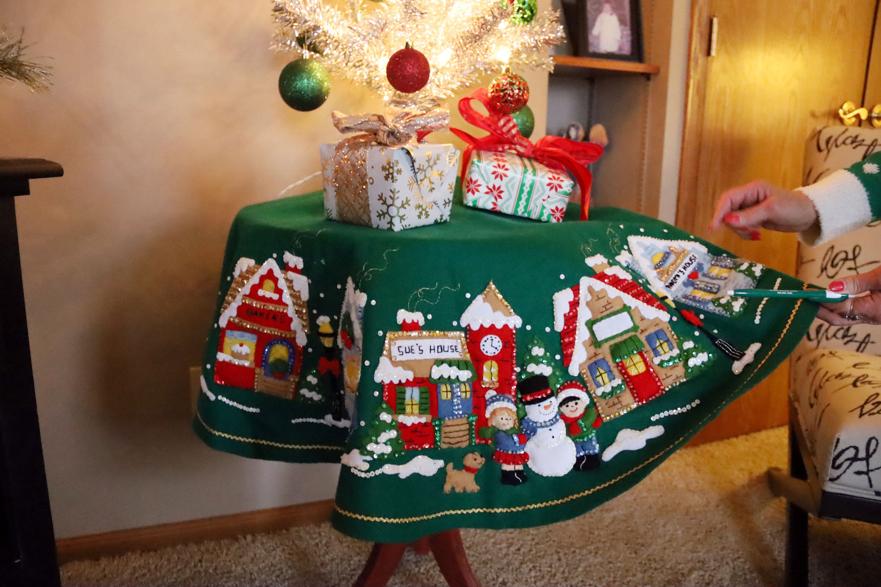 In other rooms are trees dedicated to Wood's hobbies, including reading, sewing, travel and 5Ks … yes 5Ks.
"I love running 5Ks," she said. Numerous medals, for first, second and third place bedeck the tree. Wood joked that once you hit 70 there are only three or four people in your age group. "So you can get first, second or third every time," she said laughing.
Other homes included on this year's tour were owned by Scott and Jayne McGinness, 702 Pierce Ave.; Philip and Erin Pohren, 132 N. Grand Ave.; and Phil and Amy Schreck, 1141 S. Sunset Drive.
Interest in the event continues to grow as more than 160 tickets were sold for the event, raising $3,300 for the ministry, Steve Sherry told The Forum in an email Monday.
"It's exciting for us when we see that the people attending are really enjoying themselves," he said.
The Sherrys will host a Popup Christmas Shop from 2 to 6 p.m. on Dec. 16, 17 and 18 at 1103 W. 18th St. Items from Thailand along with Christmas and Fall décor and stocking stuffers, ornaments and more will be available for purchase. All proceeds will go to the Under the Son Ministries Education Fund.
Next year's Holiday Homes Tour has already been scheduled for Sunday, Dec. 6. For more details, call 660-254-5775.