MARYVILLE, Mo. — Family is important to Tad Gordon, owner of The Hangar. Not only is it evident in how he's reshaping his business, but also in the importance he places on his staff members.
Since 1999, when he opened the movie theater as Countryside Cinema, Gordon has made a point of putting the experience first. He pioneered a dinner theater environment, a first in the region, and staff members served full meals to patrons watching movies.
"AMC modeled a bit after that and they found out the same thing I did," he said. "It didn't work."
But ever the theater enthusiast, he has worked to shift his own model in hopes of finding success in Maryville.
In late 2019, Gordon made a major investment in the facility and just as he was about to push through with the new focus, the COVID-19 pandemic hit.
"It's been a tough year," he said.
With Hollywood not releasing new movies in early 2020, it was impossible for him to stay open. He decided to take advantage of the copious amount of space he has and shifted his plan.
With hopes of becoming an oasis of entertainment for families of all sizes, Gordon said he has created space utilizing some technology much like LEGOS that opens up the facility for people to gather while still being able to social distance.
Previously the arcade and lobby were sectioned off, and Gordon couldn't adapt it to what he wanted to provide, a more open atmosphere. When the pandemic hit, he decided to tear down the lobby and rebuild utilizing the new blocks.
They allowed him to build structure where he needed it and leave the room open for patrons.
"This let me put things where I wanted them," he said.
That space now allows for an open pizza kitchen where a New York brick oven has been installed. While The Hangar is no longer a restaurant, Gordon noted that as of Tuesday, it is now serving New York style 10-inch personal pizzas for families interested in an indoor location for their children to play games and have a meal or those wanting to take it into a theater.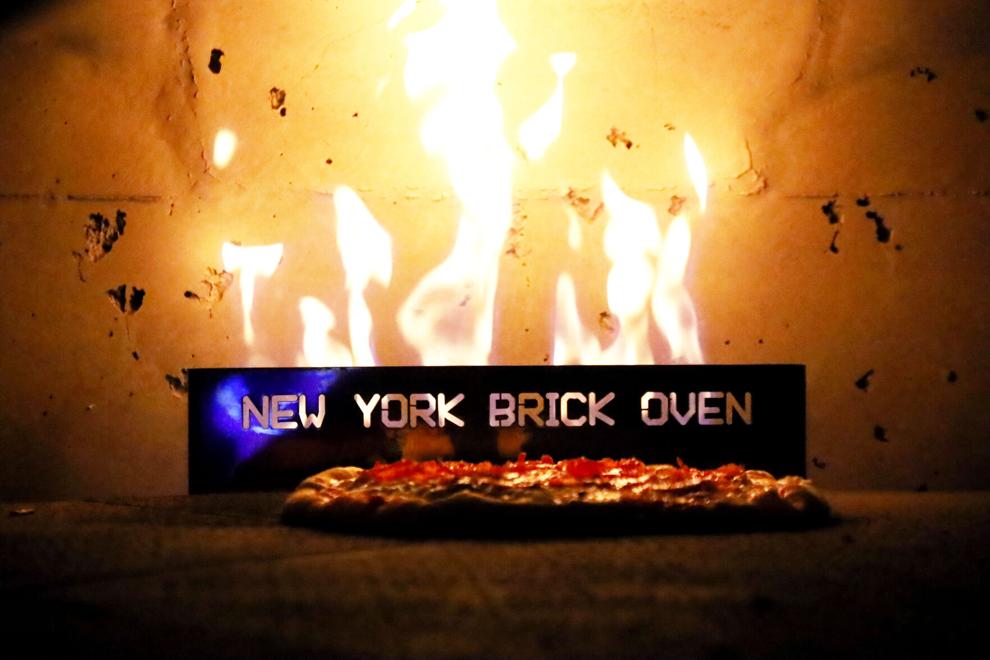 "Our pizza oven is very unique," he said. "I went to pizza school on Staten Island." Gordon spent 10 days in intense training, where he learned how to make the New York style pizza in a brick oven. Not only did he want one on-site at The Hangar, he wanted "the best," brick oven.
The Hangar's oven cooks the thin crust New York style pizza on a rotating brick platter in a 750-degree Fahrenheit oven.
Cole Bowman, Hangar employee, told The Forum Tuesday afternoon that it can take about 3 minutes per pizza, depending on the oven load. Each pizza has to take three turns on the rotating bricks inside the hot oven which gives it a very even cook. But it's not an automated process. The oven handler has to shift each pizza to a new brick after the second turn to give the crust that added crispy texture.
"It's a really fast process," Bowman said.
Harold Langley, Maryville, was tossing dough into the air to form crusts on Tuesday, his first full day of work. He learned how to properly throw at another pizza restaurant in town.
Dalton Johnson, Maryville, said he too will help with creating pizzas for patrons. He learned in Kentucky how to do it and noted that if you want to learn how, you can start by tossing a hand towel into the air.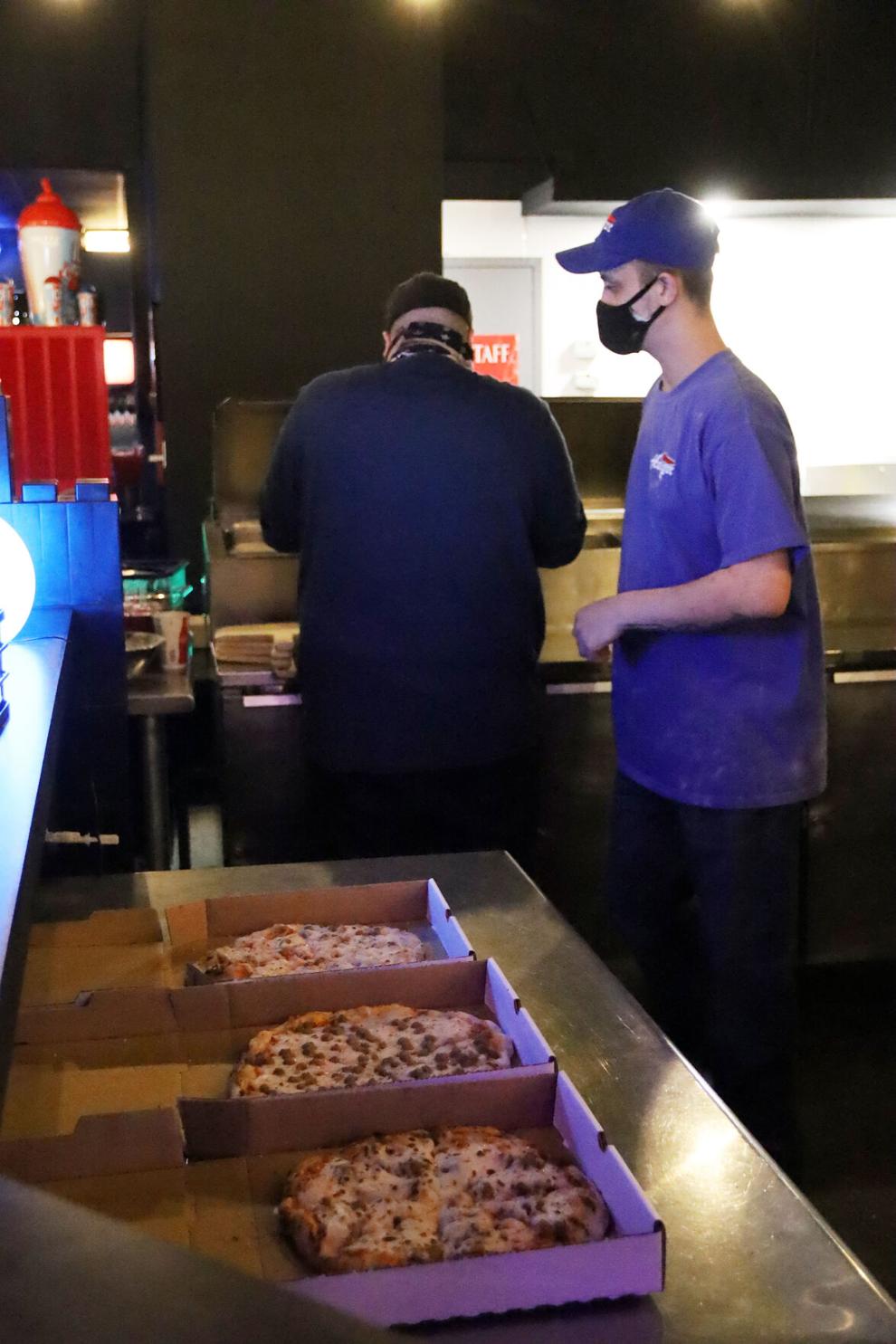 "They were like, 'Just practice with that, because we're not going to let you use dough until you can do it,'" Johnson said.
Gordon said that if orders are high, he can't promise a 3-minute turnaround, but if someone wants a pizza for a movie, if they show up at least 15 minutes early, they'll be able to take in a pizza for the show. During the next couple of weeks, as The Hangar begins to see more orders, staff will be able to adjust to the timing required for pizzas.
"Getting it done as quickly as possible, that's our goal," he said. "In my opinion, it's very simple and very, very good."
Pizza hours will be from 5 to 8 p.m. starting Friday. But Gordon plans soon to begin offering pizza for lunch.
With the redesign of the lobby area, Gordon also opened up the kitchen area so people can watch their pizzas being made.
The lobby now allows for a family dining area, expansion of the arcade and even a new Beam interactive laser projector that projects a game onto the floor for children to play. Gordon noted that there are numerous active games they can choose, from kicking around a digital soccer ball to stomping on coconuts in "Coocoonuts," among many other options.
Part of the upgrade in the arcade, he told The Forum, is the addition of better prizes.
Gordon gave examples, of Echo Dots, phones, free pizzas and drinks that he noted are far better than the small trinkets available before.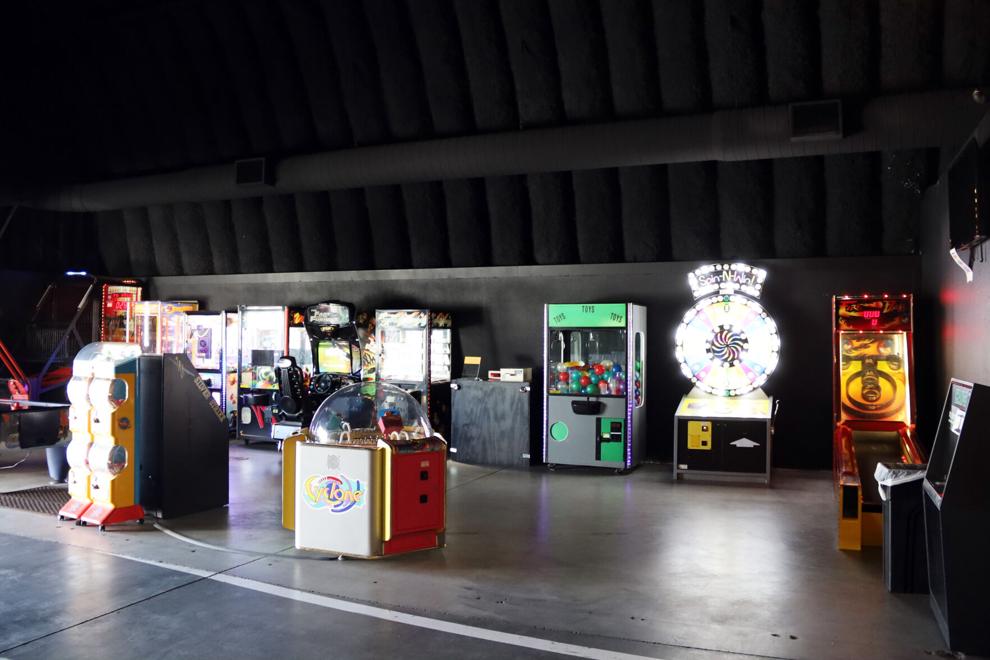 "And they're winnable," he said. "We are continuously going to be adding activities."
Other additions to the game room include cornhole, giant Jenga and Connect 4 games. Gordon noted that anyone who wants to can host a private event, like a cornhole tournament or birthdays in one of the theaters.
Because of the amount of space in each of The Hangar's five theaters, social distancing is easily possible for larger crowds and each theater can be set up in a variety of ways to accommodate the gathering.
"We're going to really focus on private events," Gordon said.
He noted that on Wednesday he was hosting a large private event in the recently updated Theater 5, where the dinner theater used to be held. Now complete with rows of comfortable reclining seats, the space will be available for events or just for parents to step away from children playing in the lobby.
"Our goal is to be a place where families can come and we entertain the kids while the parents can relax, have a pizza, have a soda or if they want to go to a movie, great, but if they don't we have an environment that's sort of fun," Gordon said.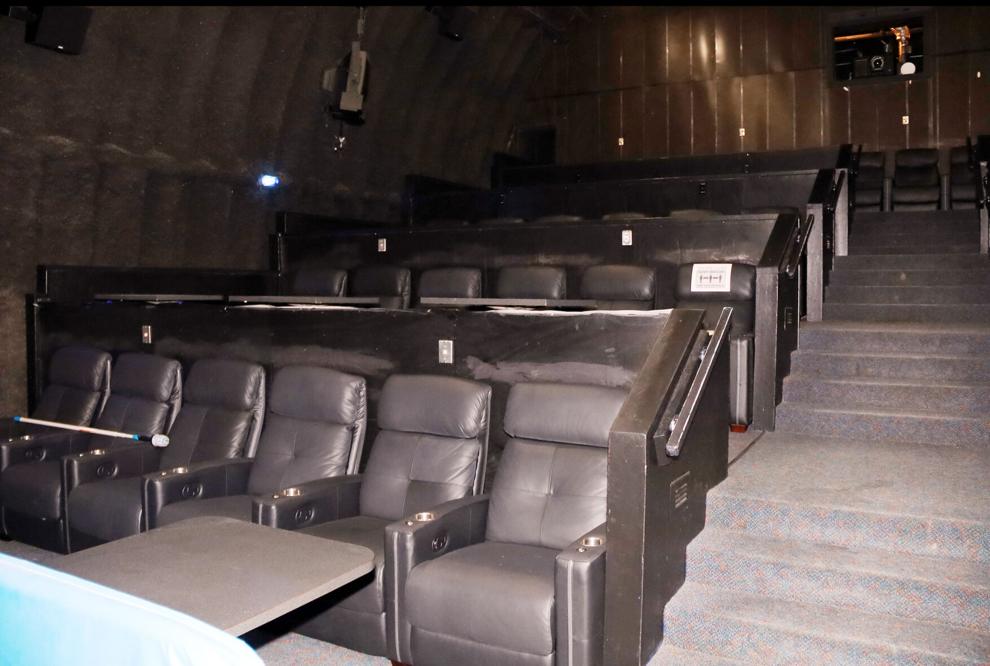 Another option for patrons, Gordon said is that each theater has been wired for cable, so if someone wants to host a private event to watch anything, it's possible.
He's kicking that off by showing the Kansas City Chiefs game on the big screen this weekend. The Chiefs (14-2) are scheduled to play the Cleveland Browns (12-5) at 2:05 p.m. on Sunday, Jan. 17.
He's also planning to hold private events for Super Bowl parties.
Gordon said he and his staff place a high priority on safety and have set up strict protocols to be followed regarding cleanliness and disinfecting.
"If anyone's prepared for COVID, it's us," he said, noting the large amount of space that allows for social distancing in every area of The Hangar. "We're very conscious of COVID and the protocols that we need to follow and we follow those very strictly."
He said everything is disinfected every day and every theater is disinfected between shows.
In order to keep patrons and his staff safe, he has chosen to keep The Hangar running at 25 percent capacity for now, "even though we can do 50 (percent)," Gordon said. "We want to make sure that everyone feels comfortable."
He noted that if someone chooses to be 6 feet away from everyone, "they can travel anywhere in our facility and maintain that distance."
Gordon has taken steps to get feedback from the community during his reopen. Patrons interested in offering feedback may sign up online at hangar1.com.
Gordon said he's received a lot of good feedback from those VIPs who have taken advantage of joining to hear about the progress of the reopening. While the process has taken a bit, he recognized the hard work that staff members have put in to ensure that reopening to the public as a family entertainment center goes as smoothly as possible.
"We will slowly get back to normal, but it's going to take a few months," he said. "Hollywood is not in a rush."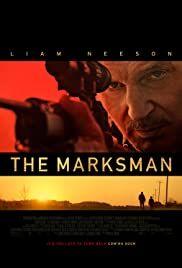 This weekend The Hangar plans to show a new film, "The Marksman," starring Liam Neeson, but new films are rare he said. Through his film broker he was also able to acquire the 2000 family film "The Emperor's New Groove." This will give families a chance to see the film on the big screen. Gordon said the theaters offer a high quality digital video and audio experience, for which he won awards after constructing the facility in the '90s.
"We're going to really be looking to the community for what the community needs and wants," he said. "(The VIPs) They're talking to the owner. They're talking to me."
Gordon explained that as his business reopens and grows into what the community needs for families to have an enjoyable time out together, there might be some changes and additions. People can stay informed online with social media and his website hangar1.com.
"We will give you all the tools to have a good time, but it's up to you to have a good time," he said. "We are very appreciative of this community."