MARYVILLE, Mo. — Maryville High School's premier vocal music show choir offered friends and family members a preview of Spectrum's stage performance "Strictly Business" on Friday, Jan. 7, just one night before it kicked off the competition season at the Mid-Iowa Show Choir Championships in Ankeny, Iowa.
Vanessa Parsons, Maryville High School vocal music director, said it's the first time the choir has participated in this competition — and it is exciting.
"It's been a long time since we've done this," Parsons said. " … We have really missed show choir. We've missed this opportunity to come and do this, and we didn't realize how much until we kind of got into it. And we're having a great time. …"
Explaining how the competition works, she told the audience that each competition can be a little different with regard to its times, but each show typically allots 20-25 minutes for each group to enter the stage, set up any décor items, perform, tear down and exit the stage.
Accompanist Kylee Smith provides piano for the choir's performance and for the next few weeks of competition, Parsons said the choir will be assisted by student teacher Haley Manville.
"It's fantastic. I should always have a student teacher. It's been wonderful," Parsons said.
During the show, students performed in waitress uniforms, hardhats, work shirts and jeans as well as black business attire, gleaming green gowns and black suits.
The show opened fittingly with the song "Opening Up," the finale from the Broadway musical "Waitress."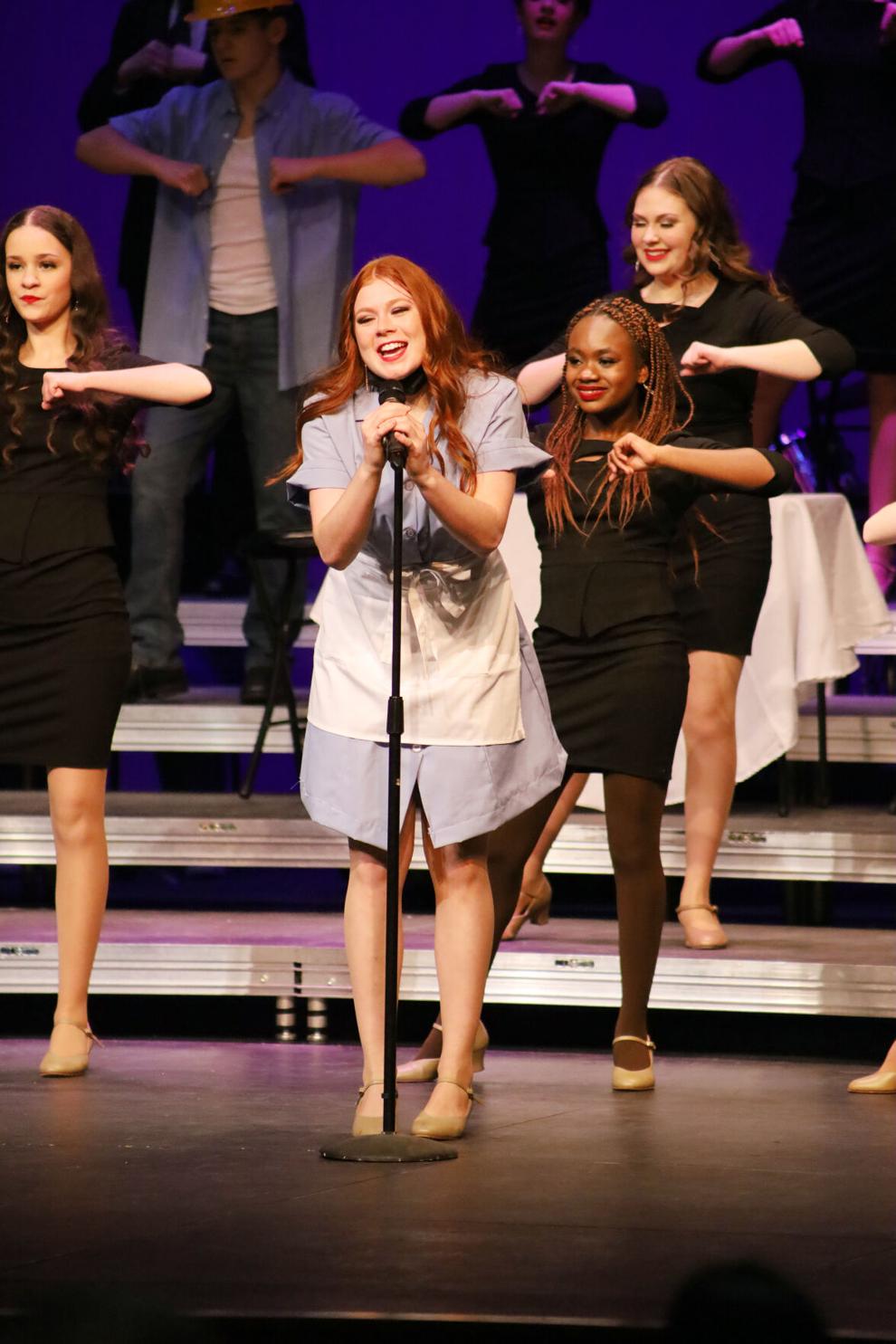 With a brief pause for applause, the singers moved directly into "9 to 5," by Dolly Parton. During the competition on Saturday, a solo from senior Lauren Cullin must have wowed judges at the competition, as she was named one of four Outstanding Soloists that day which netted her a $5,000, four-year, renewable scholarship totaling $20,000 to Morningside University in Sioux City, Iowa.
The men's ensemble took over performing a mixture of "Working in the Coal Mine," by Lee Dorsey and American folk song "I've Been Working on the Railroad." The young men continued their portion of the show with a deep-voiced introduction from Jonah Miller describing Big Bad John, in the song of the same name by Jimmy Dean.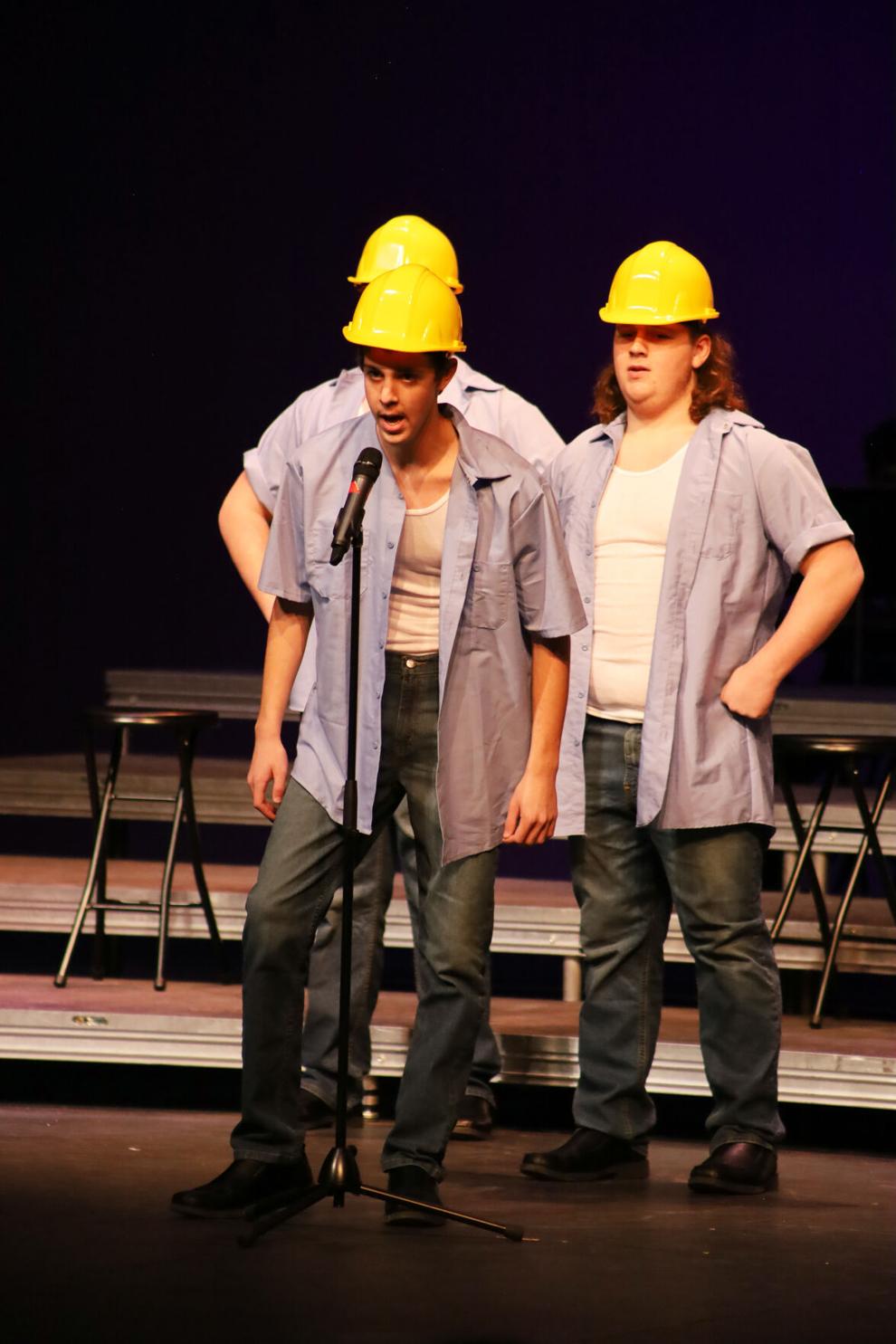 The ladies then returned to the stage to tackle "Think" by Aretha Franklin.
Slowing the show, Spectrum performers, now donning sleek black suits and glimmering green gowns, offered a melodic performance of the ballad "Cat's in the Cradle," by Harry Chapin. Starting with a solo from senior Kyle Stuart, the heartbreaking song tells of a father and son who can't schedule time to be with each other, and warns against putting one's career before family.
Toward the end, Dalton McDonough performed a solo as the son in the song, which ratchets to a crescendo with some extreme high notes from soprano Cassidy Kline, before falling finally and smoothly to denouement.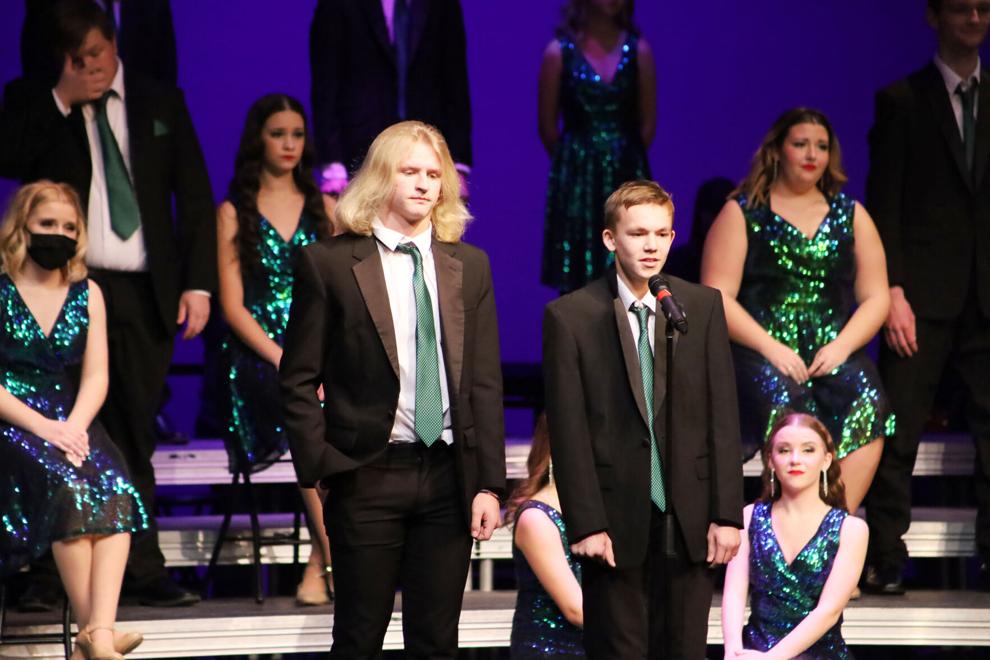 Not to end the show on a low note, the performers then took on "Hard Day's Night," by The Beatles and "Bang the Drum All Day," by Todd Rundgren, complete with a capella singing and clapping.
Parsons told The Forum on Tuesday that Spectrum placed sixth in the Ankeny competition and was by far the smallest show choir in the contest with all the other huge choirs being from 4A and 5A schools.
"The kids performed SO well," she exclaimed in an email. "I was extremely proud of them all!"
On social media she shared "Bringing home some hardware, but honestly the best thing we are bringing home this week is a sense of community, team work, musicianship, building better singers and dancers and growing good humans."
The show choir's next performance is Saturday, Jan. 15 at Blue Valley High School in Stilwell, Kansas, as long as the weather holds.
The season will then take them to Pleasant Hill for the "Battle of the Best" on Saturday, Jan. 22; Norwalk, Iowa, on Saturday Feb. 12 and then home for a competition at Northwest Missouri State University on Feb. 25 and 26.