MARYVILLE, Mo. — For 10 days, 33 members of local Boy Scout Troops 190 and 74, along with 17 adults and two Pack 74/75 Cub Scouts traversed the northern United States to visit the country's oldest national park, Yellowstone.
Situated in three states, Idaho, Montana and Wyoming, the park became the first national state park on March 1, 1872 and offers a unique hydrothermal and geologic experience but for the members of Boy Scout troops 190 and 74, the trip also offered a glimpse into America's history.
Troop leader John Campbell told The Forum on Tuesday that the caravan stopped several times along the way and even on the way back to see as many historic sites as possible.
"It was a progressive trip," he said.
The group stopped in western Nebraska where they stayed the night at Fort Robinson State Park, site of a former U.S. Army fort now declared a National Historic Landmark. Campbell said it just happened to coincide with a group of around 150 people preparing for a cavalry re-enactment in full regalia and with horses, so the Scouts were able to meet with them and see the horses.
"The cool thing was that they were boarding all their horses and everything in the stables of the fort," Campbell said. "So you actually almost got a glimpse of what the fort might have looked like when it was in operation. … It was awesome."
Troop members were able to go down to look at the horses around the corrals.
"They were fascinated by them," he said.
Boy Scout Alex Rice told The Forum on Wednesday that the overall trip experience was, "very good."
"We got to see what happened there, why it's still there and why it's now campsites," he said about the fort.
In South Dakota, the group visited Custer State Park in the Black Hills, stopped at Mount Rushmore where many tried ice cream from an original recipe of Thomas Jefferson.
Campbell said Jefferson's ice cream was very good and creamy, but not everyone wanted it, so they all had a treat. He noted that it was important enough they budgeted $7 per person for the treat.
Still in South Dakota, the Scouts toured Wind Cave — one of the longest caves in the world: 149.01 miles, according to the national park's website — a mammoth site in Hot Springs and then visited the Crazy Horse Memorial.
On the fourth day of the trip, the group stopped at the D.C. Booth National Historical Fish Hatchery in Spearfish, South Dakota then made their way to Wyoming and hiked around Devil's Tower and got back on the road.
Devil's Tower is shown in Wyoming. Maryville Boy Scouts stopped on their way to Yellowstone National Park to hike around the national monument…
In Montana, the Scouts visited the Little Bighorn National Monument that memorializes the U.S. Army's 7th Cavalry, the Lakotas and Cheyennes in one of the Native American tribes' last armed efforts to preserve their way of life. The Scouts also had tickets to visit the Grizzly & Wolf Discovery Center where they were allowed to hide berries and fruits for bears and watch wolves.
"It was cool we got to do that," Campbell said.
Scouts hide food under rocks at the Grizzly & Wolf Discovery Center in Montana.
But it wasn't all fun sights and playing games with bears. In Billings, Montana, one of the caravan's seven vehicles experienced some difficulties with a wheel which put the group about a half-day behind schedule.
But being Boy Scouts, they were prepared, and utilized their time wisely by stopping at Pizza Ranch for lunch during the repair wait.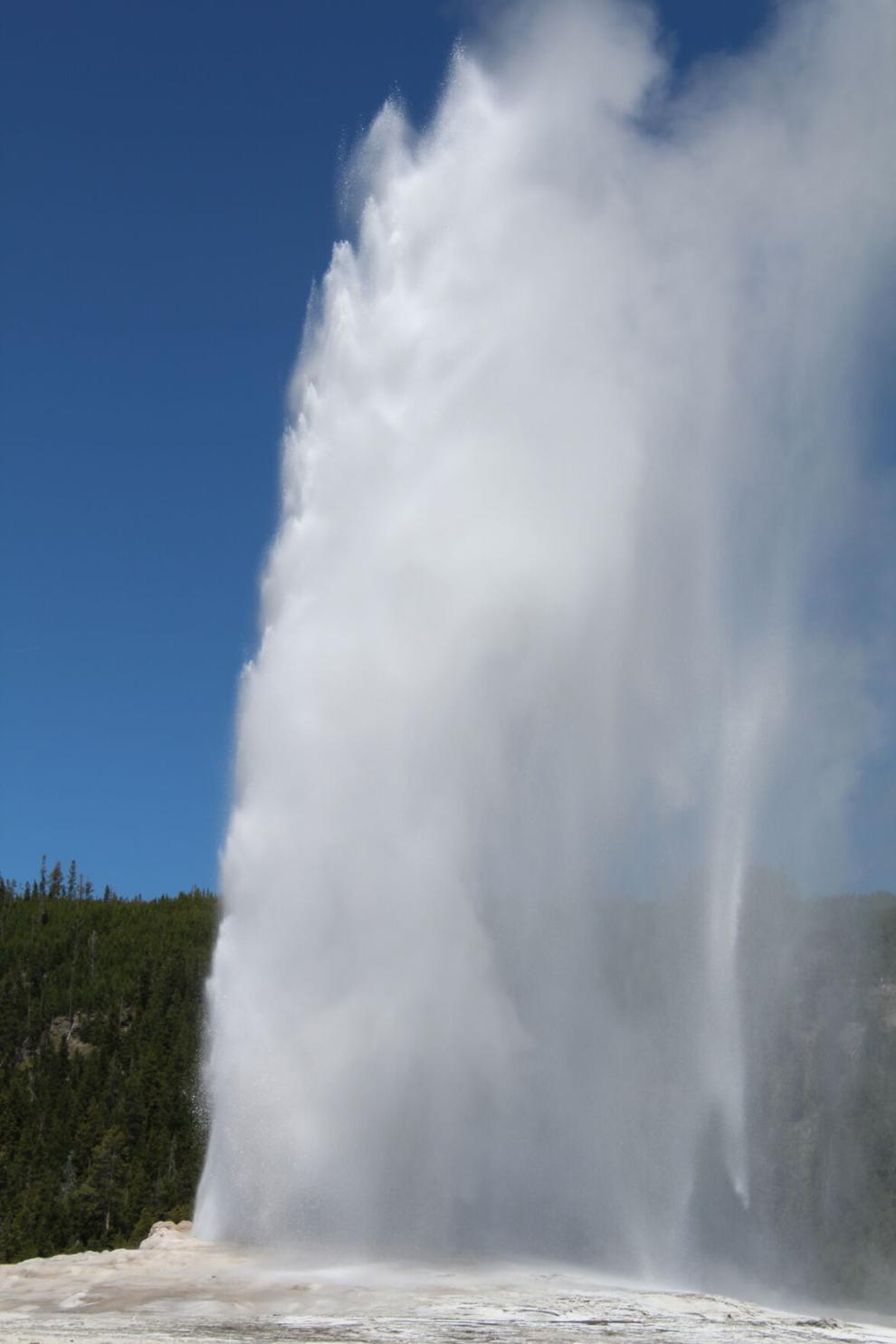 In Idaho, the group set up their base of operations at Grand Teton Council Island Park Boy Scout Camp where they shuttled back-and-forth to Yellowstone. The troops spent three days visiting various sites throughout the national park, including the Old Faithful geyser, the mud flats and more.
Some of the time, waiting for other vehicles to stop taking photographs of the wildlife on site took quite a bit of time, but on the third day the group split up taking everyone to particular places they wanted to view.
"We just got to do our own thing," Rice said. "I just felt like it was a very good thing for the troops to do, because it was a very fun experience. ... I remember everyone coming back to the campsite all happy because they got to do what they wanted. ... Yellowstone itself, was probably the best experience."
While in Idaho, Campbell said the group also found time to shop and pick up items for family members. During one of those trips he said they found a candy shop that offered homemade, currently in-season, huckleberry ice cream and salt-water taffy.
"Huckleberry ice cream is to die for. It is to die for," he said. "We found this little place in west Yellowstone. It's a candy shop. … Not only do they make the shake with the huckleberry ice cream and they put some huckleberry syrup into it with the berries actually in it and they mix it all up and blend it, then they put a spoonful of it on top. So it's just, oh, the cherry on top."
Campbell said the shop also made salt water taffy with a pulling machine and several high school girls were rolling and cutting it with an antique machine then picking up each piece to hand-wrap them in wax paper.
"I spent a lot of money there, but oh, God it was good," he said, noting that huckleberry jam, huckleberry pancake syrup and huckleberry pies will be in his future meals at home.
The final two days of the trip were spent heading home. The caravan came through the Teton Pass through the Teton Mountain Range, where Campbell said it had a nerve-wracking 10 percent downgrade for 7 miles that made it difficult not to wear out the brakes.
But they all made it back to Nebraska safely where they slept at Fort Robinson before the final 11 hours back to Maryville.
"We actually got to eat in the same dining hall where the cavalry did," Rice said. "They made a little restaurant. It was very cool."
Campbell said a pleasant surprise that really bookended the trip was the dining experience at Fort Robinson Cafe where the group was able to order buffalo burgers and buffalo steaks.
"We didn't realize they had a fabulous restaurant tied to the fort," he said. "They served buffalo. A lot of the kids tried the buffalo burgers. I actually tried the steak, a ribeye. It was awesome."
He said the restaurant was kind of a highpoint both ways on the trip.
Campbell said that the 10-day trip, three years in the making, was not without its issues, but was definitely worth it.
Even with the difficulty they encountered while renting vehicles, Campbell said it worked out and made the trip that much more exciting. He explained the rental company didn't have their vehicles already confirmed for pickup until the day they were picking them up. Even then it wasn't the vehicles they were supposed to have. Originally, the plan was for two 15-passenger vans, a donated 11-passenger van and a truck. In the end, they took three vans, seven SUVs and a truck with a trailer.
With three years of fundraising, selling popcorn, working on landscaping jobs, and matching grants from family members' employers, the total trip cost around $25,000 for the 50-person group. Campbell, who had taken the trip before and helped plan and budget for the trip, said they tried to make it so that no one person had to pay more than $230 out of pocket. At the end of the trip, each person received a $5 refund.
"For some of these kids it'll be the trip of a lifetime," he said.