MARYVILLE, Mo. — Daniel Hurd hasn't always been a cycling enthusiast, but on Thursday, after 19 months and 14,000 miles on the road, he stopped his bike in Maryville, midway through his cross country journey to tell his tale of trauma, travel and truth while working to reduce suicide stigma.
He started on March 5, 2018, in Plymouth Rock, Massachusetts, headed for Seattle, Washington, and Friday told The Forum the reason for his trek.
"I had attempted suicide three times, and was planning a fourth when my friend got me on a bicycle," he said. Having tried four or five years to get Hurd on a bike, his friend kept prodding him until finally he relented.
"He kept making me go riding," and on their third trip over a long weekend, they completed 166 miles. About half way through, Hurd didn't think he could make it and told his friend, who forever changed Hurd's life with his next words.
"'Dude, it's one pedal at a time. It's left, right, left, right,'" Hurd said. "I just kept saying that in my head and literally made it home. That kind of carried over to my daily life."
Hurd attributes his suicide attempts to several things, including: Post-Traumatic Stress Disorder from his time in the military, — Hurd served as an E-5, enlisted in the U.S. Navy from 2007 to 2011— abuse as a child and more recently from severe financial struggles.
"I ended up living in a tent behind a buddy's workshop," he said. "That was home when I was doing these rides. I went from having everything in my life to having nothing."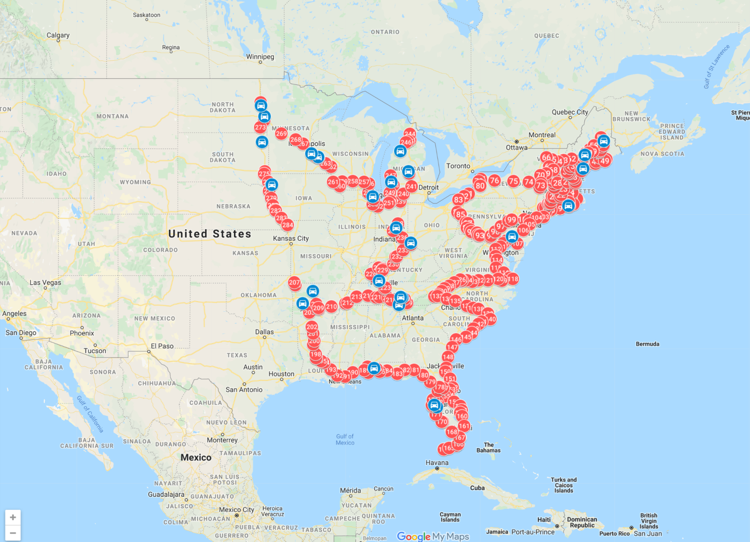 His interest in cycling began to outpace his interest in another suicide attempt and he found himself increasingly on a bicycle.
It was July 2017, when he talked to his therapist about stopping his medication. That doctor told him to focus on the positive things in his life as a way to combat the negative things dragging him down. Hurd said his veteran friends were the positives in his life. His doctor suggested he plan a trip to see them.
Two days later, the friend who pushed him into cycling told Hurd, he had always wanted to ride across the country.
"Light bulbs and fireworks started going off," said Hurd. He began mapping where his friends were, in 32 states. To get to those states, he had to ride through 42 and decided to do the other six and visit each of the contiguous 48 states.
After working up the plan, Hurd found it would take 3 years to complete the 25,000-mile trip. He said that breaks down to roughly 22 miles per day. The number is significant, because, at the time, it was the number of veterans per day who die by suicide according to the Veterans Administration.
"I do that for my dedication to the veterans who lose their life every day," Hurd said. "It's actually lower now, (20) which is a good thing."
Hurd's longest single-day trip was 129.95 miles and spanned from Indiana into Michigan. It took 14 hours.
"I did that purposefully as a dedication for the people that we lose every day," he said. "It was tough and when I talk about it, I say I hope I never have to do that big of a ride again, unfortunately every year suicide has gone up."
While on his journey, he not only visits with other veterans, but also takes it upon himself to raise awareness for suicide prevention. Formerly an introvert, Hurd said he has grown during the course of his trip. He has met with people along the way who have needed his help and in turn he's received support.
"I started meeting people on my route that were on their way to commit suicide," Hurd said "I've had 55 people who haven't committed suicide because of my journey. Eleven of those people were crossing paths on their way to commit suicide. So God's definitely got a big plan for me, to the point where I became a believer in Christ and God."
Many events led to his acceptance of the Christian faith, but none more so than a man he met in New York.
He told of meeting a gentleman on a bike who was headed to Lake Erie with a rope around his neck who told him he was going kill himself. After changing course to ride with him, the two men talked for quite some time and after a lag in the conversation, Hurd was able to get him some help. He attributes an intervention by God with stopping the man and finding a mental health clinic down the road.
Hurd hasn't always been so open about his history, but people he met along the way pushed him to tell his own story, thus making the trip even more personal.
He started his own nonprofit organization OPAAT, for One Pedal At A Time to help raise awareness about suicide, work to prevent it while also promoting bicycling.
He's begun speaking at scheduled locations along his route. People have begun to contact him to tell his story. So that's what he's doing.
"Don't think that you're above anything or can't accomplish anything," he said. "I never thought I'd be a public speaker, or own a nonprofit."
Focused on becoming a social media influencer, Hurd intends to show the true side of his journey, including the hard days and tears. He's been involved in four hit-and-runs as well as a lot of close calls while on his VSF bicycle, but he's also in the best physical and mental condition of his life.
With no savings, and sleeping in a tent some of the time, Hurd said he's doing fine most of the time. He has some dedicated friends who send care packages and sometimes funds through his website www.opaatmovement.com/.
"If I was doing this just for myself, I'd have probably stopped," Hurd said. "There are so many more states and so many more people I can inspire."
Saying it's been a crazy journey, he explained his cycling as a miniature expression of life with headwinds and tailwinds as well as challenging hills to climb and every now and then, a nice hill to coast down.
Hurd made a point to offer some advice about how to help remove the stigma from suicide discussion. He said there's a difference in how people greet each other every day. "Hi, how are you doing?" Doesn't mean what the words are actually asking.
"That just means hello nowadays in this society," he said. "It's not really asking how are you doing and that's what needs to change. It's not going to be me that changes it. It's going to be all of us."
He has begun tacking on the word "today," in order to help himself and those he asks focus on the actual question and the current state of themselves.
Being more involved within communities he said can help to prevent suicide. Paying less attention to electronic devices and more to the people around also can help.
"If we talk about it and get people that are struggling to talk then we can see those signs more often, but we need people to listen," said Hurd. "This is my mission – to get people to understand that. Give people who are struggling hope."