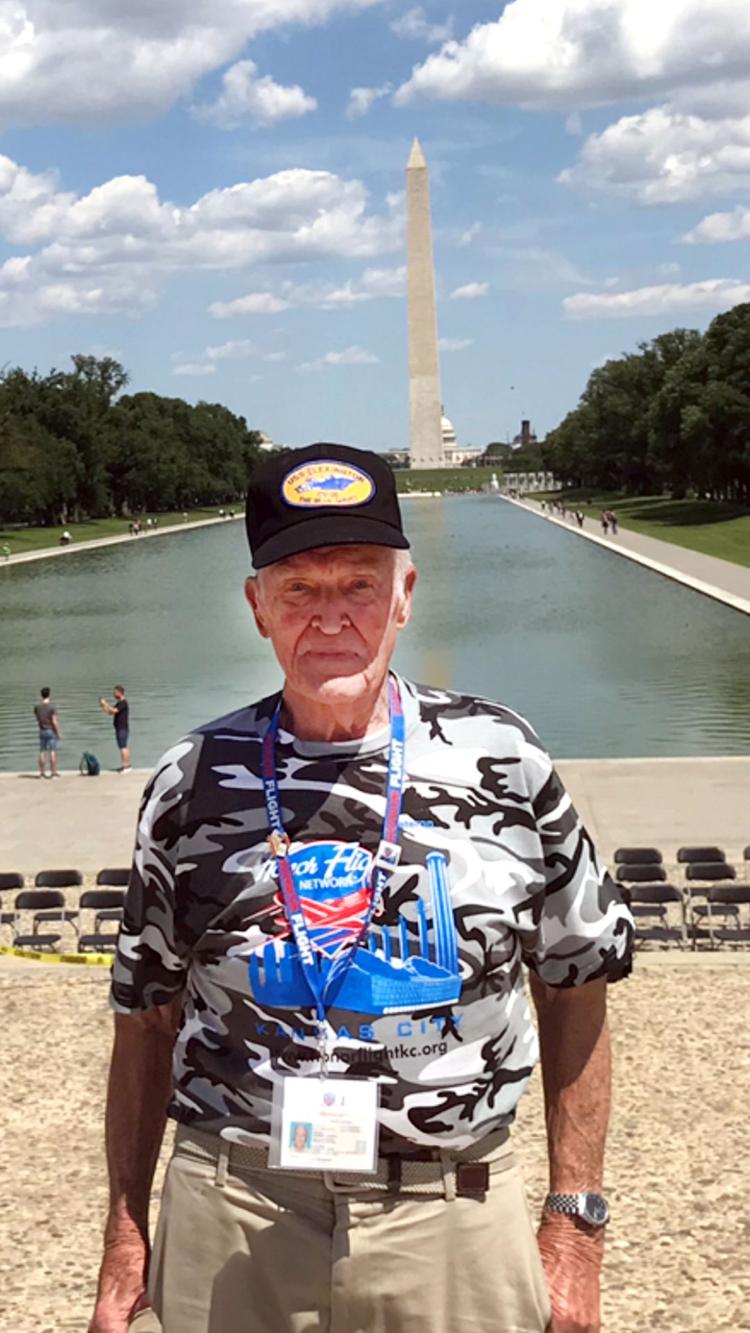 MARYVILLE, Mo. — Last week, Hubert Seipel, Maryville, was one of more than 80 area veterans who traveled to Washington D.C. to visit war memorials as part of the Honor Flight Network, a nonprofit organization that transports veterans to the nation's capital to visit and reflect at the memorials that are dedicated to their service and the sacrifices of American soldiers.
Seipel, 92, said he found the World War II memorial the most "impressive."
"But they were all very impressive, nice to look at," Seipel told The Forum after he returned. "You stop and you think how many bodies that are left in each place they went. There are a lot of casualties that didn't get back."
Still sharp with no trouble hearing, and a steady gait that can get him across a room more quickly than you'd think, Seipel is the model of the "greatest generation" as it ages and becomes rarer and rarer.
"On our particular Honor Flight, we were down to six World War II vets, 10 Korean (war vets), and the rest of the 80 were mostly Vietnam vets," Seipel said. "But goes to show how many World War II vets are left. … We're dying off every day."
Only a little more than 10,000 World War II vets are estimated to still be living in Missouri, and around 450,000 across the country.
"Well it's been referred to as the greatest generation, but I would say it's the generation that stepped forward," Seipel said. "They knew what their duty was. … A lot of us didn't make it back, but those of us that made it back picked up our lives and took off. I think the results after World War II are almost as outstanding as the (results of the) war."
Seipel volunteered immediately after graduating from high school.
"I graduated from high school — I was about the youngest in my class, all the rest of them had their draft notices by the time they graduated, and they were hitting the draft almost the next day," Seipel said. "That left me as about the only one (who hadn't), so I talked my mother into signing for me and I enlisted in the Navy."
At the end of the war, Seipel was on the aircraft carrier USS Lexington when the Japanese officially surrendered.
"We were in Tokyo Bay, almost in sight of the (USS) Missouri where the signing happened," Seipel recalled. "We were bombing north Japan the day the war was declared ended. They told them to drop their bombs in the ocean and come back — it was over."
Today, Seipel hopes that younger generations are aware of the sacrifices his made for the nation.
"I think we forget where we came from, and we're not going to know where we're going," Seipel said.
He encouraged anyone who knows a veteran to nominate them to go on an Honor Flight.
"I am pleased and honored to be able to go on the flight, and I appreciate it very much," Seipel said. "If someone is a veteran or you know someone who is a veteran — especially any World War II veterans left who may be able to make the trip — I would strongly suggest you get your nominations in to the Kansas City chapter. It's a good experience."