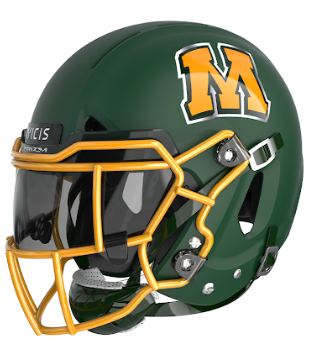 MARYVILLE, Mo. — Maryville High School has purchased new VICIS helmets to equip the entire football roster for the 2019 football season.
In January, Maryville head football coach Matt Webb offered a preview of the new VICIS ZERO1 helmets at a Maryville R-II Board of Education meeting.
"I've been really excited about this," Webb told the board.
Starting last spring when Northwest Missouri State University committed to a full roster conversion to VICIS helmets, Webb began his search for a way to provide better equipment and improve safety for his players.
Maryville is one of the most prestigious football regions in the country, earning the nickname "Title Town" due to its rich history of success, according to a VICIS news release. Northwest has played in 10 NCAA Division II Football Championship games since 1998, winning six titles, while Maryville High School has appeared in six state championship games over the last decade, winning four titles.
"More important than our achievements on the field, is our commitment to protecting our athletes," said Webb, in a VICIS news release. "Football is a big part of our identity as a city and we are proud to be the first city to completely embrace the ZERO1."
In the past, Maryville players have had access to Schutt and Riddell helmets. Webb said the Virginia Tech Study, a national standard in varsity football helmet testing, rates the new VICIS helmet with five stars (best available) and a score of 1.92. The Riddell SpeedFlex also is rated with five stars, however, its score is 4.49.
According to the Virginia Tech Study, the lower the score the better protection offered by the helmet. During the study, the lightest standard face mask for each helmet was tested.
Webb offered to board members two helmets to compare after a single season of use. One was a Riddell SpeedFlex, the other a new VICIS ZERO1.
As a test, Webb asked VICIS for a helmet to be worn during the 2018-2019 season. Senior fullback and linebacker Tyler Houchin received that helmet. For comparison sake, Webb brought a Riddell SpeedFlex helmet worn by junior running back and linebacker Tyler McGary. While one helmet looks well used and would be sent off for reconditioning in the off season, the VICIS helmet looks practically brand new with only one scratch on it.
"The difference is the technology," he said performing a drop test for the board. "You can hear the difference in the thud. It's a rethinking on player safety and the current issue of concussions. They kind of reinvented how to make a helmet. It's a soft shell.
"There's not any difference in the star rating in that Riddell SpeedFlex," Webb said. "It's a five-star helmet. What we've had has been very good. … The difference is that score is what they measure in G-Force, that's a 4.49, 1.92. There's so much technology inside that helmet."
Maryville joins more than 1,200 high school programs and 150 professional and college teams committing to use the ZERO1 helmet.
Originally introduced in 2017 to NFL and NCAA teams, the ZERO1 helmet features a deformable outer shell and a unique columnar layer designed to slow impact forces, mitigate collisions from multiple directions while enhancing player performance, according to the VICIS news release.
Webb said the new helmets are lighter and use titanium for the face masks.
"We're really excited about wearing VICIS helmets," said wide receiver and defensive back Tate Oglesby. "As a player, I love the way they feel and knowing that they are the safest helmet available is really cool."
Each helmet is fit specifically to the player. No air bladders are used in the new helmets which will help during the colder months of the season.
"They feel a little different than what our other helmets felt like, but I really like them and I'm looking forward to playing in them this fall," Oglesby said.
According to the VICIS website, the ZERO1 helmet also offers a larger field of view 212 degrees, than traditional helmets. The maximum human peripheral vision is 220 degrees.
"The sooner you see, the sooner you can react," according to the website.
The Maryville School District also has acquired the ZERO1 YOUTH helmet for all middle school players in order to offer better protection at a young age.
According to research published in The Journal of Pediatrics in December 2018, concussion rates for youth football players were higher than previously reported. In all, some 5 percent of all youth football players received concussions each year.
The study shows that one-half of youth were still symptomatic 3 weeks after injury. Youth with history of concussion had a two-fold increased risk for sustaining another concussion. Authors of the study say further research is needed to address the risk of concussion in youth football.
Webb explained that as a player begins in football in middle school they will receive a specially fitted ZERO1 YOUTH helmet.
The youth helmet is created with a different padding structure inside than the ZERO1 helmets at the high school level.
"VICIS' mission is to protect every athlete, no matter their age," said Dave Marver, VICIS CEO and co-founder. "We applaud Maryville's citywide commitment to safety and performance and are honored to protect the athletes of Title Town."
These VICIS helmets are not cheap, Webb told the Board of Education in January. Each helmet is around $985. He said due to the commitment to change all helmets from seventh through 12th grade he did receive a break from the company.
"Our football program is excited to be joining with VICIS as an entire football program from grades 7-12," Webb said. "We are very thankful to our continued support that our Maryville School District provides to all our athletic and activity programs, as well as our Spoofhound Athletic Booster club, our Football Backers Booster club, our local hometown bank large contributor in Nodaway Valley Bank, and alumni members who have all helped us fund this project."
Maryville R-II Superintendent Becky Albrecht said Tuesday that the amount over the cost of the 70 high school and 40 youth helmets was covered by donors, which Webb secured on his own.
She explained that helmet reconditioning is an annual expense for the district and that a rough estimate of that cost is about $12,500 per year. That amount doesn't necessarily include the amount the district spends on purchasing helmets each year because that amount fluctuates based on need.
"No matter the event, activity or sport, student safety is always a district priority." Albrecht wrote in an email to The Forum. "We make annual investments in upgrading facilities and equipment to prevent student injuries." She  explained that the level of financial commitment required for a total transition to the VICIS helmets makes it unfeasible for many districts.
"We, however, are doing it thanks to generous donors" said Albrecht. "We are very fortunate here in Maryville to have the level of community support needed to make the switch a reality for our student athletes."
Webb echoed her sentiments saying the safety of all players has and will continue to always come first.
"Putting our players in the top-ranked helmet on the market is a major commitment that we are very proud of," he said.
VICIS is a Seattle-based company focused on sports protective technologies. Its inaugural product, the ZERO1 football helmet launched in 2017 and ranked first in 2017 and 2018 NFL/NFLPA Helmet Performance testing, according to the news release. It also was named one of Time Magazine's 25 Best Inventions of 2017.
The company is funded and/or advised by several current and former NFL players, including Roger Staubach, Jerry Rice, Russell Wilson, Doug Baldwin, Aaron Rodgers and Alex Smith.